Neo-Nazis march in front of Disney World chanting "Heil, Hitler"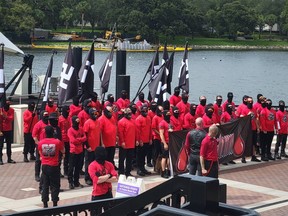 Article content
As far as magical places go, Disney World's place on the list was shelved after neo-Nazis gathered outside Orlando Park.
Article content
Neo-Nazi groups emerged over the weekend giving anti-Semitic and racist speeches and destroying the park's Pride flags at the main entrance.
Article content
Videos also showed groups marching in other Florida cities, waving swastika flags and chanting "Heil, Hitler" and "We are everywhere."
Florida Rep. Anna Eskamani shared one "Absolutely disgusting" video of a group marching past Cranes Roost Park in Altamonte Springs, warning that it was "another example of the growing right-wing extremism in Florida."
She also shared a photoos of flyers from a white supremacist organization left on the doorsteps of Orlando residents calling Florida's new hate speech law "communist."
Article content
Far-right activist and journalist Laura Loomer shared videos of groups she said were organized by the Goyim Defense League (GDL). She recorded a video in which a member of a hate group called her anti-Semitic slurs.
RECOMMENDED VIDEO
"This behavior is disgusting. But do you see me calling for his arrest or ban? No, you don't," she said wrote on X (formerly Twitter).
"Because I know how important it is to protect free speech. Even if it's speeches like this from real Nazis and Nazi sympathizers who attack me and say I deserve to be put in a gas chamber because I'm Jewish."
Article content
The rally scenes come two months after hate groups showed up at Disney World in June They waved Nazi flags and banners near a campaign rally for DeSantis.
The theme park has become a target of hate groups after Disney spoke out against DeSantis' "Don't Say Gay" law.
DeSantis' board agrees to sue Disney in response to the lawsuit

Disney sues DeSantis, calls park takeover 'retaliation'

Ex-neo-Nazi pleads guilty in the 2017 murders of two roommates in Florida
https://torontosun.com/news/world/neo-nazis-march-outside-disney-world-shouting-heil-hitler Neo-Nazis march in front of Disney World chanting "Heil, Hitler"