Technology
New York AG is suing Winklevoss-owned Gemini for $1 billion in cryptocurrency fraud
New York Attorney General Letitia James filed a lawsuit legal action Thursday morning against cryptocurrency companies Gemini Trust, Genesis Global Capital and Digital Currency Group (DCG) for defrauding over 230,000 investors of over $1 billion.
Crypto exchanges limit withdrawals
James says a program called "Gemini Earn," run by Tyler and Cameron Winklevoss' company Gemini along with Genesis and its parent company DCG, promised investors high returns with low risk. However, the New York Attorney General's Office found that Gemini had conducted an internal analysis in 2021 that showed Genesis' finances were risky.
"Hard-working New Yorkers and investors across the country lost more than a billion dollars because they were fed the blatant lie that their money would be safe and grow if they invested it in Gemini Earn," said Attorney General James. "Instead, Gemini concealed the risks of investing with Genesis and Genesis lied to the public about its losses."
The case alleges that Genesis' loans were inadequately collateralized and highly concentrated Sam Bankman-Frieds Alameda Research. During the FTX digital asset crash, Gemini Earn investors were locked out of their accounts, leaving investors unable to reclaim hundreds of millions of dollars in cryptocurrency, according to the report New York Times. It is estimated that Gemini Earn defrauded 29,000 New Yorkers.
"In its haste to file this lawsuit, the NYAG has risked significant harm to Genesis' creditors for the reasons we have explained to the NYAG on numerous occasions," a Genesis spokesperson told Gizmodo on Thursday. Genesis requested Chapter 11 Bankruptcy as of January, he owed creditors over $3 billion. The largest creditor is Gemini, to which the company owes $765 million.
Gemini Trust said that they themselves, along with Earn users, were victims of a massive scam by Genesis Press release Posted on Thursday morning on X. However, the company does not agree with the decision to also sue Gemini.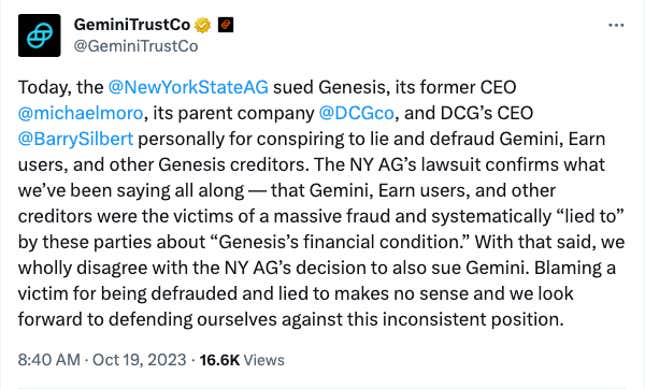 DCG told Gizmodo that it had been actively working on the attorney general's complaint for months in an open and transparent manner. The company says it was "blindsided by the filing" and there is no evidence of wrongdoing by DCG.
"I am shocked by the unsubstantiated allegations in the Attorney General's complaint and intend to fight these allegations in court," DCG founder and CEO Barry Silbert said in an email.
The case against Gemini is based on the fact that the company was aware of the Genesis fraud and yet continued to take investor funds. New York AG says Gemini's board has discussed with Genesis ending Gemini Earn entirely in July 2022 due to the risks. One board member compared Genesis' financial condition to that of Lehman Brothers before it went bankrupt, the OAG says. However, none of this internal risk analysis surrounding Gemini Earn was shared with investors, and Gemini told investors that it had vetted Genesis and that it was a trustworthy company.
The lawsuit against some of the biggest cryptocurrency players comes at a particularly dire time for the industry. Sam Bankman-Fried is expected will testify in his own case in the coming weeks with the Justice Department for defrauding Americans of billions of dollars with FTX and Alameda Research.
A forensic accountant found that out this week 9 billion dollars FTX was missing customer funds in June 2022, five months before the company's public collapse and bankruptcy filing. This occurred around the same time that the Attorney General alleged that Gemini venture personnel had withdrawn their own investment from the Earn program.
The OAG once says that Sam Bankman-Fried's Alameda was the borrower for 60% of all of Genesis's outstanding third-party loans. Genesis is also alleged to have concealed and concealed the true severity of its financial situation from Gemini and investors. The attorney general "seeks to permanently bar Gemini, Genesis, DCG and their executives from engaging in transactions related to the purchase and sale of securities and commodities within or from New York," the office said in a statement.