News
Olivia Rodrigo Brings Out Lily Allen For F**k You Glastonbury Duet Dedicated To Supreme Court
Olivia Rodrigo didn't hold back during her performance in Glastonbury on Saturday, unleashing US Supreme Court justices hearing this week's overthrow of Roe v. Wade had connected.
"I'm devastated and scared," the Driver's License singer told the crowd. "So many women and so many girls are going to die because of it."
Rodrigo then introduced the next song: Fuck You by Lily Allen, who then appeared on stage with her (See the full video above).
"I wanted to dedicate this next song to the five members of the Supreme Court who showed us that they really don't give a damn about freedom, after all," said Rodrigo to wild cheers.
"The song goes to the judges: Samuel Alito, Clarence Thomas, Neil Gorsuch, Amy Coney Barrett, Brett Kavanaugh. We hate you."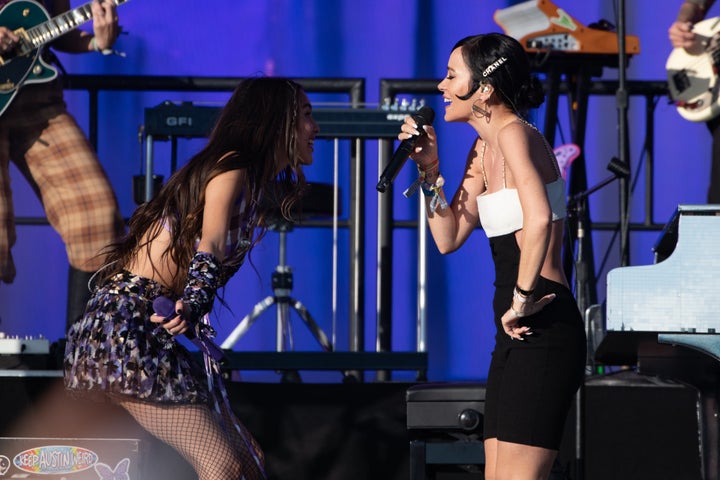 As Rodrigo spoke, Allen could be seen showing two middle fingers.
The pair then kicked off with an energetic rendition of Allen's 2009 hit, which includes the lyrics "Fuck you, fuck you very, very much / 'Cause we hate what you do / And we hate your whole crew."
Rodrigo, a 19-year-old Grammy winner, has been a vocal supporter of abortion rights. Last month she told fans in Washington, DC she was "heartbroken" after receiving a leaked copy of a draft Supreme Court ruling overturning Roe v. Wade had seen.
"What a woman does with her body should never be in the hands of politicians," she said at the time.
"I hope we can speak out to protect our right to a safe abortion, a right that so many people before us have worked so hard for."
More on the Supreme Court's abortion ruling:
https://www.huffingtonpost.co.uk/entry/olivia-rodrigo-brings-out-lily-allen-for-fk-you-duet-aimed-at-anti-abortion-justices_uk_62b80357e4b0cf43c865e0d6 Olivia Rodrigo Brings Out Lily Allen For F**k You Glastonbury Duet Dedicated To Supreme Court