Patrick Brown and Bonnie Crombie get involved as the Peel region separation begins
Rival mayors are demanding money while regional government is divided
Get the latest from Brian Lilley straight to your inbox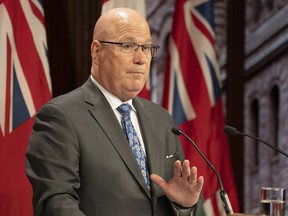 article content
Thoughts and prayers for Steve Clark.
article content
That's all I can think of when I hold a press conference from the Ontario Secretary of Communities and Housing with Mississauga Mayor Bonnie Crombie, Brampton Mayor Patrick Brown and Caledon Mayor Annette Groves . While the province wants to dissolve the Peel Region, to which all three municipalities belong, Clark takes on the role of mediator – or one could say counselor for failed marriages.
article content
Sure, he'll appoint a five-person transition committee to work with cities to negotiate the tough stuff, but he'll still be in the thick of things.
"I'm staying here," Clark once said as Brown and Crombie took turns at the microphone to present their arguments.
It's clear from the actions of all players involved that this is a divorce that Crombie wanted for Mississauga and Brown didn't want for Brampton. Caledon and Groves are caught in the middle of this old fight right now.
article content
Crombie continued the campaign launched decades earlier by her predecessor, Hazel McCallion, to get Mississauga out of the Peel Region. Brown, on the other hand, clearly saw the status quo or a merger of the region into one city as preferable options.
However, Prime Minister Doug Ford is making good on a promise he made to McCallion, who died earlier this year at the age of 101. The Peel Region Dissolution Act, presented in Queen's Park, is even called the Hazel McCallion Act.
"We're going to be able to work this out amicably and I think we have a very professional, very cordial relationship," Crombie said when asked if she and Brown could work together on the towns' unbundling.
Take Crombie's words with caution in this regard. The two mayors were asked because each of them rolled their eyes and made faces every time the other spoke.
article content
Brown was at least overt, if muted, in his hostility.
"All I would say is that we're going to be watching this process very closely," Brown replied to the same question.
RECOMMENDED VIDEO
Brampton's mayor claimed that billions were spent building Mississauga's infrastructure — like the water treatment plant and wastewater treatment plant — that Brampton now has to build itself. He said Brampton taxpayers needed some relief on that front and demanded that Mississauga pay a $1.7 billion break-up fee for the various pieces of infrastructure.
Crombie suggested that her community would not have to make any payments to Brampton and suggested that the water supply facilities could be turned into a utility owned by all of the communities it serves.
article content
"Brampton would never accept our residents being taken advantage of. "My residents expect every penny that we put into building this infrastructure in Mississauga," Brown said.
Ontario wants to dissolve the Peel region; the exact modalities will be determined later

WARMINGTON: The mayors of Mississauga and Brampton are at odds over the division of the Peel region
Crombie dismissed Brown's arguments, saying that Mississauga paid the lion's share of infrastructure costs and, in her words, growth and development at Brampton.
"Perhaps it is Mississauga that we need to recognize the contributions we made during the growth of Brampton and Caledon over the past 50 years," Crombie said.
Welcome to the next 18 months of your life, Minister Clark. I hope you asked for a raise or a bonus for doing this job.
About 20 years ago, bringing together churches in Ontario was an incredibly difficult task; Taking them apart might prove just as difficult.
https://torontosun.com/opinion/columnists/brown-and-crombie-show-how-acrimonious-peel-split-could-get Patrick Brown and Bonnie Crombie get involved as the Peel region separation begins