News
People across Canada are cheering for Hamas. How did we get to this point?
We are watching people choose liberal democracy over a terrorist group. Maybe denigrating Western liberal democracy was a bad idea.
Get the latest from Brian Lilley straight to your inbox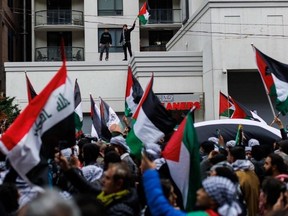 Article content
How did we get to the point where people on the streets of Canada, in our universities, in our politics and in our union movement are openly supporting a terrorist organization? I have been asking myself this question since Hamas' horrific terrorist attacks on innocent Israeli civilians on October 7th.
Article content
The simple answer for some is that this is due to Canada's immigration policy, but that is overly simplistic and also not true. Many Muslims in Canada, even if they are sympathetic to the Palestinian cause, are appalled by the senseless violence they have seen, the murders of children, mothers protecting their children and the elderly.
Article content
No faith, no civilized people supports these types of actions, and yet across Canada people are showing up supporting not only the Palestinian cause but also the actions of Hamas.
"How intense is the spirit to become free? How deep is the spirit to become free? "How beautiful is the spirit of liberation that the Palestinians have literally learned to fly hang gliders?" asked Harsha Walia, the former head of the British Columbia Civil Liberties Association, during a protest in Vancouver last weekend.
Article content
That doesn't mean you support a Palestinian state, but rather that you celebrate the Hamas militants who hang-glided to Israel and then engaged in rape, torture, murder and kidnapping. It's a bit strange that a woman who calls herself a feminist would celebrate such atrocities and call Hamas' actions beautiful, but Walia reflects the larger problem.
The larger problem is that we have allowed our institutions, particularly our educational institutions, to become hotbeds of radical political thought that does not value the tradition of Western liberal democracy. At the same time, these same institutions have adopted identity politics, where your worth and place in society is determined by your identity.
Article content
White people, especially men, are always bad and whoever is in power is always an oppressor. They are divided into groups of oppressed and oppressors based on ever-changing dynamics that only those in the know are truly privy to.
Canada is worthless as a "settler-colonial state," and neither is Israel, in their view, for the same reasons.
This is why in the letters from student groups at York University or law students at Toronto Metropolitan University we see reference after reference to so-called Canada and so-called Israel and condemnations of "settler colonialism."
Recommended video
We have raised a generation or two of people who were taught to hate the culture they came from and to see value and dignity in those deemed "oppressed." These people do not care about the achievements of Western liberal democracies and have been taught to believe that everything in the Western world is tainted by this sin of "settler colonialism."
Article content
Meanwhile, they overlook the pain and suffering that groups like Hamas have inflicted on their own people because they view all Palestinians, including the Hamas leadership living in luxury in Qatar, as oppressed. What matters is what they were taught: not right versus wrong, but power structures.
Recommended by Editorial
LILLEY: Sarah Jama has been expelled from the New Democratic Party

LILLEY: Trudeau is playing political games with the Israel-Hamas war
This mindset has permeated our elementary and secondary schools, our post-secondary institutions, and much of the training that the human resources departments of large companies put their employees through. This isn't mainstream thinking, but they've found a way to penetrate in the right places.
The Western world is evil for people who adopt this mindset, not worth defending, but Hamas and its brutality is.
The barbarians are not at the gates. They are on the inside and unfortunately in positions of power.
It is time to fight back to save what remains of Western liberal democracy.