Pep Guardiola: City's title-winning experience counts for nothing this season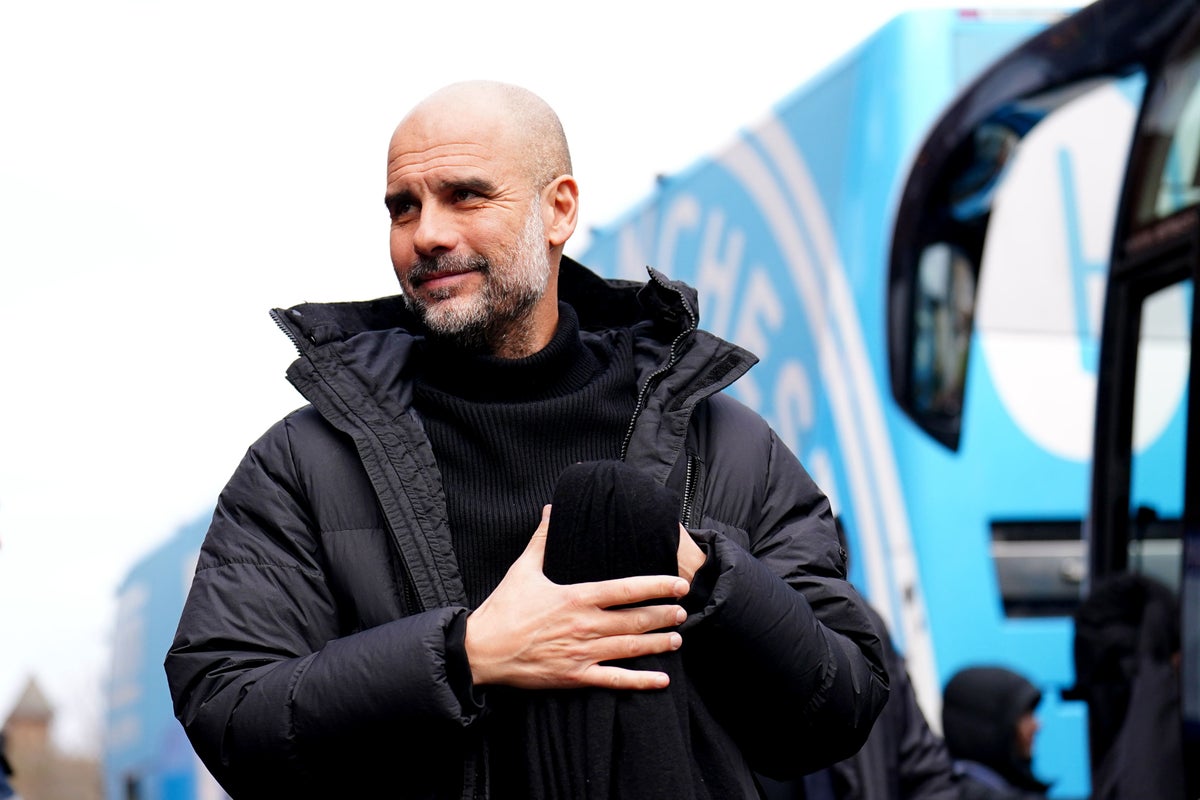 Pep Guardiola dismissed suggestions that Manchester City's four Premier League trophies in five seasons would give them an advantage in the title race.
Erling Haaland's penalty secured City a 1-0 win over Crystal Palace on Saturday to ensure Guardiola's men keep up with leaders Arsenal and are on their way to their first title since 2003/04.
However, boss Guardiola was unconvinced by the notion that City's victories over the past half decade will give them an advantage as they attempt to topple the Gunners at the end of the season.
He said: "Listen, if the experience works, the team that wins the previous season is going to win every single season. Experience in sports is a new challenge.
"You see, Liverpool (on Saturday) lost to Bournemouth. Few months ago (they won) 9-0, you know everything is so difficult.
"What they did is in the past. You have to do that again because football is unpredictable. Nobody expects a lot of things to happen in football that people take for granted or guaranteed and it's not the truth. The reality is we're still here."
Guardiola suggested Arsenal's best crack at a Premier League title since the Invincibles' unbeaten run could actually give the Gunners extra fuel as they look forward to the final stretch – including a trip to the Etihad on April 26 – before the season ends.
"Arsenal are still the favorites because they are in front. They haven't won the Premier League for many years, they give you this extra that helps you win games in (1991), 1998," Guardiola said, reflecting on Arsenal's previous Premier League title in 1997-98 and the trophy in of the Football League First Division after 1990-91.
"It's something they have that we don't have because we've won twice in a row. When people say, 'What about Europe, about the team, about the season?' It's us, after two straight games where a team had 50 points in the first (half) of the season, it's still there.
"Usually in this country when you win a lot and you don't start the season well or someone is a little bit better you drop it. You are not that consistent.
"Nevertheless, we are here. This is the best "trophy" and compliment we can have. I don't know what will happen at the end of the season, but they still know that we want to be there. And we're going to fight to be there and that's great."
Haaland's penalty at Selhurst Park extended his leading Premier League tally to 28 goals and 34th in all competitions.
That's seven more than opponents Crystal Palace – who are winless in 2023 – have scored all season, with the Eagles not recording a shot in their last three games.
Palace are also without a goal in 12 of their 26 Premier League games and are increasingly at risk of slipping deeper into the ditch of the relegation battle.
Manager Patrick Vieira said: "That's the reality. It's important to be more consistent in our game overall, defend well and create more chances to get the goals we need.
"But yes, of course we are one of the nine teams that have to fight and win games to stay in the Premier League."
https://www.independent.co.uk/sport/football/premier-league-arsenal-pep-guardiola-city-patrick-vieira-b2299273.html Pep Guardiola: City's title-winning experience counts for nothing this season