Prostate cancer: UK engineer diagnosed with 'silent killer' with no symptoms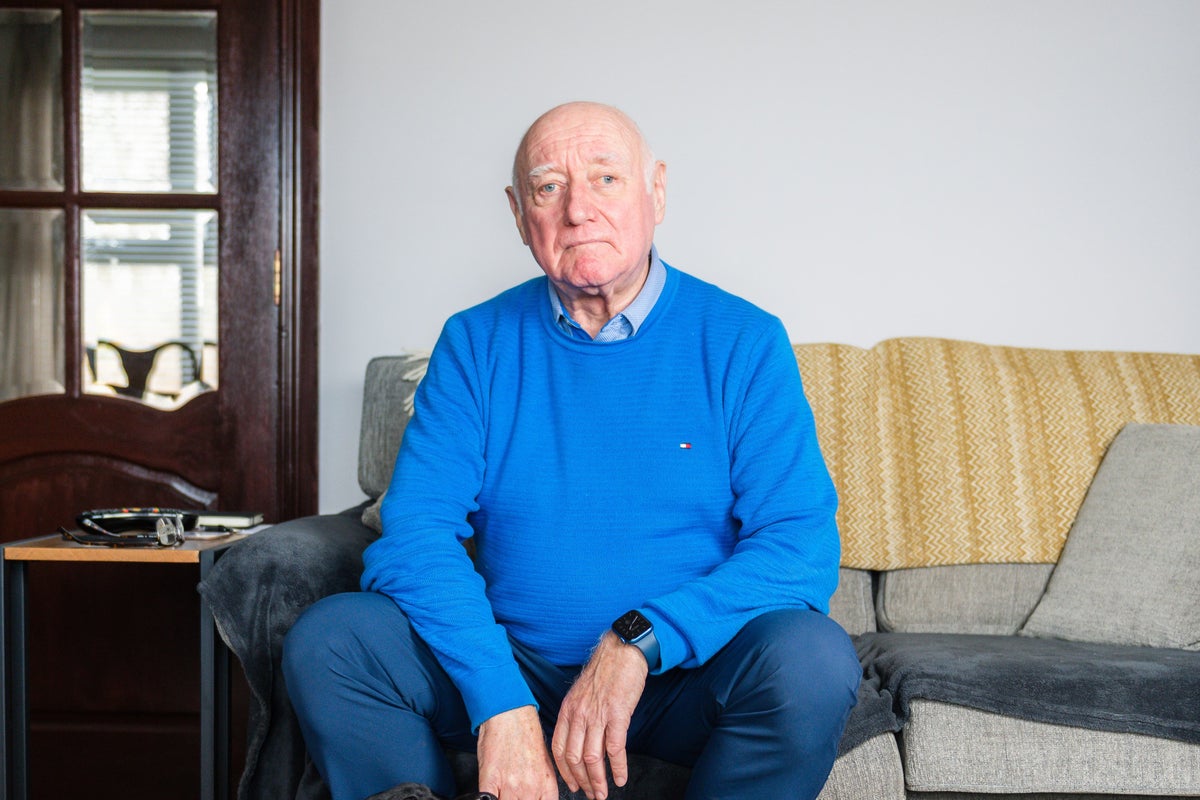 A man with prostate cancer who suffers from urinary incontinence as a result of his treatments said he wants to increase education and understanding so men can have "a measure of dignity" and avoid "embarrassment" while living with the disease.
Mervyn Bryans, 69, a part-time engineer living in Belfast, was diagnosed with prostate cancer at the age of 57.
He explained that he has a family history of the disease, as his mother had breast cancer and his grandfather had prostate cancer, although he had no symptoms prior to his own diagnosis.
Mervyn underwent surgery to remove his prostate and part of his bladder to treat the cancer, and this resulted in him developing urinary incontinence – a condition he can't "control".
However, Mervyn refuses to let urinary incontinence "run away and wither and die" and encourages men "not to bury their heads in the sand" but to talk about it and seek advice.
"Incontinence is just one of the things you live with; Some people hide it, some people ignore it, which is part of the problem with prostates, especially prostate cancer," Mervyn said.
"The sooner you recognize you have a problem and deal with it, the easier and more profitable it will be for you down the line.
"If you ignore it and choose not to be proactive about it and push it to the background, it will keep haunting you because it won't go away."
Prostate cancer usually develops slowly, so there may be no signs for many years, the NHS says.
Mervyn had no symptoms, but after several biopsies he was diagnosed with the disease aged 57 and later underwent brachytherapy – a form of internal radiation therapy – before undergoing robotic surgery at Cambridge's Addenbrooke's Hospital to perform a radical prostatectomy to perform.
The surgery involved removing his prostate — a walnut-sized gland found at the bottom of his bladder — along with part of his bladder, which caused him to develop urinary incontinence — the unintentional passing of urine.
"It's like trying to grab the neck of a bottle, you can't close it completely," Mervyn explained.
"It feels like it's closed, but the bottleneck is still open — that's what it feels like."
According to Prostate Cancer UK, many of the more than 475,000 men living with or after prostate cancer in the UK suffer from urinary incontinence as a side effect of treatment for the disease.
For Mervyn, he said he was "unlucky" but is managing the condition by wearing pads, which come in different sizes depending on the level of protection needed, and incontinence briefs.
Mervyn said he'll most likely use three to four pads a day, sometimes even more when traveling — and they don't come cheap, either.
For example, a pack of 10 pads of Level 2 (moderate) absorbency manufactured by TENA costs around £5 online on various websites. Mervyn said they are not as easily accessible in person in some stores or supermarkets.
"It's just all kinds of things that become a stumbling block all the time," he said.
"You can look at it and say, 'Well, I'm the age I am and it's just life, there's not much you can do about it, and when you hit that milestone' … but it's your cricket , you've gotta play it."
One of the other big challenges Mervyn faces is sanitary pad disposal.
More than a third (34%) of 500 men with urinary incontinence said they had a hard time finding a sanitary bin in a public toilet, according to a new report commissioned by Prostate Cancer UK and the phs Group to throw away incontinence pants and pads.
For Mervyn, he said the larger pads and incontinence briefs in public places are "more difficult to dispose of, especially discreetly," and when he uses disabled toilets, people often give derogatory looks or comments.
"Because you appear to be relatively healthy and mobile, using disabled toilets is an additional concern," he said.
"If the garbage cans were there and clearly labeled for what they are, people would appreciate that and others would think, 'Ah, maybe he's using them for that'."
Mervyn has now resorted to using dog poop bags for its used pads to allow for cleaner disposal as it is unsanitary and can be 'embarrassing' carrying them to a rubbish bin.
Although Mervyn said people are "a little more informed and a little bit more understanding" these days, he believes the ease with which men can buy, receive, wear and dispose of pads "needs to be improved more".
"You have the wear aspect, the change aspect, and then the disposal aspect… so it's an issue, specifically for that, and it needs to be looked at," he added.
Mervyn's urinary incontinence interferes with his everyday life; He now only wears dark trousers and no longer attends events such as rugby matches due to concerns about toilet accessibility.
Sitting and standing isn't usually a problem, but Mervyn said moving from one position to another can cause "leakage," adding, "It limits in ways that you wouldn't normally really think about."
Traveling for Mervyn can be particularly challenging, especially on a plane as he has to choose his seat carefully, making sure it's near a toilet and making sure he brings enough documentation.
However, sometimes an unexpected problem may appear.
"I was flown to Gatwick airport and was only there for a day," he said.
"I had enough pads in a bag, everything was fine, and the flight was cancelled.
"I had to go to a supermarket and buy nappies and cut them to be alright – things like that can happen.
"If I hadn't done that, I don't know what I would have done. I mean I would have just gotten wet; and what people don't realize is that it's a constant."
Mervyn said he has accepted that he will struggle with urinary incontinence for the rest of his life, but he has open discussions with his family about it and wants to improve "education and understanding" for people.
Mervyn is now a volunteer at Prostate Cancer UK's Northern Ireland centre. The hub is active in raising awareness through discussions with health foundations, construction companies and community groups, and members regularly help with fundraising events.
He hopes that by sharing his story he can raise awareness about prostate cancer and male urinary incontinence so the conditions are widely accepted, acknowledged and taken into account – and that's why he supports the Dispose with Dignity campaign.
Mervyn also hopes more disposal bins will be introduced in toilets and that pads will be more accessible to "keep you from feeling embarrassed" and "give you a little bit more dignity".
"I have far too much to live to let myself (prostate cancer and incontinence drive me) just walk away and wither and die," Mervyn said.
"Everyone has challenges in life, you have to overcome hurdles, you have to achieve certain things – that's the nature of the beast.
"The journey you make is your journey. Nobody else can do it for you.
"You have to be happy in your own skin, so solving the problem is the only way to do it instead of doing it another day because another day may not come."
https://www.independent.co.uk/life-style/health-and-families/prostate-cancer-treatment-symptoms-uk-b2299574.html Prostate cancer: UK engineer diagnosed with 'silent killer' with no symptoms