Putin visits the Russian-occupied city of Mariupol in Ukraine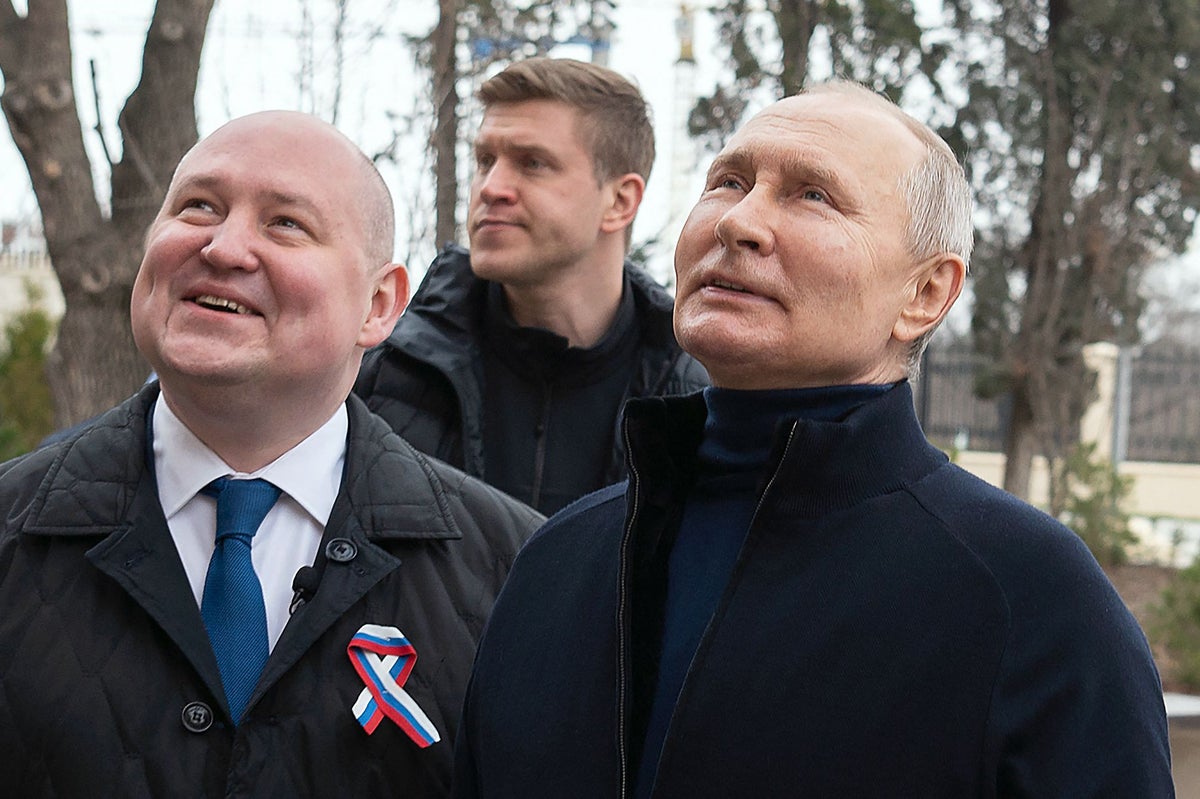 Vladimir Putin visited the Russian-held city of Mariupol in Ukraine on Sunday, the TASS news agency reported.
Mariupol in the Donetsk region was captured by Russian forces after a bloody battle last May and has remained under the control of Moscow militants ever since.
The Russian President was seen driving a car around the city as he visited several districts.
He also made stops along the way and spoke to local residents, the TASS news agency reported.
Mr Putin also met with the top figures directing his military operation in Ukraine, state media said today.
The chairman, who faces an arrest warrant for war crimes, also met with Chief of Staff Valery Gerasimov, who is responsible for Moscow's war in Ukraine.
The meeting took place at the Rostov-on-Don command post in southern Russia, the TASS news agency reported.
This is the first such visit by the Russian President, who launched a full-scale invasion of Ukraine into the country in February last year after conflict erupted in Europe, resulting in the displacement of millions, thousands of civilians and several thousand injured.
A day earlier, Mr Putin paid a surprise visit to Crimea to mark the ninth anniversary of Ukraine's annexation of the Black Sea Peninsula.
His trip to the war-torn country came a day after the International Criminal Court issued a war crimes warrant alleging he was personally responsible for kidnapping children from Ukraine following the Russian invasion.
In Sevastopol, Crimea's largest city, Mr Putin met Moscow-installed Governor Mikhail Razvozhaev, with whom he visited an art school and children's center that are part of a project to develop a historical park on the site of an ancient Greek colony owned by the Russian state said news outlets.
"Our president knows how to surprise. In a good way. Today we should inaugurate a children's art school. Everything was ready for a video conference and report to the President via a dedicated communications link. In the end, the President came in person. By car. He was driving himself. On such a historic day, the President is always with Sevastopol and the people of Sevastopol. Our country has an incredible leader," Governor Razvozhayev wrote on Telegram.
Russia annexed Crimea from Ukraine in 2014, a move denounced as illegal by most parts of the world and which soured relations between Moscow and the West. Ukrainian President Volodymyr Zelenskyy said any peace solution would involve Russia's withdrawal from the peninsula and the territories occupied since last year.
https://www.independent.co.uk/news/world/europe/putin-ukraine-visit-mariupol-war-crimea-b2303748.html Putin visits the Russian-occupied city of Mariupol in Ukraine