Sports
Rajakovic creates harmony on a Raptors team that had little a year ago
Get the latest from Mike Ganter straight to your inbox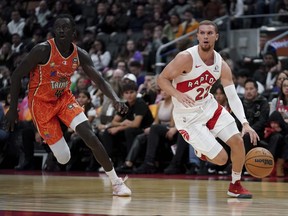 Article content
Call it what you will — a new life, a fresh start, a reset — but there's a lightness of touch about the Raptors these days that wasn't there at all last season, and these descriptions are why.
Article content
It's no longer a secret, and hasn't been a secret for some time, that last year's Raptors season was something that almost everyone experienced rather than enjoyed.
Article content
In the coaching room there was dissatisfaction with upper management and vice versa. There was discontent between the veterans and the young guys, and yes, there was also discontent among the guys at the back of the rotation, who were either ignored or left behind by a head coach who was convinced that was the only way to win consisted of leading his own team's starters into the ground.
Masai Ujiri may not be at the top of their game this offseason, but a new head coach has done wonders in terms of morale and commitment.
We are by no means saying that everything is fixed. Some of these veterans and young people persist and whether these relationships are fixed, can be repaired or not remains known only to the individuals.
Article content
Time will eventually sort it out for the rest of us. A fragmented squad cannot hide forever.
But listening to the players themselves over the last few weeks suggests that new head coach Darko Rajakovic has already repaired many of those obstacles.
From the New Beginnings Department, we present Malachi Flynn as Exhibit 1.
A former first-round pick, Flynn's minutes a year ago – he averaged 13 per game – were limited to garbage time or as an injury replacement. Furthermore, he was hardly heard all year round.
His career was stagnating until Rajakovic came along and Flynn suddenly had hope again.
Earlier this week he was asked if he associated a new head coach with new opportunities for people like him.
"Of course I think it's just like a reset, you know what I mean," he said. "When he got the job I didn't know anything about him but it's just a fresh start for everyone. And then when I got to know him, he's really detail-oriented, very organized and someone I can see eye to eye with. So I think it was good."
Article content
Looking back, Flynn said he wouldn't do that.
"It was like last year," he said. "I don't even want to go into that. It's just a new year, everything is new and we feel like we have a different vibe. I don't really think about the past few years and I'm looking forward to moving on."
As for Rajakovic, not only does he talk about being open to guys proving themselves to him, he's also proving it with playing time.
""First of all, it starts with me believing in the players and working with them to get better and understand and accept their role," Rajakovic said. "Malachi is someone I trust very much. I don't think he's even close to being a player he's capable of. I think there is still a lot of room for further development in his game on and off the ball. I think he can handle the ball really well as a secondary when he can create long pindowns or pick-and-rolls on the secondary. I think he's someone who can break through defenses and touch the paint pretty well. And we'll just continue to work with him on those skills, like. B. to finish and find the open man."
Article content
Flynn averaged 19 minutes per game in the three matches played, and while his shots let him down in two of the three games, he consistently provided good assists on turnovers and was a big plus in the rebounding department.
Flynn still needs to beat Rajakovic if the games really count, but he's getting a chance that, frankly, he never got a year ago.
Gary Trent Jr. is likely on his way to a starring role as a backup, and while Rajakovic hasn't explicitly promised him that, he sees the signs of the times and says he's okay with it.
Nobody saw more playing time in the first two pre-season games as Trent Jr., including all starters. Whatever role he's tasked with, Trent Jr. is ready to embrace it.
Article content
Recommended by Editorial
RAPTORS TAKEAWAYS: Scottie Barnes shows All-Star potential

Thanks to Barnes, Siakam and Trent, the Raptors are holding off the Bulls
"Obviously you work to start in the league and start for a team and help the team as much as you can," Trent Jr. said. "But again, I have no control over that. So again: whatever it will be, it will be. All I can control is whether I come in, work, be a great teammate and contribute to winning. That's all I can help with. That's all I can do.
"There's no time to complain or nag about what's going on," he said. "How my situation is not what I wanted. There is none of that. I'm coming to work. And I'm going to do what I have to do to help this team win."
No team gets through a season without going through some tough times, but it's already looking like this year's team will be far more on the same page and on the same wavelength than the club was a year ago.
Will it lead to more wins? We will get back to you about this question in a few weeks.