Runner Runner Roulette 5000X by Stakelogic Live
By Simon Wright March 6, 2023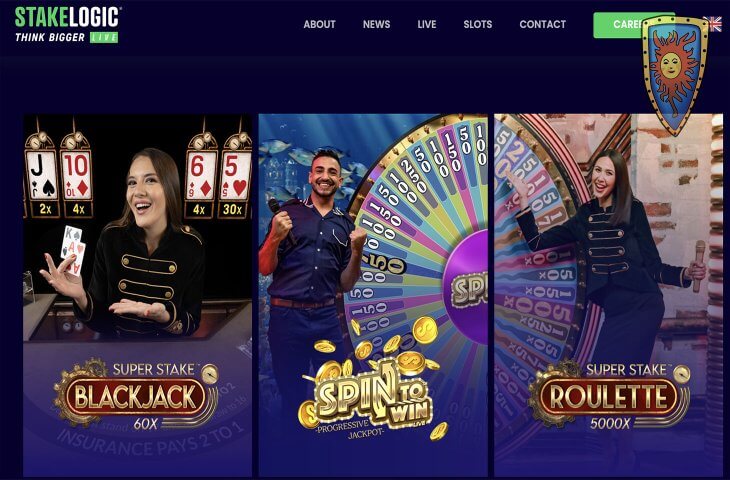 Live casinos are hugely popular in the Netherlands and leading content provider Stakelogic Live is allowing operators to capitalize on it with its suite of games, especially following the network launch of its eye-catching game show title Runner Runner Roulette 5000X.
After a period of exclusivity for Unibet, the game is now available to all licensed operators and markets. Runner Runner Roulette 5000X has been a huge hit with the Tier 1 operator's players thanks to its fast-paced gameplay and mega win potential (5,000x is the maximum multiplier available).
The game is based on a TCX Huxley Saturn Auto Roulette wheel with thirty-seven numbered separators including 0 and numbers from 1 to 36 divided into 18 red and 18. So far so standard, but since Stakelogic Live has taken the gameplay to the next level.
This is done via a screen behind the wheel that displays random roulette numbers on every spin. The number of numbers varies from 1 to 5 and when a number on the back screen matches the winning number, the player either receives a 50x to 500x multiplier win or takes part in the special bonus round.
Here runner runner symbols (bar, 7, star, melon, strawberry, etc.) are added to a separate screen in the studio. At the start of the bonus round, random multipliers from 50x to 5,000x also appear and are hidden behind the symbols. The Runner Runner symbols then shuffle around the screen.
The player selects the desired symbol and then gets the multiplier behind it.
The studio setting used for Runner Runner Roulette 5000X is unique on the market. Neon lights give off a distinct showbiz feel, while the dealer looks ready to host the Oscars in his gold suit jacket and bow tie.
The game will be streamed from Stakelogic Live's dedicated Dutch studio, allowing operators to offer a truly localized experience. Runner Runner Roulette 5000X is available 24 hours a day, seven days a week with a minimum bet of €0.20.
Richard Walker, Head of Live Casino at Stakelogic Live said: "The game show format is one of the most popular in the Netherlands and beyond and with Runner Runner Roulette 5000X we have a game that's full of glitz, glamor and lots of potential for big wins."
"It has worked incredibly well at Unibet and we can't wait to see it in other operators' live gaming lobbies, particularly in the Dutch market where it takes full advantage of our native content. The gaming experience is as exciting as it is entertaining, allowing operators to engage new and existing players with a game they will want to return to again and again."
https://www.casinomeister.com/gambling-news/runner-runner-roulette-5000x-from-stakelogic-live/ Runner Runner Roulette 5000X by Stakelogic Live