Russia's Daniil Medvedev pities Ukrainian players competing in the middle of the war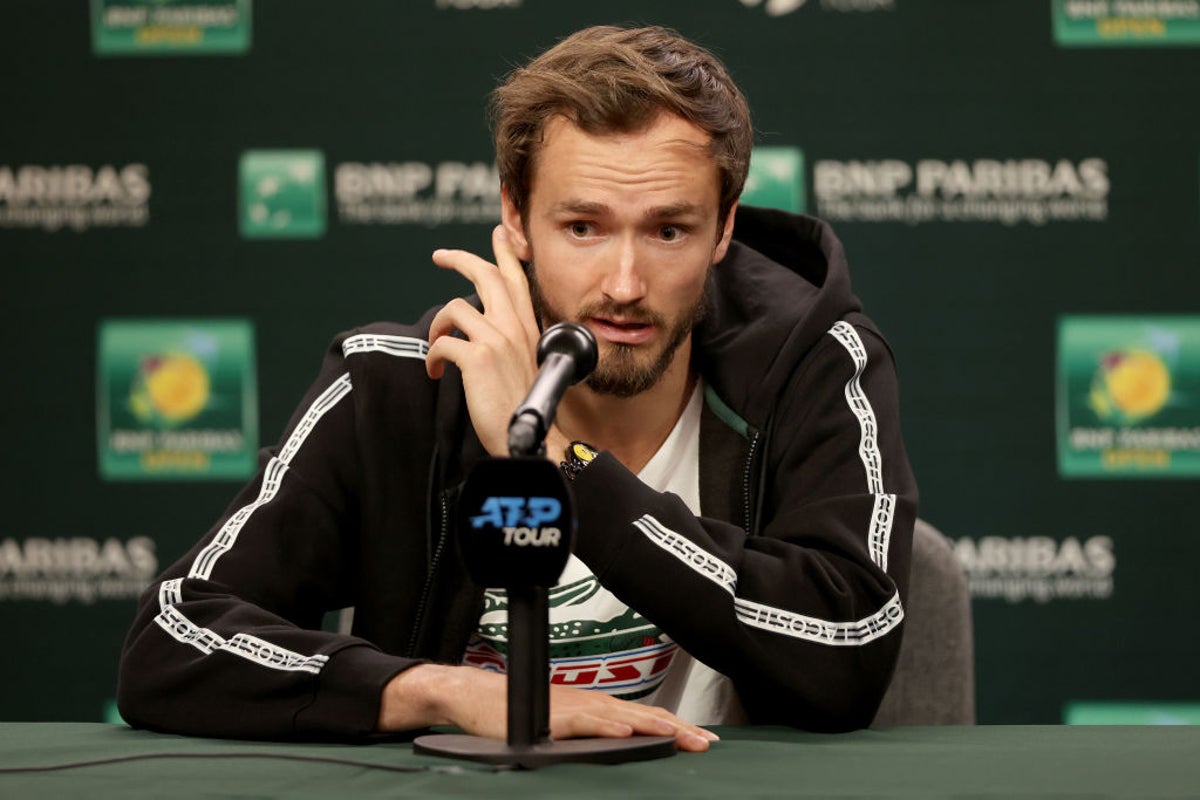 Russian Daniil Medvedev says he is "sorry" that Ukrainian players are touring amid their country's invasion.
It comes after Ukraine's Lesia Tsurenko pulled out of her match against Belarus' Aryna Sabalenka because she said she was having a panic attack. Tsurenko said she was "absolutely shocked" by the sport's reaction to the ongoing war after a discussion with Steve Simon, head of the WTA Tour.
World number one Iga Swiatek called for more support for the Ukrainian players after Tsurenko withdrew from the tournament, allowing Sabalenka to advance to the fourth round.
"I definitely feel sorry for all the Ukrainian players and what they're going through," Medvedev said after reaching the semifinals in Indian Wells on Wednesday.
"Obviously we have a responsibility (to talk about the issue) and it depends on how each individual person is going to deal with it. I've always said the same thing, I'm for peace around the world and that's all I can say."
Russian and Belarusian players have been allowed to participate in both the ATP and WTA tours since the outbreak of the war, but without national affiliations, with the exception of Wimbledon and other tournaments organized by the LTA.
Further controversy arose this week when Russia's Anastasia Potapova wore a Spartak Moscow football shirt ahead of Tuesday's third-round match against Jessica Pegula. Swiatek led the criticism of Potapova, saying Russian players should not publicly support the country during its invasion of Ukraine.
The WTA has since issued a formal warning to Potapova, 21, who said she had supported Russian Premier League side Spartak Moscow since she was 13 and said she saw no provocation in it.
"To be honest, I was surprised," said Swiatek of Poland, who wears a Ukrainian flag on her cap during her matches, after her third-round win over Bianca Andreescu. "I thought the player realized that even if she's a fan of the team, she shouldn't be showing her views like that at times like this.
"I spoke to the WTA and in a way I found that there should be fewer situations like this because they explain to other players that you can't promote Russian teams these days, which put my mind at ease a bit.
"On the other hand, I think these situations happen unfortunately because this announcement should have been made much earlier. At the beginning of the war there was a lot of chaos in the dressing room.
"It wasn't clear how to approach everything that causes such awkward situations. I think if there had been better leadership from the start we might have avoided situations like this."
https://www.independent.co.uk/sport/tennis/daniil-medvedev-russia-ukraine-tsurenko-sabalenka-b2302027.html Russia's Daniil Medvedev pities Ukrainian players competing in the middle of the war