Scottie Scheffler takes over the finals of the Players Championship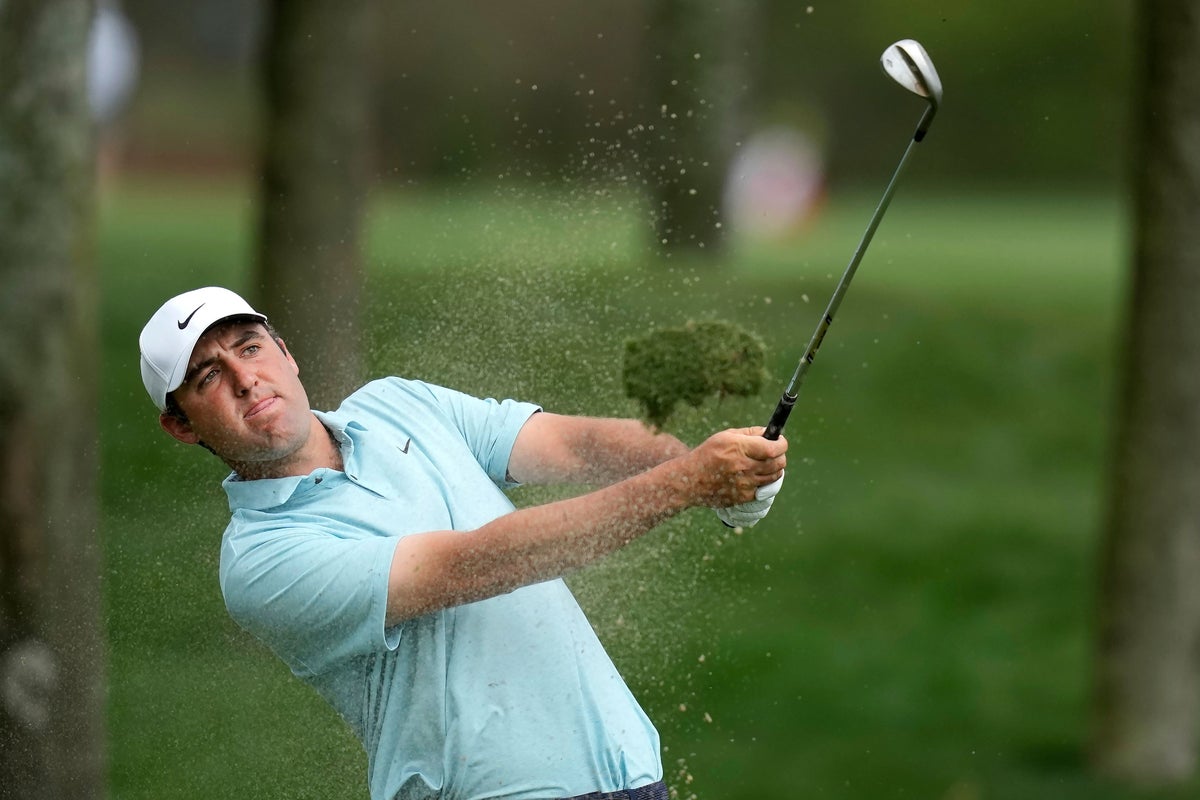 Scottie Scheffler made his way to victory and recapture the world number one on the final day of the Players Championship.
The American, who if successful at TPC Sawgrass would oust Jon Rahm at the top of the leaderboard, held a three-shot lead midway through his final round on Sunday.
His closest challenger at the time was England's Tyrell Hatton, who conceded a remarkable seven birdies on his back nine to move up the rankings to 12-under.
Hatton was also safe in the clubhouse after coming home with a tournament record 29 for a brilliant 65.
Hideki Matsuyama, another earlier starter, also made a strong attempt to get inside one of Scheffler at one point, but fell back to nine under and signed for a 68.
After a shaky start, Scheffler built on a position of strength. He started under 14, two ahead of playing partner Min Woo Lee, but that lead was wiped out within three holes.
Scheffler managed just one par when Australia's Lee made the first birdie, and his uneasiness proved costly when he missed a short putt on the third to drop to 13-under.
As Matusyama picked up momentum further down the course, the pressure was on the American.
But just as the top of the leaderboard was closing in, Matusyama and Lee let him off the hook.
Matsuyama had come up from far down the pack and reached 12-under after 13 holes thanks to seven birdies, but he ruined the 14th hole after missing the green. His attempt to hit back out of the rough via a street also didn't go according to plan and two shots were lost.
Almost simultaneously, on the fourth, Lee had more trouble finding the rough first and then hitting water. He had to settle for a triple bogey seven after a drop and, remarkably, Scheffler found himself a three-shot lead.
Max Homa briefly maintained part of second at 10, thanks largely to an eagle on the 11th, but a lake landing on the characteristic par-3 17th dashed his hopes.
Norway's Viktor Hovland reached 10-under after making four birdies in five holes around the turn, but Hatton was the player who made the most progress.
Hatton was very impressive after the turn as he produced an impressive result.
Scheffler responded by jumping in for a birdie in eighth and scoring another shot in ninth to go 15 under.
England's Tommy Fleetwood and Aaron Rai, who finished fourth together overnight, struggled to find their spark.
Fleetwood made the second, fifth and sixth bogey and Rai struggled as he dropped two shots into his first six holes.
There was fireworks further down the field as Alex Smalley, who finished two overs, became the third player this week to hit a hole-in-one on the 17th.
His remarkable shot didn't even touch the green, his ball landing in the rough before bouncing straight into the hole.
https://www.independent.co.uk/sport/golf/scottie-scheffler-pga-tour-tyrell-hatton-jon-rahm-hideki-matsuyama-b2299236.html Scottie Scheffler takes over the finals of the Players Championship