SIMMONS SAYS: Brian Burke stepping into what may be his most important role yet as executive director of Players' Association of Professional Women's Hockey League
Get the latest from Steve Simmons straight to your inbox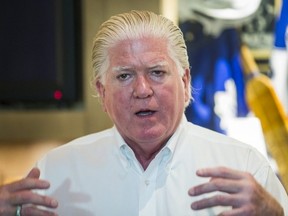 Article content
Written off as obstinate and irrelevant in the NHL, Brian Burke is about to engage in the largest and possibly most important pursuit of his professional career.
Article content
Officially, he is the executive director of the Players' Association of the new Professional Women's Hockey League — which is a fascinating title because, to date, there are no players in the PWHL for him to represent.
Article content
Unofficially, he will act as part-builder, part-consultant, part-player rep, part-lawyer, already involved in the writing of the collective bargaining agreement and, maybe more importantly, with strong ties to commissioner Gary Bettman and the NHL — which could well play a huge part down the road in whether the PWHL can, in fact, succeed.
It is no sure thing. No new sporting venture ever is. Before peace could come to the women's game — two sides had been fighting ineffectively for far too long — there needed to be financial leadership of a giant scope. That came from billionaire owners Mark and Kimbra Walter of the Los Angeles Dodgers.
Article content
The size of the league is just right considering the size of the women's game. There are six teams — a new Original Six — almost all in NHL markets of significance: Toronto, Montreal, New York, Boston, and Minnesota, with the outlier being Ottawa. The NHL has its key offices in New York, Toronto and Montreal.
Play in the PWHL will begin in January. That's just four months from now. That isn't a lot of time to establish a name, an identity, a place to play home games, and the largest challenge of all: Finding a fan base.
Burke should help in beating the drums and spreading the word, something he has always been most proficient at. Time is not necessarily on his side or that of the PWHL. But at least there is optimism now and there is money. And that hasn't been the case with any past attempts.
Article content
THIS AND THAT
Burke was a player agent long before he got into hockey management. His partner, way back, was Bob Goodenow, who went on to become the terrific or terrible — you choose which — head of the NHL Players' Association. While Burke's title here is as executive director of the Players' Association in the women's league, it's clear he will be working closely with league ownership to try to make this work … It's easy to get discouraged about the state of John Tavares' game as he enters his sixth season with the Maple Leafs. But if you do the math, Tavares has been the 12th-leading scorer among centres in the NHL in his time in Toronto, which makes him one of the highest-scoring second-line centres (Auston Matthews is first-line) in the game. The only teams with more points from centres in that time are Edmonton with Connor McDavid and Leon Draisaitl and Tampa with Brayden Point and Steven Stamkos … Often, points can be overrated. Vegas won the Stanley Cup without having a scorer in the top 70 in the NHL … Morgan Rielly finished 30th in scoring among defencemen last season, but he was fourth in the playoffs in that category, even while playing just 11 games. The Leafs need the commanding playoff version of Rielly this season … Toronto is still considering a front-office role of some kind for Wayne Simmonds, who has likely played his last of 1,037 NHL regular-season games. But no decision has yet been made … Joel Quenneville was never officially suspended by the NHL. Same with Chicago general manager Stan Bowman. They were just pushed out not so quietly after the Kyle Beach scandal. Now I'm told both Quenneville and Bowman are free to interview for jobs in the league, but the NHL will ultimately determine when — or if — they can return. But if a team is interested for example, they can approach the league and request a ruling.
Article content
HEAR AND THERE
Since winning the U.S. Open in 2019, one of the single greatest accomplishments in the history of Canadian sport, Bianca Andreescu has played in only nine Grand Slam tournaments and won just 11 matches in those events. While there is something still engaging about her game and the power with which she plays, the results are making her look more and more like a one-hit wonder. That enormous win was four years ago now … Felix Auger-Aliassime's year in major tournaments: Lost first round at the U.S Open. Lost first round at Wimbledon. Lost first round at the French. Did make the fourth round at the Aussie Open. He was inexplicably voted, if you remember, Canada's athlete of the year by The Canadian Press last year … There are outs in Chad Kelly's new contract with the Argos that will allow him to try out in the NFL in off-seasons. But the thing is, Kelly is 29 already. This is his first real season playing quarterback in the pros. He turns 30 in March. How many 30-to-31-year-olds are the NFL looking at to come in and apprentice at quarterback? … Can't believe an NFL team didn't claim Nathan Rourke on waivers. The Canadian quarterback had an exceptional exhibition run in Jacksonville, which I suppose tells you how much most teams value the pre-season. He has signed up for Jacksonville's practice roster — but really, why wouldn't one of the quarterback-hungry teams take a flyer on him? I'm not betting against this kid … Tough fantasy football decisions: When to draft the partially injured Cooper Kupp and the apparently injured Jonathan Taylor … What gives the Alcohol and Gaming Commission of Ontario the right to tell retired pro athletes what they can or can't do with their time? I imagine if a former pro athlete chose to challenge this ruling about being disallowed from gaming ads in court, it wouldn't stand up … How much are the Boston Celtics scouting the Raptors these days? Seemingly too much. The Celts have signed former Toronto players Dalano Banton, Oshae Brissett (both Canadians), Justin Champagnie and Svi Mykhailiuk this off-summer.
Article content
Want meaningful Blue Jays baseball in September? You've got it

Chad Kelly has proven to be a rarity for the Argos — and he's sticking around
SCENE AND HEARD
Go figure this one: Swift outfielder Kevin Kiermaier has a far better WAR, wins above replacement (3.2), than Vladimir Guerrero Jr. (1.0) or George Springer (1.9) … With 20 home runs, 80 RBI and an OPS of .774, Guerrero has almost identical numbers this season to former teammate Marcus Semien … This is how bad umpiring can change baseball games. Danny Jansen should have struck out Friday night in Denver. That was pretty obvious to everyone but umpire Angel Hernandez. Hernandez missed the Strike 3 call. And right after that, Jansen hit the next pitch over the fence for what seemed to be a game-changing home run … Jansen, by the way, now has a finger injury. That means the Jays are without Bo Bichette, Matt Chapman and Jansen. Jansen is third on the club in home runs and first in home runs per at-bat. He's one of the few Jays having great seasons. The others: Bichette, Kevin Gausman, Jordan Romano, Tim Mayza and Trevor Richards … Chad Green is wearing No. 37 for the Blue Jays. It's Dave Stieb's number. It will always be Dave Stieb's number. Green is the ninth player to wear 37. The number should be retired … What an MVP race in the National League. Ronald Acuna Jr. vs. Mookie Betts vs. Acuna's teammate Matt Olsen vs. Betts' teammate Freddie Freeman. Acuna is the first big-leaguer in history to hit 30 home runs and steal 60 bases in the same season. He got married the other day. Apparently, no one has ever walked down the aisle faster … The American League vote is easy: Shohei Ohtani … John Schneider is getting crushed online, mostly on social media, for his decision-making as Blue Jays manager. Schneider is almost impossible to dislike, but some of his decisions of late are easy to wonder about … Rich Stubler was like a piece of comfortable furniture around the CFL. He fit in just about everywhere, and made teams better and wiser pretty much every place he coached in a quarter of a century. He passed away at the age of 74. The number of lives and careers he impacted was immeasurable.
Article content
AND ANOTHER THING
This is what Canadian basketball teams have been doing to us for far too long. They build up hope and then crush your spirits. It's been happening for far too long. This Canadian team at the FIBA World Cup, which started brilliantly, seemed like it was different. And it still can be different. Team Canada has to beat Spain on Sunday. If it does, it advances to the next round of the World Cup. If it doesn't, it's another would-have, could-have, should-have opportunity for the national team … That wasn't very clever of Canadian coach Jordi Fernandez to blast Shai Gilgeous-Alexander after the shocking loss to Brazil. Not with a game of this kind of importance on Sunday. The difference between Fernandez and SGA: Only one of them is an accomplished NBA star … On opening night at the U.S. Open, they celebrated that men and women players had been paid equally for 50 years. Which is more than important. It also raises a question: Why have Canadian Open tennis players never been paid equally in all that time? They will be paid equally for the first time in 2027, which is 54 years after it first happened in New York … No surprise that veteran Sam Gagner got a tryout invitation with the Edmonton Oilers. His dad, Dave, is very close to new Oilers hockey headman Jeff Jackson … Note to sports announcers and kids: The word is versus not verse. It's not the Argos verse Ticats on Labour Day Monday … Tough first week for NFL survivor pools. I like Kansas City over Detroit and Baltimore over Houston, but neither with any certainty … An NHL coach has a new appreciation for Borje Salming. He studied tapes of Salming recently. "He was doing in the '70s what they're teaching defencemen to do today. To go forward instead of backing up." … The only question about new Leafs defenceman Simon Benoit: Why did GM Pat Verbeek let him walk in Anaheim? It's not like he signed for much money in Toronto. You won't find anyone saying a bad word about Benoit, except maybe Tom Wilson, whom he fought twice in a game last season. And that shows an unexpected side of Benoit: He's not a fighter per se, but he did take on just about the biggest and best in a road game — twice on the same night … Benoit spent some time partnered with John Klingberg last season in Anaheim. Not sure having one-third of the Ducks defence constitutes Leafs improvement … Really not certain what kind of coach John Herdman is, big picture, but it's not hard to tell what kind of person and motivator he happens to be. He's a force when you meet him. He takes over the room. His word matters most. Whether he can change the culture of Toronto FC, that's a challenge all its own. No bigger challenge than what he managed with the women's national team. No bigger challenge than getting Team Canada to the men's World Cup. Those accomplishments were huge. But I got the impression Herdman was happy to get out of the national team job — and the mess that is Soccer Canada — but that Soccer Canada was probably ready to make a men's team coaching change as well. So it could turn out that all sides may end up benefiting from Herdman's move to the Reds … So long Jimmy Buffett. And thanks for making our lives better … Happy birthday to Sam Mitchell (60), Damon Stoudamire (50), Terry Bradshaw (78), Sasha Barkov (28), Nickeil Alexander-Walker (25), Gerry Meehan (77), Glen Sather (80), Nate Archibald (75), Mario Tremblay (67), Eric Dickerson (63), Adam Wainwright (42) and Dan Manucci (66) … And hey, whatever became of Alek Manoah?
https://torontosun.com/sports/simmons-says-burke-stepping-into-what-could-be-his-most-important-role-yet SIMMONS SAYS: Brian Burke stepping into what may be his most important role yet as executive director of Players' Association of Professional Women's Hockey League