Simmons Sunday Notes. The usual collection of dots, thoughts and shots
Get the latest from Steve Simmons straight to your inbox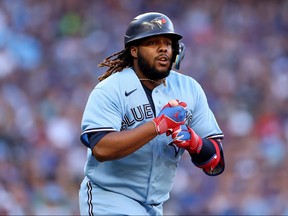 Article content
Just who and what is Vladimir Guerrero Jr., as a big-league ball player? The forever-struggling Blue Jays are about to find out.
Article content
The club is in a pennant race of sorts, barely hanging on to the last of three wild-card spots in the American League. The team has had a sporadic season. Irreplaceable all-stars Bo Bichette and Jordan Romano are down with injuries and the time frame for their return remains uncertain. Regular corner outfielders George Springer and Daulton Varsho were barely contributing to the offence.
Article content
Which puts so much focus on Guerrero, who was supposed to be built for this kind of attention. What does he do without Bichette in the lineup? Can he be anything close to the 2021 Guerrero, who dominated the American League and was a Shohei Ohtani away from winning MVP?
Now, it's August and Vladdy ranks 83rd in the AL in WAR (wins above replacement), he's 26th in OPS, 37th in home runs, 24th in on-base percentage, 28th in runs scored.
These are not the numbers of either a superstar or a dominant player.
Article content
Sure, he can bash home runs when he's hitting them off John Schneider at the Home Run Derby, but he doesn't get to face his manager night after night in the American League.
Is this what Guerrero will be? Just another middle-of-the-road slugger in baseball? Or can he grab the Blue Jays baton now and return to exceptional, especially at a time when they need him most, and live up to his advanced billing?
On the way to the major leagues, he was thought to be on a path to becoming an all-time great. That was expected. Not to be someone basically tied statistically with Justin Turner of the Red Sox.
Bichette was leading the AL in hits and batting average when he went down against Baltimore. He was performing beyond expectations, which you need to be a great team.
Guerrero has been nowhere near expectations this season or last, but there is time now to edit his story and change this season. Time to figure out just what kind of contributor Guerrero can be as a big-league player. Time still lacking tangible answers.
Article content
THIS AND THAT
A story going around had Kyle Dubas waiting for Brandon Pridham before naming himself general manager of the Pittsburgh Penguins. The story happens to be the far-too-common questionable junk you can access online these days. Pridham wasn't going anywhere. He made that clear long ago to several people. He's been happily working closely alongside new Leafs GM Brad Treliving. In hiring a GM, Dubas went ahead and named the smartest man in the room, which just happened to be himself … Dubas, who said he wasn't leaving Toronto, wouldn't work anywhere else and was feeling too much pressure on the job is now president, GM and director of truth in Pittsburgh … Ken Holland, who has been part of four Stanley Cup teams in Detroit, two Olympic gold- medal teams and is a member of the Hockey Hall of Fame, now answers to Jeff Jackson in Edmonton. Go figure. The last thing Jackson won was as a world junior player for Team Canada 38 years ago … Holland, who has been hinting about this for a while, will probably pack it in as GM of the Oilers after next season … Edmonton star Leon Draisaitl is spending the summer in Toronto, apparently training alongside teammate and former Jackson client Connor McDavid … LeBron James isn't training this summer in Toronto, but he is in town, along with other NBA players, for the Toronto Caribbean Carnival … A few readers asked recently: Where do you rank Phil Kessel among all-time Leafs players. Good question. Not certain of the answer. But I'd have him behind Borje Salming, Dave Keon, Mats Sundin, Doug Gilmour, Darryl Sittler, Lanny McDonald, Tim Horton, Syl Apps, Ted Kennedy, Mitch Marner, Auston Matthews, Red Kelly, Wendel Clark, Rick Vaive and Charlie Conacher. And that's not including Johnny Bower and Turk Broda, the goalies. Kessel played six seasons for Toronto and led them in scoring every year. Cumulatively, though, the Leafs ranked 27th in the NHL in Kessel's time here. Only Buffalo, Florida and Edmonton were worse.
Article content
HEAR AND THERE
Good deadline deals for Jays GM Ross Atkins: Picking up reliever Jordan Hicks and shortstop Paul DeJong from the Cardinals. They deepened the roster. Bad deadline deal not made: Not coming up with another outfielder, somehow, who could start in place of Varsho. The Jays leave more runners in scoring position than any other team in the league … The frightening part about the Baltimore Orioles: This is just the beginning for them …. Doesn't Jays callup Davis Schneider look like someone you might bring your tax returns to? … This is beyond crazy: The Blue Jays have won 15 of Yusei Kikuchi's 22 starts this season. In his past 12 starts, he has allowed only 21 earned runs and has an ERA below 3.00 … Ohtani looked like he was going to cry when Seattle hit a ninth-inning grand slam to beat the Angels the other night. Anyone who cares about Ohtani and baseball may have been crying along with him … Ohtani, Ronald Acuna Jr., and Freddie Freeman are the only major leaguers with an OPS above 1.0 in the first week of August … Kevin Gausman, who leads the AL in strikeouts, should contend for the Cy Young Award, giving the Jays a finalist for the third straight year. He needs to lower his earned run average, though, over the final seven weeks to have a shot at winning … Alek Manoah remains in hold-your-breath mode as he's returned from the Jays' Florida complex banishment. So far, five starts, one of them great, one of them weak, the other three just so-so. No old-style Manoah yet. He does have a 4.26 earned run average since returning, which makes him the fifth or sixth starter on this staff. For now. Probably ahead of Hyun-Jin Ryu and behind Kikuchi … Without similar confidence, the way Ryu nibbles on the corners reminds me of Jimmy Key … If you didn't know the name Chuck Kochman, you know his work. His Blue Jays and other sporting photos, are all over this country. He was an original, a Blue Jays from the beginning, a real character and an original personality. He lost his battle to two cancers on Thursday night. He will be sorely missed around the Rogers Centre and by his family and many friends.
Article content
SCENE AND HEARD
This has not been a great half-year for Canadian tennis players. Denis Shapovalov, who has an unimpressive 13-13 record in 2023, isn't healthy enough to play in the Canadian Open. Felix Auger-Aliassime has also struggled to find his form: He has a W-L match record of 13-11 this year after going 30-10 in the previous 40 matches. The big server, Milos Raonic, rarely healthy enough to play, is probably playing his last Toronto version of the Canadian Open this week … By comparison, Wimbledon champion Carlos Alcaraz is 47-4 this year, legend Novak Djokovic is 33-5 and contender Daniil Medvedev is 46-9 … The Canadian women aren't doing a whole lot better. Bianca Andreescu is ranked 44th in the world and has a 23-20 record this year. Leylah Fernandez is just 16-19 this season on the WTA Tour … The year is barely half over, but what a list already is emerging for Canada's athlete of the year: Swimmer Summer McIntosh, basketball's Jamal Murray and Shai Gilgeous-Alexander, Canadian Open winner Nick Taylor, NHL MVP McDavid. All would be terrific winners … Qualifying for the World Cup of soccer is a remarkable accomplishment. But it shouldn't end there for Canadian soccer. Both the men's and women's teams should be applauded for making the big show but not necessarily for how they performed at the largest event in their sport … Clearly, Canadian advertisers were expecting more from the Canadian women's team. You can't turn on your television these days without seeing an ad with Canadian soccer faces and feet. The big spenders weren't banking on quick elimination from the Women's World Cup …. If Matt Riddle were a pro baseball player, wouldn't he be Gunnar Henderson? … WWE reported revenue of $410 million in the second quarter of 2023, which includes Wrestlemania numbers being up 29%. All of that sounds impressive until you compare it to what Taylor Swift's six concerts in Toronto might bring in financially. By my mediocre high-school math standards, the six concerts — not counting hotels, restaurants and other ancillary revenue — will bring in at least $240 million for the concert extravaganza in 2024 … And where are people getting the money to pay $1,000-plus — and maybe several times more than that — for Swift tickets? … Should they change the name of the Edmonton Elks to the Edmonton L's? … With Chad Kelly at quarterback, the Argos might be the best team in the CFL. If he's out for any length of time afterhurting his ankle on Friday night in Calgary, all bets are off … It's the same story in Cincinnati with Joe Burrow, who was hurt in camp this past week. He is right there behind Patrick Mahomes as an NFL quarterback. The Bengals can't afford too many weeks without him.
Article content
AND ANOTHER THING
I've covered the NHL since 1980 and have come across hundreds of players over the years. Most of them you meet, talk to and forget about within minutes. Bob Murdoch was never like most of them. He left an impression from the first handshake. I was fortunate enough to cover the last two years of his 12-season NHL career, which happened to be the first two years of the Calgary Flames. Mud, as he was known to many, was different, smarter than most, well-read, well-spoken and introspective. He went on to coach several years for a variety of teams after his playing days. Murdoch passed away the other day, after too many years of battling Lewy Body Dementia, Parkinsonism and Alzheimer's disease. He will never be forgotten by those who were fortunate enough to have gotten to know him … And, yes, playing the Clint Eastwood part, I do miss the days when we got to know the people we covered, when we built relationships and shared laughs; when dressing rooms were full of players at their lockers, not full of reporters waiting for the next scrum to begin … The Marner wedding got all kinds of play online and on social media. Not nearly as public, and just as important, the Rich Clune wedding … And if you want to buy a gift for the Marners, who probably have everything, they happen to be registered at Crate and Barrel, same place my future daughter-in-law is registered … If Becky Lynch is married to Seth (Freakin') Rollins, and she is, shouldn't she start calling herself Becky (Freakin') Lynch? … If boxing were bigger today, Terence Crawford would be a household name. The way Roberto Duran, Sugar Ray Leonard, Marvin Hagler and Thomas Hearns were back in the day. Crawford is of that quality … Heading to a bookstore this weekend to buy Paper Trails, the latest book by Roy MacGregor. You should do the same. My MacGregor collection takes up half a row in my office bookshelf … Former Leafs coach John McLellan, who succeeded Punch Imlach, would have turned 95 on Saturday. He died young, at the age of 51, in 1979 …What a milestone for the Argos' ancient running back, Andrew Harris, who is now fifth all-time in CFL rushing. Ahead of him are legendary backs such as Mike Pringle, George Reed and Johnny Bright. The surprise in the top five is a quarterback, Damon Allen … Michael Vick, by the way, is the career leading rushing quarterback in the NFL, ranking 91st overall in league history. Allen ranks third in CFL history …. Happy birthday to John Olerud (55), Patrick Ewing (61), David Robinson (58), Rick Bosetti (70), Alvin Williams (49), Cory Boyd (38), Eric Hinske (46), Bernie Carbo (76), Lolo Jones (41), Eric Guay (42), Maureen McCormick (67), Anton Stastny (64), Roman Gabriel (83) and Andy Messersmith (83) … And, hey, whatever became of Priest Holmes?
ssimmons@postmedia.com
twitter.com/simmonssteve
https://torontosun.com/sports/simmons-says-do-not-post-until-sunday-at-8-am-thanks Simmons Sunday Notes. The usual collection of dots, thoughts and shots