Business
Sinema agrees to proceed with Senate climate bill after carried interest pledge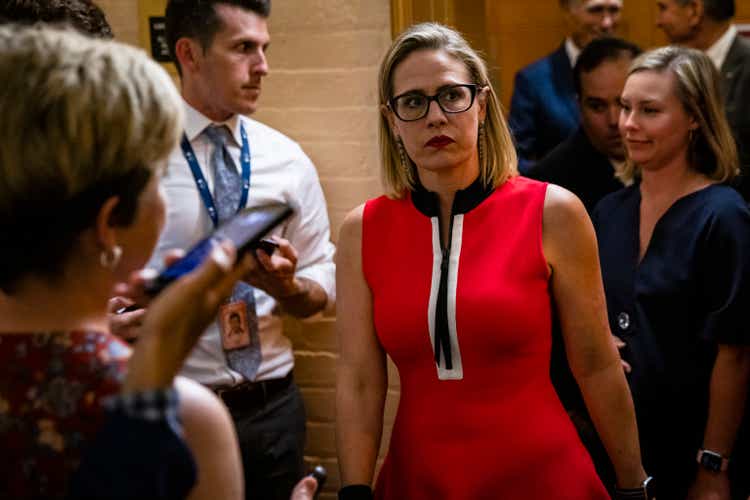 U.S. Senator Kyrsten Sinema said Thursday night that an agreement had been reached to remove an increase in taxes on carried interest income from the pending tax and climate plan, potentially solving a key issue with the plan Efforts by the Democratic leadership to pass their agenda.
"We agreed to remove the carried-interest tax regime, protect advanced manufacturing and promote our clean energy economy in Senate budget reconciliation legislation. Subject to parliamentarian review, I will proceed," Sinema said in a statement.
Senate Majority Leader Chuck Schumer said the revised bill will enter the Senate on Saturday and put the bill on track for passage with a simple majority.
Senate Democrats were reportedly considering adding a 1% share buyback tax to the bill to appease Sinema without losing Senator Joe Manchin.
Potentially relevant ETFs are (TAN), (FAN), (ICLN), (QCLN), (PBW), (PBD), (ACES), (CNRG), (SMOG), (ERTH)
Sinema's agreement comes a week after Manchin and Schumer announced a deal to generate $739 billion in new revenue and spend $433 billion on climate, energy and health programs.
https://seekingalpha.com/news/3867943-sinema-agrees-to-proceed-with-senate-climate-bill-after-carried-interest-pledge?utm_source=feed_news_all&utm_medium=referral Sinema agrees to proceed with Senate climate bill after carried interest pledge