SNOBELEN: Canada must take the threat from China seriously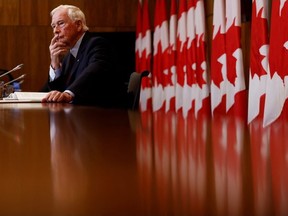 article content
Like all Canadians, I breathed a sigh of relief on Tuesday when Special Rapporteur David Johnston announced that we did not need a public inquiry into foreign interference in Canadian politics.
article content
My goodness, now we can all enjoy the summer because that pesky business of China meddling in elections, donating to the Trudeau Foundation and the University of Montreal, and generally messing with Canada is over. Thank you Mr Johnston.
article content
Also, sincere thanks to Johnston for his dig at journalists covering CSIS leaks, causing considerable unrest in the Prime Minister's office. If these journalists would just stop digging around, we wouldn't know what China was up to and we'd all be happier.
I think that's called sunny paths.
Despite Johnston's protestations, there are two unanswered questions and one obvious conclusion.
The first question is which demon possessed Johnston to take on this ill-fated mission?
article content
The second question is: What genius in the PMO thought it would be a good idea to start the China issue by appointing a special rapporteur?
And of course the obvious conclusion. The Trudeau government is not serious about China.
The rest of the world is soberly considering developing relations with the People's Republic of China. It has become obvious to most nations that opening up trade with the PRC has not brought that country to Western notions of trade and diplomacy.
Canadians, including our special rapporteur, have long explored commercial opportunities with China. Our universities are full of foreign students paying exorbitant tuition. Our government has infamously chosen to work with China on COVID vaccines.
article content
But we were consciously blind to the challenges. We seem happy to ignore the reality of trading with a country that doesn't respect our laws and abuses our freedoms.
Ignorance is evidently bliss. Consider the case of Chinese scientist Dr.
No need to worry, the RCMP said there was no threat to public safety. That was apparently all the Canadians needed to know.
Other countries take national security issues more seriously. Ironically, China tops the list. Recent actions suggest that policy is prioritizing security over trade. China is determined to protect its interests domestically while expanding its influence internationally.
article content
RECOMMENDED VIDEO
Recently, one of the main architects of trade with China, former Secretary of State Henry Kissinger, was interviewed by The Economist. A sprightly 100-year-old, Kissinger has been at the forefront of developments in relations with China since Nixon met Mao 50 years ago. He is deeply concerned about the next decade.
Foreign interference in elections is only a small part of relations with China. Kissinger points to the groundbreaking potential of AI. He noted, "We are at the very beginning of a possibility to enable machines to create global plagues or other pandemics."
A sober government could reflect on the realities of relations with China, including protecting intellectual property, safeguarding our education and research capacities, and identifying vulnerabilities in the supply chain. But Canada doesn't have a serious federal government.
The tragedy of Johnston's report has nothing to do with his dubious rejection of a public inquiry. The question he should have asked is what it takes for the Trudeau administration to deal seriously with China.
SNOBELEN: The Feds have to admit they ignored China's threat to the House of Representatives

SNOBELEN: This bud is for you

SNOBELEN: The story offers insights into how federal employees were treated
https://torontosun.com/opinion/columnists/snobelen-canada-needs-to-get-serious-about-china-threat SNOBELEN: Canada must take the threat from China seriously