Starmer challenges Sunak over BBC chairman 'mentor' and Tory 'snowflakes'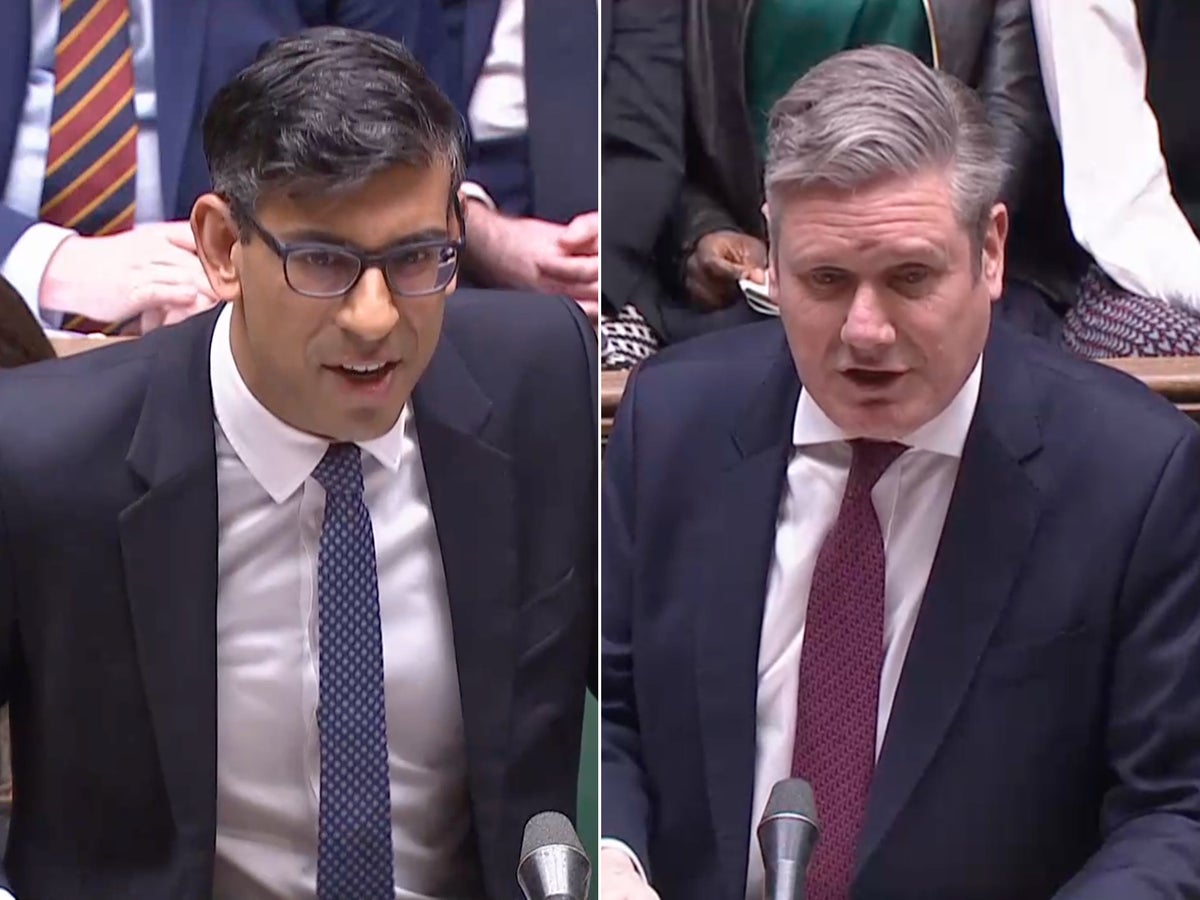 Keir Starmer has urged Rishi Sunak to take a stand against the Tory MP's 'snowflakes' who tried to 'cancel' Gary Lineker from the BBC.
The Labor leader also challenged the Prime Minister over his links to under-fire BBC leader Richard Sharp, a former Tory donor under investigation for links to Boris Johnson.
Sir Keir urged Mr Sunak at PMQs to "stand back against his Snowflake MPs who are waging war on free speech" as he attacked attempts by backbenchers to "quit a station".
The Labor leader also criticized the BBC's handling of the saga, which saw Lineker suspended and then reinstated without having to apologize for his tweet about Mr Sunak's small boat plan.
Sir Keir said the company's impartiality had been compromised by the "addicts to the abandonment culture". [Tory] Banks, a BBC leadership giving in to their demands and a Prime Minister too weak to do anything about it."
Rocking the BBC leader, Mr Starmer said Mr Sharp was "not just any old Tory donor" and said he was "so close to the Prime Minister that he has been described as his mentor".
"He helped arrange an £800,000 line of credit for the former Prime Minister [Mr Johnson]a small detail he forgot to share with the select committee reviewing his appointment," the Labor leader said.
He added: "Does the Prime Minister think his friend's position is still tenable?"
Mr Sunak appeared to distance himself from the chairman, saying Mr Sharp was appointed "before I became prime minister".
The Prime Minister also insisted that the review process to appoint Mr Sharp was "independent", adding: "Rather than pre-judging and forestalling this review, we should let it complete and await the outcome."
Sir Keir Starmer thinks Mr. Sharp's position in the Lineker series is "increasingly untenable".
Labor and others have suggested he is compromised by the probe into whether he failed to properly share details of his involvement in an £800,000 loan to Mr Johnson when he was ranked 10th.
Roger Bolton, a former BBC executive, is among several former top company officials calling for Mr Sharp's resignation as he can no longer define "impartiality".
The media expert who moderates Roger Bolton's Beeb Watch Podcast, pointed out that Mr. Sharp would decide whether to accept the recommended changes to the social media guidelines at the end of an independent review.
He added: "The report will come before the BBC board to decide what to do next. It is being led by someone, Richard Sharp, who is not viewed by many as impartial and who has been missing from action over the last crucial few days."
https://www.independent.co.uk/news/uk/politics/lineker-bbc-starmer-sunak-pmqs-b2301303.html Starmer challenges Sunak over BBC chairman 'mentor' and Tory 'snowflakes'