StatsCan shows that new arrivals are arriving faster than new jobs are being created
Given the housing crisis, the number of new arrivals appears to be outpacing job creation.
Get the latest from Brian Lilley straight to your inbox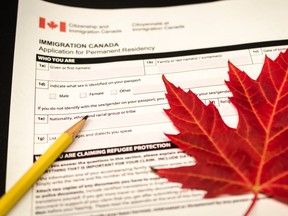 Article content
Have we reached an immigration tipping point in Canada? The numbers released by Statistics Canada on Friday definitely point in that direction.
Article content
When releasing the latest employment figures, StatsCan said we are hiring people faster than we are creating jobs.
Article content
"Employment increased by 40,000 (+0.2%) in August. This increase in employment was outpaced by population growth (+103,000; +0.3%) and the employment rate – the proportion of the population aged 15 and over who is employed – fell by 0.1 percentage point to 61.9%." says the report.
This figure of 103,000 per month represents only the working age population 15 years and older. Small children are not included. Still, the increase of 103,000 residents in one month is equivalent to adding Pickering, Ontario, Lethbridge, Alberta, or Kamloops, British Columbia.
According to StatsCan, we have registered an average of 81,000 new arrivals aged 15 and over per month since the beginning of the year. If this trend continues, that will be just over a million new people this year.
Article content
"Given this pace of population growth, job growth of around 50,000 per month is required for the employment rate to remain constant," the report said.
This level of growth is double what Canada experienced between 2017 and 2019 and before the pandemic effectively closed its borders.
So can we create 50,000 jobs a month so that employment keeps pace with immigration?
In the last 12 months we have exceeded 50,000 jobs four times, in two of those months we lost jobs and in the other six months we did not reach the mark. If we continue to hire an average of 81,000 working-age people per month but do not create at least 50,000 new jobs, the unemployment rate will rise.
A report from StatsCan was released on August 1st examined the issue of immigration and employment and found that employment has largely kept pace with immigration. However, that was before this latest increase and with each increase it becomes more difficult to deal with.
Article content
In recent years we have grown from 250,000 to 300,000 new permanent residents per year – people who immigrate to settle here – to over 430,000 permanent residents in 2022. The government's goal is to increase this number to 500,000 new permanent residents a year by 2025, a mark they will easily reach.
RECOMMENDED VIDEO
We have gone from a few hundred thousand international students studying in Canada each year to over 800,000 last year and, by some estimates, over 900,000 this year. None of this takes into account the thousands of people seeking asylum in Canada each month, or the hundreds of thousands of temporary foreign workers.
A recent CIBC report suggested that Canada's population could fall by a million because of a shortage of non-permanent residents, mostly temporary foreign workers.
Article content
We have a housing crisis caused by more demand than supply, and the ever-growing population, particularly among foreign students, is adding to this. This week we saw a story of international students in North Bay living in tents due to a lack of housing options.
LILLEY: Trudeau Liberals link housing crisis and immigration

LILLEY: Deal to close Roxham Road. was signed one year before it came into force
Most Canadians support high levels of immigration. All major political parties have supported policies of increased immigration.
However, current levels, unprecedented in our lifetime, could change all this and lead to calls for deceleration.
We don't have enough housing for the people already living in the country, not to mention a new city being added every month, but we are also told that we need the new arrivals to fill the house building jobs. Our healthcare system is regularly at a tipping point because there aren't enough doctors and nurses to deal with the population already here, but we're also told that we need newbies to fill healthcare positions.
But when they arrive here, we will have no adequate housing, no health care, no education for their children and no infrastructure for the communities in which they settle.
It's quite a mystery.
Is any of this good for the country or good for the people who come here, perhaps because of the misconception that Canada is a country that still functions properly?
Maybe now is the time to take a break and slow down the admissions until we have the situation under control and are sure that we can admit so many people so quickly.
https://torontosun.com/opinion/columnists/as-statscan-shows-immigration-soaring-is-it-time-for-a-pause StatsCan shows that new arrivals are arriving faster than new jobs are being created