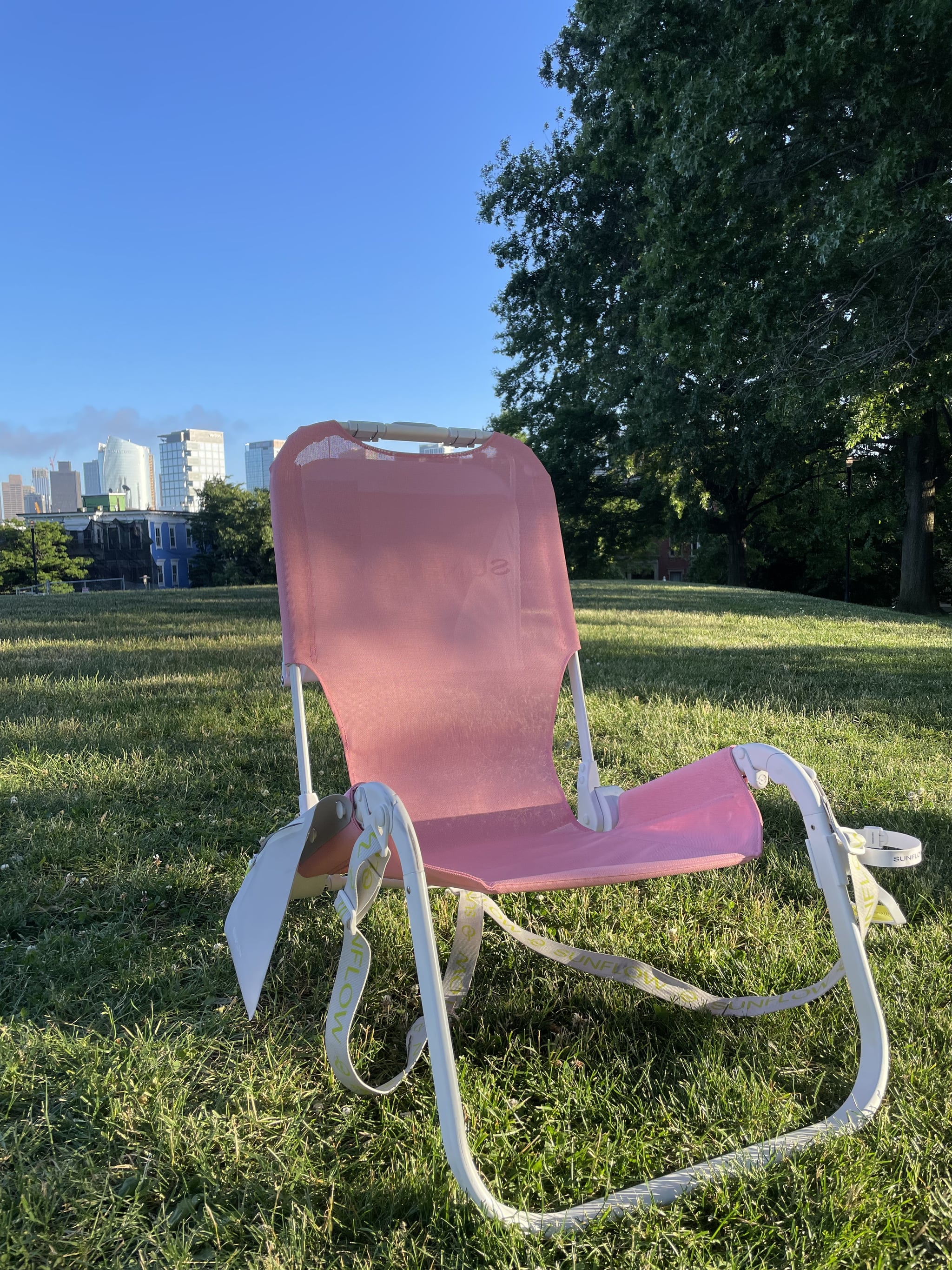 If you're a beach bum like me, you know the difference between a cheap beach chair and an expensive one. While that $20 chair you bought online might have stopped after its first summer, your expensive Tommy Bahama probably lasted a season (and is probably a lot more comfortable, too). Like many people, I bought one cheap beach chair after another, but after wistfully watching my friend's comfy beach chairs — which have thoughtful features like loungers, coolers, cup holders, and more — I decided the upgrade was worth the money. I have owned a Tommy Bahama chair for three years and I love it. But there's only one thing: I like my Sunflow Beach Chair ($296) just as much.
Like many of you Shark Tank fans out there (the TV show it was featured on), I was curious about this chair. I loved all of its gadgets and gizmos and the way it folds upright (so I don't have to do weird contortions with my body). It's certainly as high quality as other beach chairs I've invested in and it's quite stylish too. The Sunflow chair gives me hotel pool vibes – the seat's thick synthetic fabric lets in a gentle breeze, doesn't get too hot, and doesn't feel like it's going to break on me. (Yes, it has happened to me before, and no, I don't want to talk about it.)
What I like about the Sunflow Beach Chair
Its aesthetically pleasing style is second to none.
It comes with accessories like a canopy and a cup holder.
Setup can be done in one quick movement.
The Sunflow beach chair embodies all the qualities you're looking for when you're looking for a top-of-the-line chair: it's comfortable, durable, easy to carry, foldable and reclining, and it even comes with fun accessories like a canopy, cup holder, and a pocket. It has four recline positions so you can catch the sun from all angles, and its attachable canopy can be adjusted to shade you in different ways. While this chair has a lot of fun features, I would say that its most outstanding feature is the set up. Unlike other beach chairs, which simply unfold, this chair is quite large. It takes a few tries to figure it out, but after watching Sunflow's setup video it will feel like second nature. I do it with a water bottle and phone in hand all the time, and it's dead easy.
In addition to opening and closing tactics, style is another outstanding feature. Certainly pretty to look at for a chair. I get tons of compliments on it from passers-by and even had a dog jump in on a recent visit to the park (pictured below) – the ultimate seal of approval.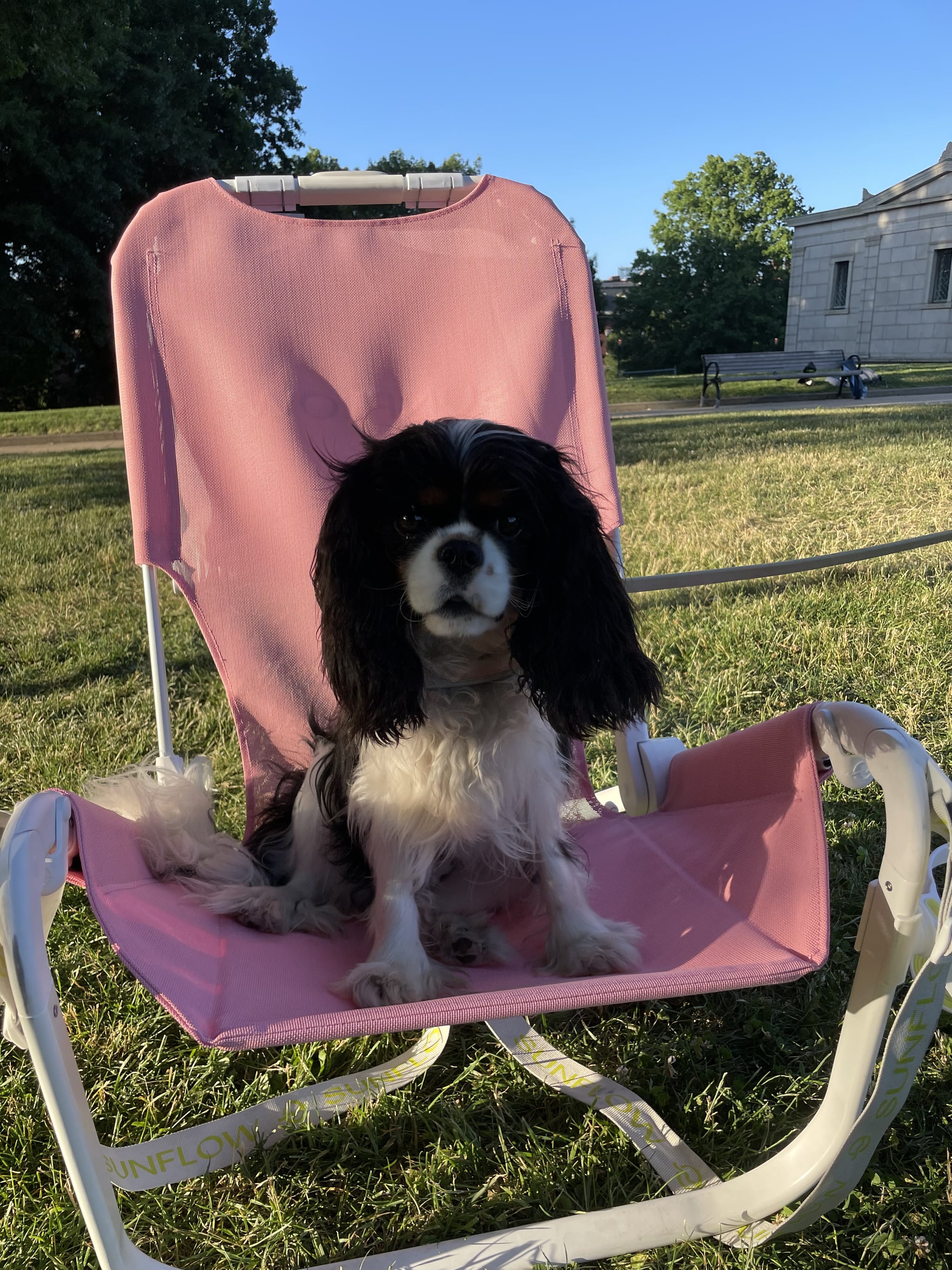 What to look out for with the Sunflow Beach Chair
This chair is often sold out.
Its backpack straps can get in the way when set up.
This chair is incredibly popular and constantly fluctuates between sold out and in stock. When it sells out, there are alternatives, like this Telescope Casual Original Mini-Sun Chaise Folding Beach Arm Chair ($137) with the added Universal Shade Canopy ($62, originally $65). While it's not quite as attractive, it has a similar concept. It's also worth noting that the Sunflow chair's backpack straps sometimes get in the way when opening the chair. If this happens, be sure to hold them to the side before you start unfolding.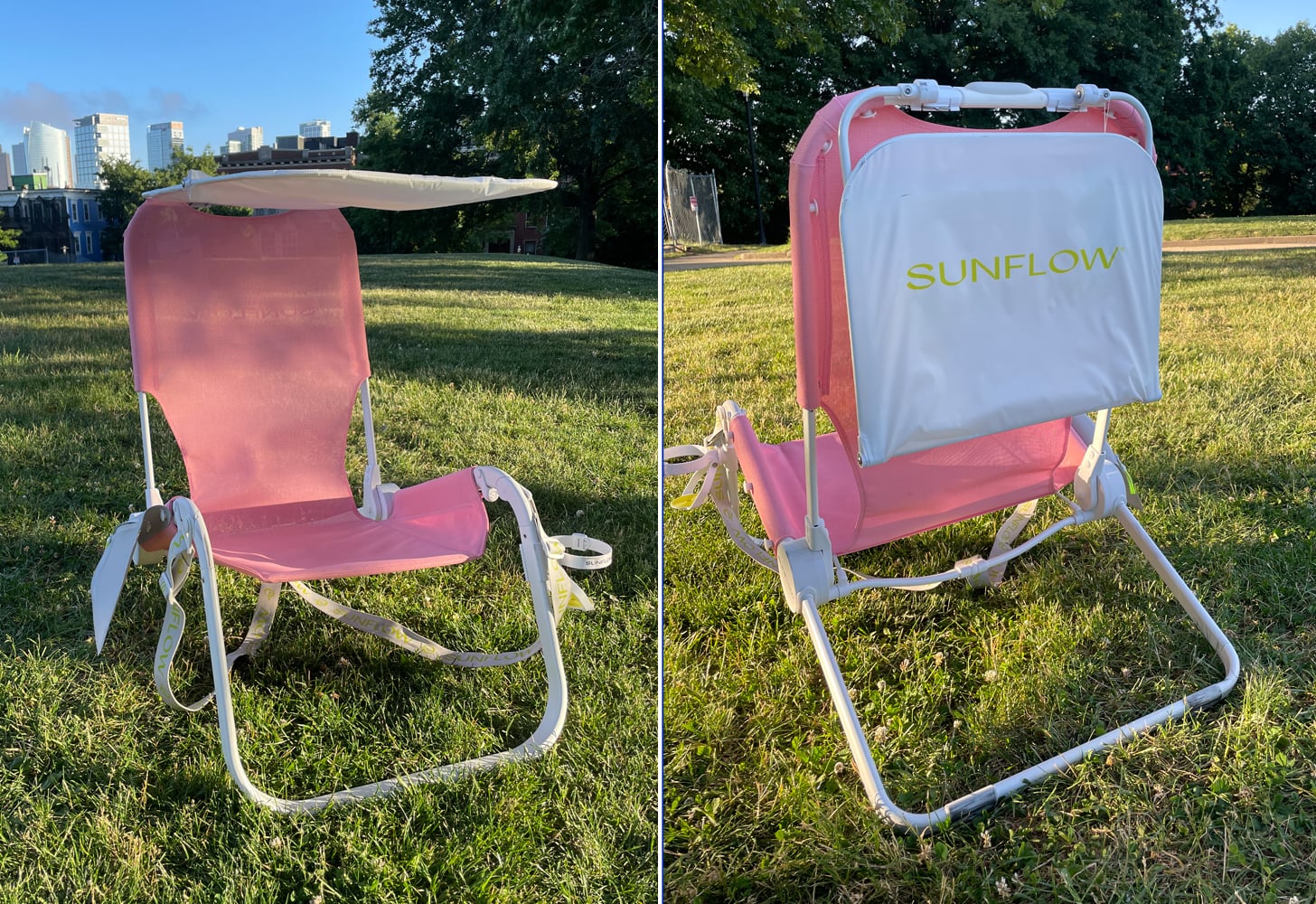 Who is the Sunflow beach chair best for?
This chair is best for those looking to spend more money and want a quality, aesthetically pleasing beach chair. It's a good chair that will last for years, but for the price it's not for everyone.
Is the Sunflow Beach Chair worth the money?
It depends what you prioritize. If aesthetics are important to you, this chair is definitely a feast for the eyes. Its attachments are fun to use and certainly an investment that you will enjoy for years to come. The quality of this chair cannot be denied, but can you match this quality with any other beach chair on the market? Yes for sure. Can you get the cool innovations of this chair somewhere else? I don't think so – I think the chair's fixtures and the way it opens sets it apart from its competitors. And finally, can you find a good looking chair like this anywhere else? Possibly, but the price could fall accordingly.
Editor's Rating
Image Credit: POPSUGAR Photography / Haley Lyndes
https://www.popsugar.com/smart-living/sunflow-beach-chair-review-48865878 Sunflow Beach Chair Review | 2022