T3 Aireluxe Hair Dryer Review With Photos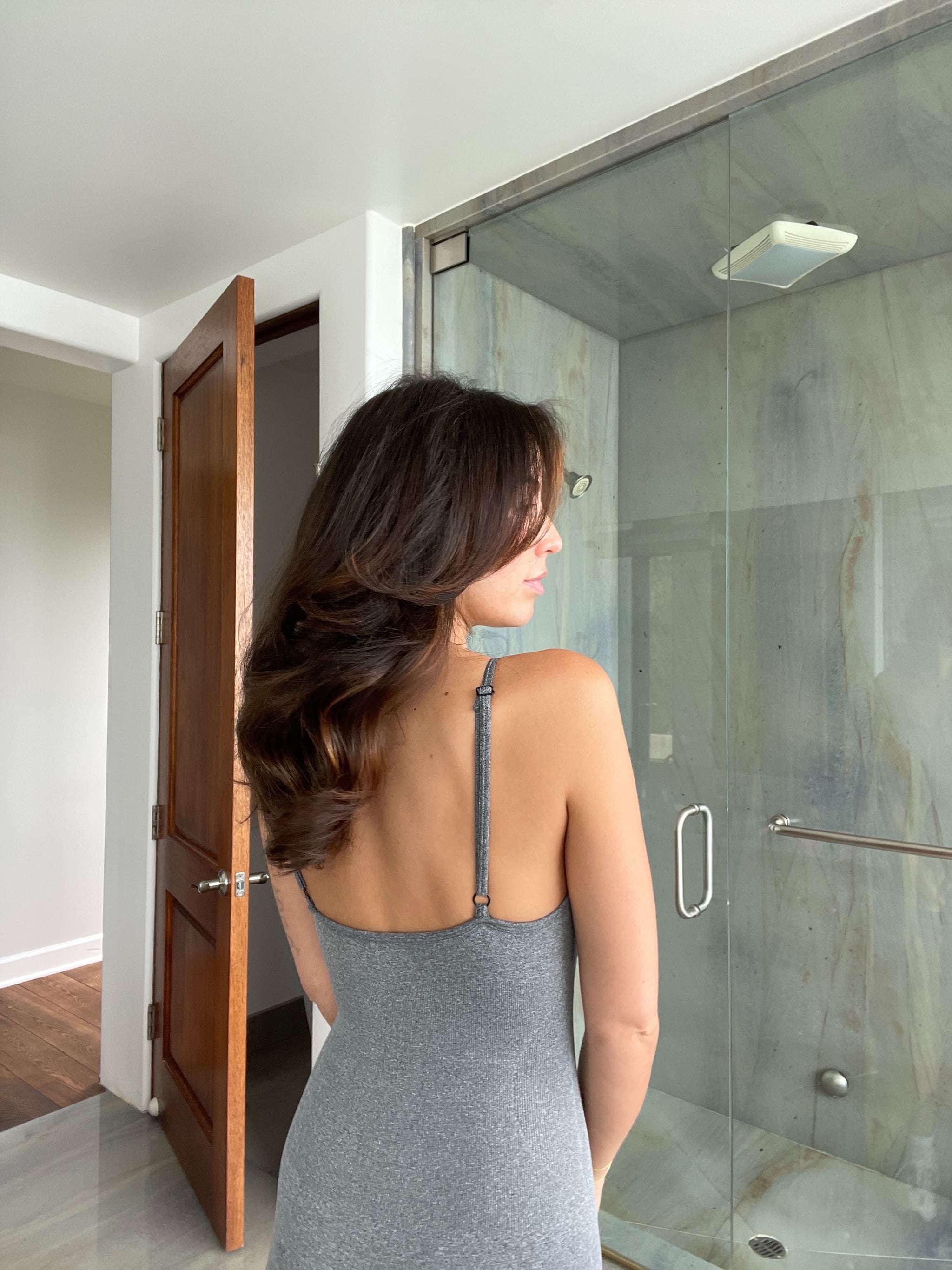 T3 recently launched a brand new hair dryer, the Aireluxe.
The hair tool promises users a frizz-free, voluminous blowout.
Our editor tested the hair dryer, so read on for her findings.
I recently stayed in a hotel for a few nights and I refrained from bringing my hair dryer as I usually find one kept in the bathroom. I used to be the kind of person who believed that a hair dryer was a hair dryer and that a $12 product could do the same thing as a $300 product, but boy was I wrong. Something about this hotel hair tool honestly scarred me for life. Not only did it take a good 30 minutes to fully dry my hair, but it left my hair looking like a frizzy mess with tons of knots and zero shine. I can usually leave the house after just blow-drying my hair, but I ended up needing the help of a flat iron and a curling iron before deciding my hair was worthy of being shown in public.
My story may sound dramatic (OK, it kind of is), but for the past few years, I've made it my goal to take good care of my hair. That means I've stopped washing too much, I've started oiling my hair and using products with healthy ingredients, and I've invested in hair tools that keep my hair in tip-top shape. Enter: the T3 Aireluxe Hair Dryer ($200).
The T3 Aireluxe hair dryer is an elegant hair dryer that comes with all the bells and whistles. It has five different heat settings, three different speed settings, a volume boost switch, a lock-in-cool shot (more on that later), and an extra-long 9-foot cable. It's basically the Cadillac of hair dryers. It also comes with two different attachments so you can adjust the amount of airflow and minimize heat impact.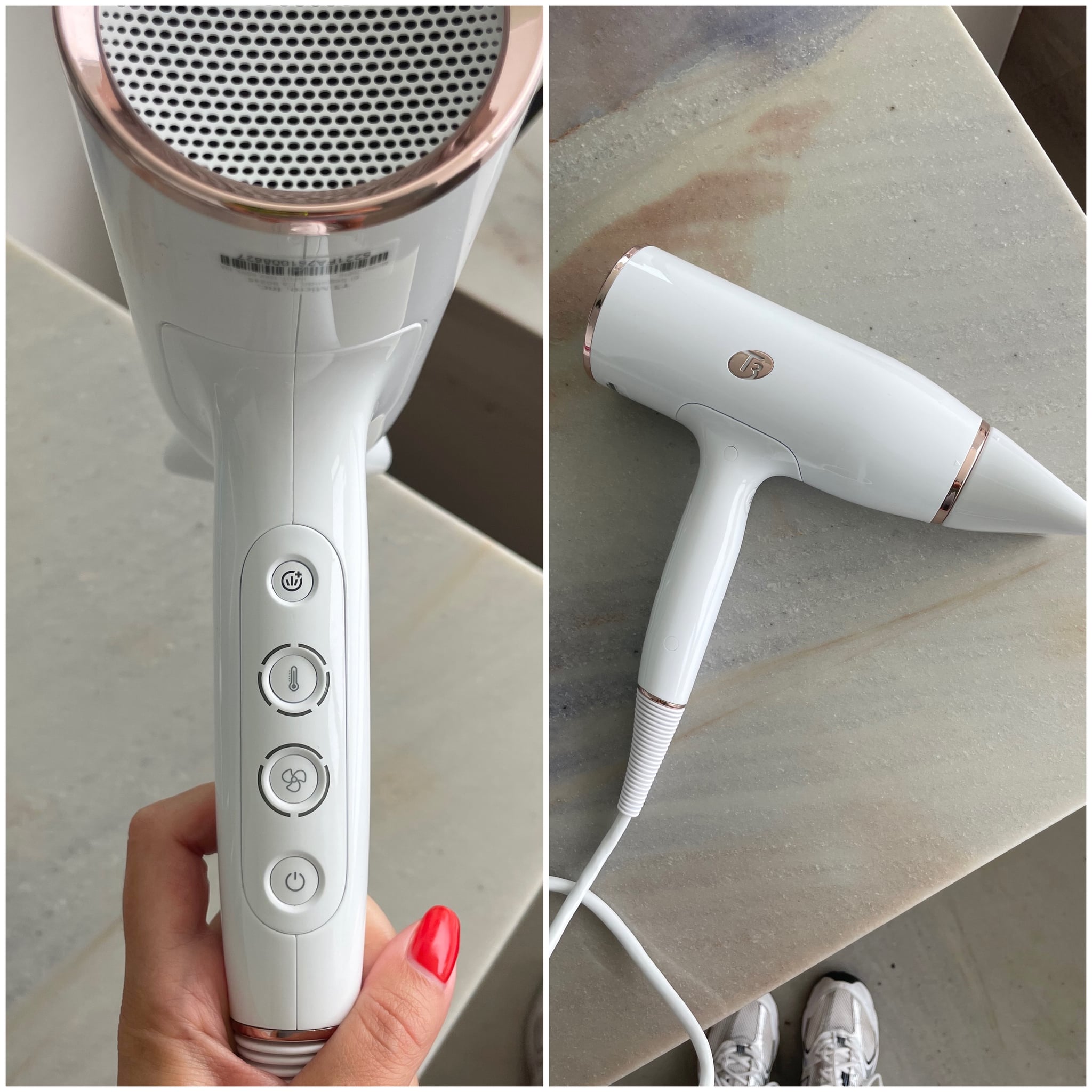 I have fine, frizzy hair. So when I read that this blow dryer is great at minimizing frizz while leaving hair looking shiny and feeling soft, I knew I wanted to try it. When it comes to what I like about a blow dryer, I look for lightweight tools that dry my hair quickly and are easy to use. The first thing that struck me when I took it out of the box was how light it was, which was a huge plus – there's nothing more annoying than a heavy, unwieldy hair tool. After turning it on I noticed how fast it was, even on the lowest setting.
While I've never really had a problem with the length of the cords on my hair tools, the fact that the Aireluxe comes with an extra-long cord was surprisingly one of my favorite features. I was able to move freely and easily and didn't constantly pull the line to gain more length. Another feature I was surprised I liked so much was the lock-in-cool shot. I love using the cool shot option on my hair after blow drying to set the style, but I find it extremely annoying having to hold the button down the whole time. With the Aireluxe, I only had to press the button once, and cool air flowed until I pressed the button again. Talk about a feature I never knew how much I needed!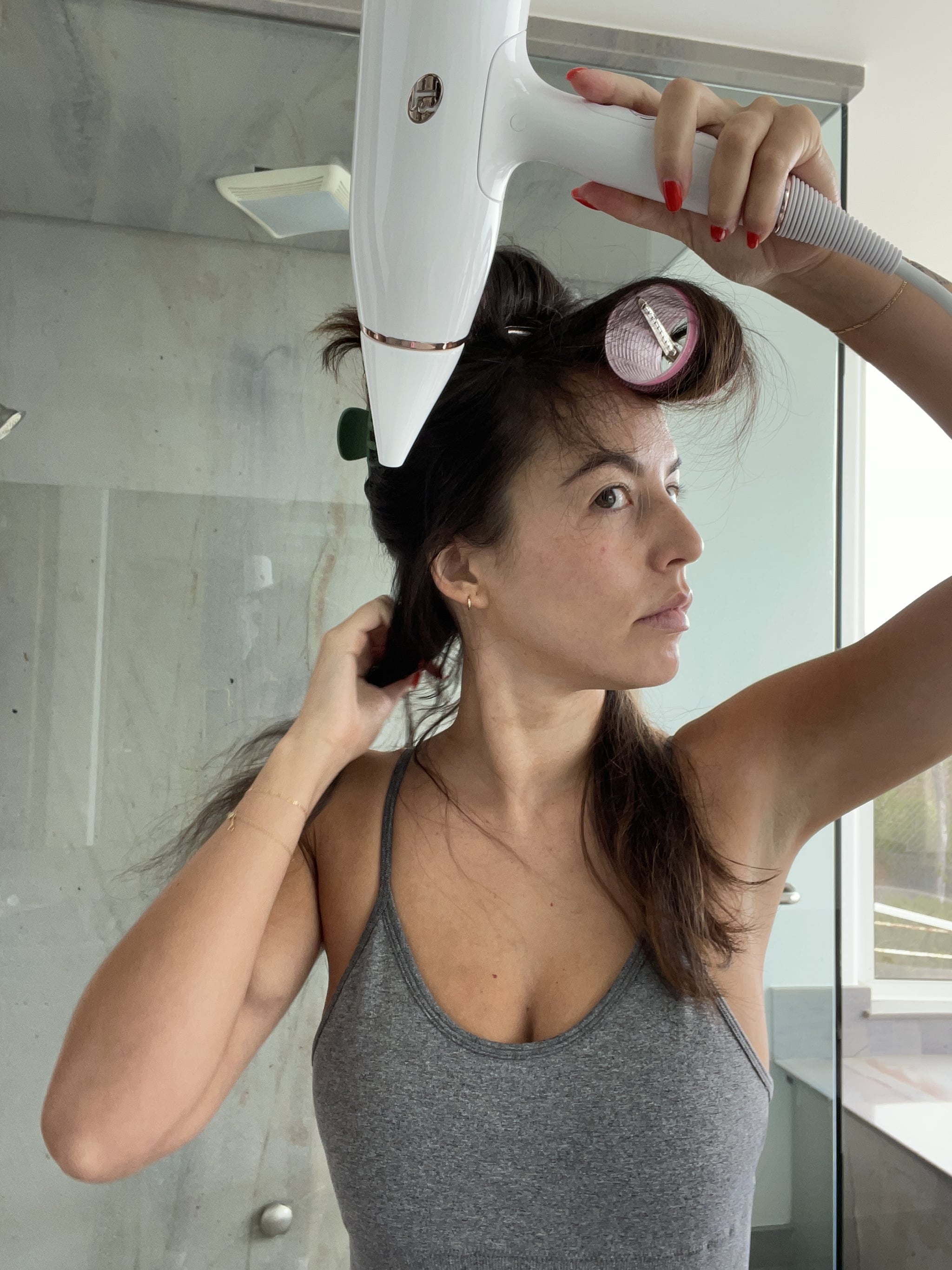 After using Aireluxe just once, I knew I had found a winner. It dried my hair quickly (really cut my typical drying time in half) and it absolutely minimized the amount of frizz I'm used to after blow drying my hair. Also, it made my hair softer and shinier than ever after using a hot tool. I've used it many times since I first tried it and it quickly became my favorite hair dryer and hands down the best I've tried in years. I love using it with a round brush like the T3 Volume 2.5 Round Brush ($35) to give me the perfect bouncy blowout. It's also the perfect tool for when I'm using Velcro rollers and want to give myself a '90s blowout. Another plus? If you have curly or textured hair, the T3 has a diffuser attachment and a smoothing comb, which I've personally tested and love.
At $200, this hair dryer is definitely expensive, but in my opinion, it's worth every penny. Keeping my hair healthy and as undamaged as possible is a huge priority for me, so I'm willing to put my money into products that help with that and Aireluxe is one of them.
Valuation:

Image Credit: POPSUGAR Photography / Renee Rodriguez
https://www.popsugar.com/beauty/t3-aireluxe-hair-dryer-review-48888235 T3 Aireluxe Hair Dryer Review With Photos