The Blue Jays turn to the booed Jays as frustration from Toronto fans boils over
Get the latest from Rob Longley straight to your inbox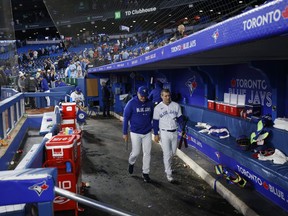 Article content
Blue Jays fans are angry.
Article content
Angry at the team for not living up to their pre-season promises and, unless there is big success in the final two weeks of the season, will fall from the 91-win team in 2022.
Article content
They're angry at a group of highly touted players who have watched frustrated for far too long this season, an anger that came to a head Wednesday night at the Rogers Center.
Midway through the game, in which they were beaten 10-0 by a Texas Rangers team with whom they were ostensibly competing for a wild-card spot in the American League, the boos began.
With every passing error at the plate, they grew in volume and reached a crescendo at the end of the game, their third straight loss to the Rangers, knocking the Jays out of a playoff spot.
The anger is likely reflected in the low attendance for this week's crucial series against the Rangers, with Monday and Wednesday's games the two least-attended games of the season.
Article content
Sure, the kids are back in school and money is tight, but has the fan base that filled the Rogers Center for most of the summer had enough?
It certainly feels like a significant portion of Blue Jays nation feels this way, a sentiment that was expressed by the social media reaction to many of our posts following Wednesday's debacle.
A selection:
"Maybe we fans are just fed up with a team that promised too much in the spring and under-delivered all season.

"Will not be there next year due to higher ticket prices. The Rogers Center becomes the Scotiabank Arena. Playground for the wealthy and corporate to network, eat and sometimes watch the game. Real fans are being pushed out."

"I've had a quarter (share) season ticket for 15 years – there have been some terrible teams in the last 15 years and I was happy to go. This is the first year that going there feels like pure torture and I can't bear the thought of putting up 6km for my places next year."

"We're broke and they're not a very likeable team."
"The fans have given up. I think there is a strong sense of empathy. As fall approaches, fans can renew their loyalty to the Leafs."
Article content
While it's a fan's prerogative to be upset about substandard play and overwhelming losses (the Jays were outscored 26-7 in this week's three games), a quick turnaround could change the mood.
But with 16 games left, fans are clearly dismayed by a team that had far higher expectations. They let out constant jeers on Wednesday, a noise that was impossible for the team and their coaches to hear or feel. And it had to feel a bit like piling up.
The listless Blue Jays understand the significance of September baseball with their stunning loss to the Rangers

Repressed ace not ready for competition? More on the Blue Jays' Alek Manoah shutdown
"We understand that fans want to see exciting, winning baseball," manager John Schneider said. "We as competitors, players and employees don't like to hear that. But at the same time, we appreciate them voicing their frustration when it deserves it.
"Hopefully (Thursday) will be the exact opposite."
Jays closer Jordan Romano added: "I understand. (The fans) want to see a good competitive game. It's a big series and they didn't get what they wanted.
"I was a fan of this team as a child. I was there. I don't know if I've ever booed, but I definitely get it."
https://torontosun.com/sports/baseball/toronto-blue-jays/blue-jays-turn-to-booed-jays The Blue Jays turn to the booed Jays as frustration from Toronto fans boils over