The Toronto Argonauts 150th Anniversary celebrations are heating up
Get the latest from Mike Ganter straight to your inbox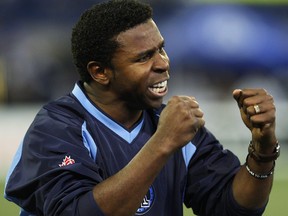 article content
Fifteen seconds into his first game as a member of the Toronto Argonauts, Michael (Pinball) Clemons knew he had found a home.
article content
His first touch resulted in a 40-yard kickoff return, which sounds like a great start to any career until Clemons ended it with "And then I fumbled it."
article content
"The first time I touched the ball, I was fumbling," Clemons said Friday as the Argonauts unveiled plans to celebrate their 150th birthdayth Season. "And it was like five different guys – Carl Brazley, Reggie Pleasant – all these different guys were there and said, 'Hey little man.' Don't worry about that. we have you We've got your back.'
article content
"These guys turned their backs on me, so it came straight away. Donny Moen, all of these guys were great."
Not every bond between a man and a team is formed that quickly, but for some reason the bonds a man makes when he wears the double blue seem to be lasting.
article content
This type of bond helped the Argonauts survive a brief, almost crippling period of possession by Sherwood Black. It has enabled them to continue operating despite the tight squeeze under Harry Ornest's leadership and countless other crises.
Overall, they have won more Gray Cups (18) than any other team in league history and remain the oldest professional sports team in North America to still use their original name.
As well as celebrating their 150th anniversary this season, the Argos are starting the year as the defending Gray Cup champions and as such will honor the first 10,000 fans at the home opener with a replica Gray Cup ring.
June 18thth The home opener happens to be against QEW rivals Hamilton Tiger-Cats, making unfurling of another championship banner all the sweeter.
article content
In their second home game of the season on July 3, when the Argos host the BC Lions, the all-time Argos club goes from 24 with the addition of quarterback Damon Allen (2003-2007) and receiver Derrell "Mookie" Mitchell 26
Allen only played five seasons with the Argos but remains #3 on the Argos all-time passing yards list and was elected to the Canadian Football Hall of Fame in 2012.
Mitchell spent eight seasons in Toronto and is the all-time Argos leader in receiving yards and touchdowns and second in all-time Argos receptions.
In the entire 150th During the anniversary season, the team will tally the 150 greatest moments in franchise history, as selected by a panel of team historians and longtime club employees.
"This game was good for so many people, including me, it presented another chance, another opportunity," said Clemons. "Because of that, I think people have a tremendous affection for it."
mganter@postmedia.com
https://torontosun.com/sports/football/toronto-argonauts-150th-anniversary-celebrations-revving-up The Toronto Argonauts 150th Anniversary celebrations are heating up