The Week on Stage Theater Reviews: The Great British Bake Off Musical, Bonnie and Clyde, Ballet Black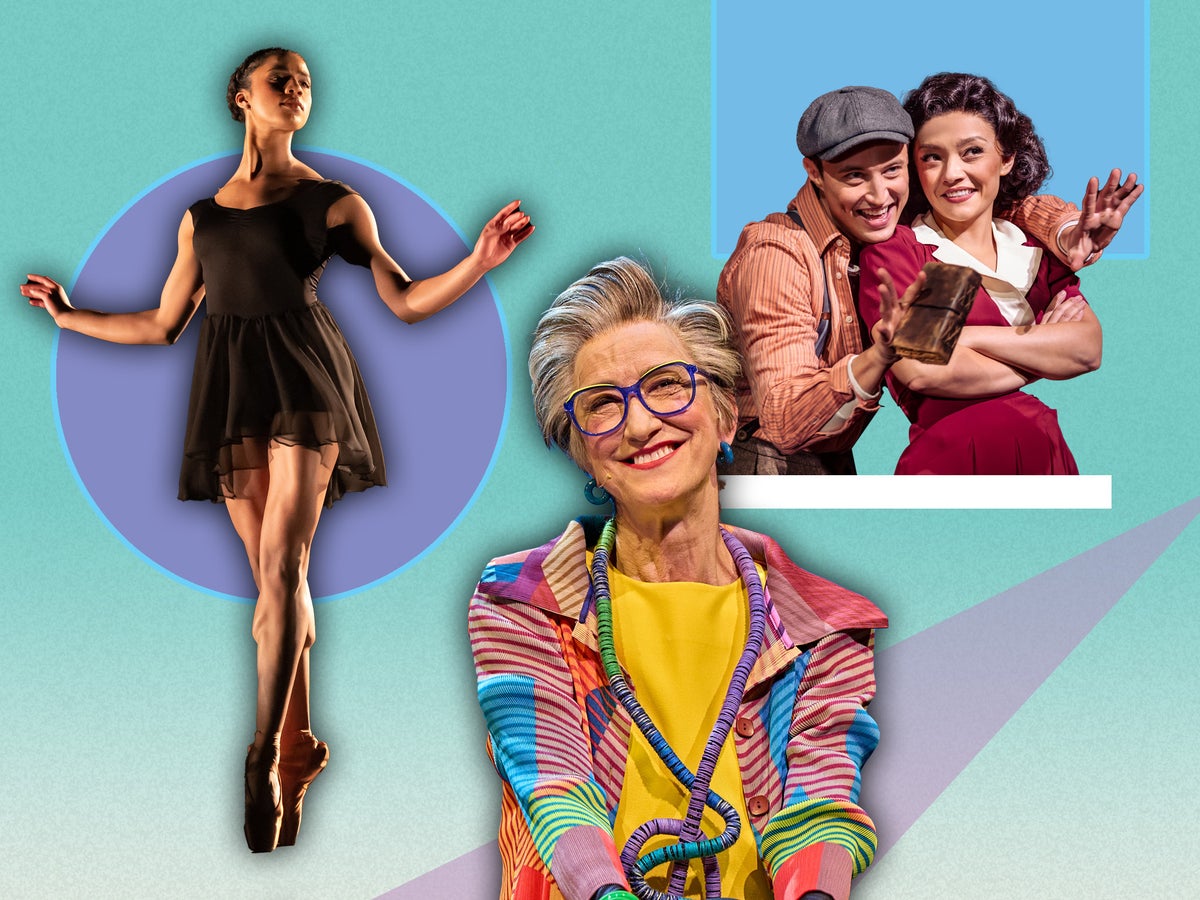 This week baking receives the musical treatment, Bonnie and Clyde returns to the West End for a second run and dance company Ballet Black celebrates the life of Nina Simone.
Bonnie and Clyde – Garrick Theater ★★★★☆
Though it wasn't exactly critically adored on its Broadway debut in 2011, Bonnie and Clyde was an instant cult favorite in musical theater circles. Last year it garnered a legion of new followers when it made its limited run for the first time at the West End's Arts Theater, where audiences became obsessed with Frances Mayli McCann and Jordan Luke Gage's portrayal of the controversial Outlaws. It's back on stage less than a year later, and the reason for the hype is quickly becoming clear: together, McCann and Gage are a cheeky, defiant duo who find it almost impossible not to root for them – despite their penchant for greed, fame and blood murder.
The show begins at the very end of the folk heroes' story, with the sound of gunshots and the sight of their bodies bleeding in their getaway car, the couple were struck down by authorities in 1934 after a month-long spree of murder and robbery. Ending In two acts, we see a waitress who dreams of becoming a Hollywood star and a wannabe celebrity mobster fall madly in love and eventually shoot themselves to the top of the FBI's Most Wanted list. McCann and Gage are excellent leads; Their chemistry is sizzling as their triumphant vocals let Frank Wildhorn's and Don Black's sexy country-blues score shine. Clyde's bander "Raise a Little Hell" in Act I and Bonnie's 11 p.m. number "Dyin' Ain't So Bad" had the premiere audience roaring in approval.
Most of the action revolves around our eponymous crime couple, but the main cast are joined by a dynamic cast that brings their poverty-stricken hometown of West Dallas to life. As Blanche, Clyde's godly and judgmental sister-in-law, Jodie Steele is an exceptional character, combining a beautiful singing voice with precise comic timing.
While the celebration of a homicidal couple may seem strange to some, for many others this moral dilemma will not matter; Bonnie and Clyde makes irresistible fun with music that sticks in the memory long after the bows have been taken.
Nicole Vasell
The great British bake-off musical ★★★☆☆
"Have you ever hit a whirlpool?" asks Phil Hollinghurst, The great British bake-off musical's replacement for Paul Hollywood. Candidate Babs nods: "Three times, and all ended in divorce." It's not entirely clear what she means. But who cares? That is a baking Musical! Allusions that don't always make sense, that's what we're here for!
The show is based on baking as a concept rather than real-world storylines set during the making of a fictional series, chronicling behind-the-scenes rivalries and romances in the on-screen action. It's moderated by presenter duo Kim and Jim (a hilarious Zoe Birkett and Scott Paige), while our judges are "baking demigods" Pam Lee (Haydn Gwynne) and Phil Hollinghurst (John Owen-Jones), who aren't so loosely grounded about Prue Leith and Hollywood.
While much of the drama takes place in the baking Tent (carved out of neon in Alice Power's innovative design), this show isn't afraid to venture into more abstract territory, with a zany opening number about the invention of the cake and a battle over how to pronounce the word "scone." Phil and Pam box each other while dressed up as afternoon tea staples. These moments demonstrate an unexpectedly offbeat sense of humor in writing, as well as a willingness to joke about the show itself.
Brunger and Cleary's score more than holds its own alongside other notable new British musicals, but is slightly let down when the baking metaphors are pushed to more serious issues. Contestant Gemma (Charlotte Wakefield) sings about her mother's death in a song called "Somewhere in the Dough," and when Italian singer Francesca (Cat Sandison) explores her struggles with conceiving in "Grow," it's done through a stubborn "bun in the dough". oven" metaphor. The messages in both songs are powerful, but the sweet analogies lead to a giggle between tears. But even in lyrically dubious moments, these songs can't get out of your head – a rarity for a new musical. The flavors here might not be subtle—but at least they're punchy.
Isobel Lewis
Full review here
Ballet Black: Pioneers – Barbican ★★★★☆
Isabela Coracy spotlights new work by Ballet Black, NINA: In whatever way. This danced biopic by Nina Simone is fueled by Coracy's magnificent presence, the imposing power and verve of her movements.
Created by Company Dancer Mthuthuzeli November, NINA: In whatever way begins with Simone's famous performance at the 1976 Montreux Jazz Festival and then returns to her childhood. November creates lively group sequences, but the biographical approach can drag. A barrage of waving placards tells us we've reached the civil rights movement, but it lacks dramatic weight.
The ballet is at its strongest when November moves away from his timeline to give space to Simone's own artistry and words. As we hear Simone say that black people are beautiful, we see Coracy dancing: on pointe, fist raised in salute. She claims the space she deserves – as Simone and as part of a company created to provide a platform for artists of black and Asian descent. It's a platform for guessing. Ballet Black was formed in 2001 and has a proud history of commissioned work and grandiose dancing. This double performance showcases a new generation of artists making their mark.
A 2020 revival of William Tuckett's Then or now begins with a solo for Helga Paris-Morales, moving with fluid lines and elegance. Tuckett overlays poems by Adrienne Rich with violinist Daniel Pioro's new Variations on a Theme by Biber. Sometimes the steps mirror the poetry directly – a mention of four men, pictures of everyone "sending love". At other times, the dance flows alongside. It's an approach that can lose momentum, but the vibrancy of dance keeps it on track. Zoe Anderson
Full review here
https://www.independent.co.uk/independentpremium/culture/bonnie-clyde-ballet-black-bake-off-musical-b2297333.html The Week on Stage Theater Reviews: The Great British Bake Off Musical, Bonnie and Clyde, Ballet Black