Technology
These designers transformed old down jackets into extremely comfortable c
If you've ever wondered what it feels like to sit on a cloud, wonder no more.
Two Icelandic designers have created a pair of stools out of recycled down jackets. Each stool consists of a twisted metal rod and three parkas threaded around it like sleeves. The project, which has the Icelandic name Erm for "sleeve," was recently exhibited at DesignMarch, a design festival in Reykjavik that normally takes place in March but has been postponed due to COVID-19. Erm is part of a larger exploration of the circular economy and the potential to transform discarded clothing into something completely self-sufficient. It's a promising endeavor considering the United States generates about 25 billion pounds of textile waste annually and only 15% of that is donated or recycled.
Since its invention in the 1930s, the down jacket has evolved into one of the most useful status symbols of all time, but the garment is not without its flaws. Down jackets are typically made from polyester, which is made from petroleum (a fossil fuel) and requires a lot of energy to produce, although recycled polyester is becoming more common. Historically, down jackets have also been filled with goose down, raising ethical concerns, although more brands are using synthetic or recycled down.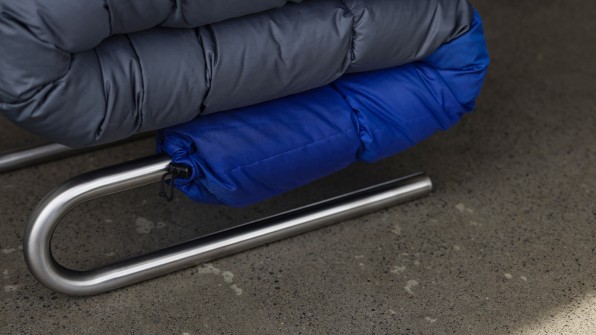 That puffer jackets are the star of this project isn't too surprising considering Iceland is obsessed with this item. "Puffer jackets are a big part of the Icelandic identity," says Arnar Ingi, who designed Erm with Valdís Steinarsdóttir, two independent designers who are also a couple. "It's a national wardrobe at this point," he adds.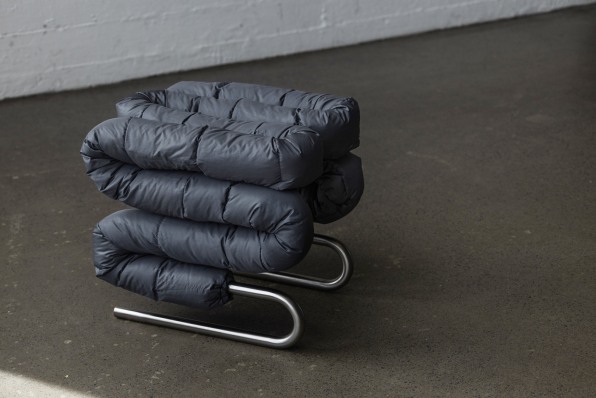 These special down jackets come from 66°North, an almost 100-year-old Icelandic outdoor clothing brand. Ingi says the company usually offers repair services to extend the life of its products – but some jackets just can't be repaired, so they're donated to organizations like the Red Cross. Ingi and Steinarsdóttir saw the potential for something more creative.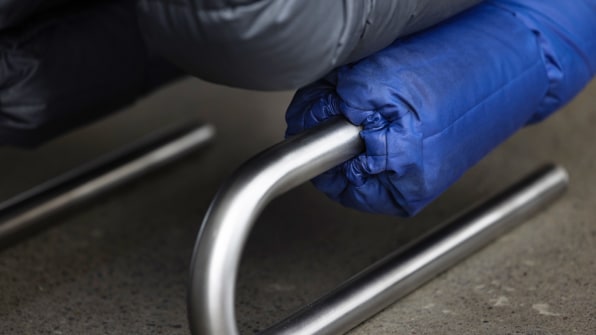 First they disassembled the jackets: the sleeves were left as they were, and the middle of the jacket was also sewn in the form of a sleeve. The pieces were turned inside out to hide externally visible wear and tear and then it was all sewn together to form a long tube that was threaded around the metal rod. To make the stool even more puffy – and comfy as a cloud – they used leftover parts like collars or lapels as extra filler. (Right now, the stools aren't for sale, but the couple hope to make more upon request.)
Ingi explains that a stool felt like a natural starting point, but the designers have more products in mind, starting with chairs with backs. Whatever the final collection, the designers hope the project will inspire companies to think about recycling and upcycling beyond their immediate industry. "Everyone tries to close the loop of their product cycle, but how can you expand it?" asks Ingi. "This has given up its function as clothing, but that doesn't mean it has given up its function completely."
https://www.fastcompany.com/90751096/these-designers-turned-old-puffer-jackets-into-comfy-chairs?partner=feedburner&utm_source=feedburner&utm_medium=feed&utm_campaign=feedburner+fastcompany&utm_content=feedburner These designers transformed old down jackets into extremely comfortable c