News
They wrongly condemned Israel for bombing hospitals in the Gaza Strip, but they refuse to apologize
Get the latest from Joe Warmington straight to your inbox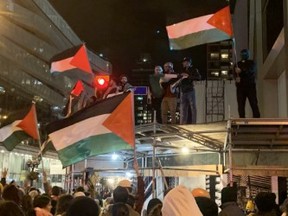 Article content
The mass bombing of a hospital in Gaza was viewed as a "crime against humanity" and a despicable act of "genocide" directed against innocent Palestinian civilians.
Article content
Until it was discovered that Israel had nothing to do with it.
Article content
After US President Joe Biden confirmed that Israel was not behind the bombing of a hospital in Gaza, the question arises: Where and when are the protests directed against those responsible?
Recommended video
There was certainly a large demonstration blocking the corner of Yonge and Bloor Sts. in Toronto on Tuesday evening as Israel was blamed for the horrific carnage.

DDuring this event, as it became clearer that it was Hamas and its allies who tried to fire a rocket at Haifa that backfired, no one corrected the record at protests or on social media.
Article content
They just kept spreading the big lie.
Jews have seen this before. They know when anti-Semitism is veiled and when it is openly displayed.
This strange 24-hour period has left many people drained and shined a light on who they really are.
Article content
Not only was there not the same outrage towards the terrorists who have already had blood on their hands since October 7th The attack killed more than 1,300 Israelis, but there were few mea culpas from those who denounced the wrong country. People who berated Israel for something they didn't do were certainly slow to correct their social posts and videos – and many didn't even bother to do so.
Article content
In response to an Bombing a hospital is a violation of international law. There must be a ceasefire. Now."
Prime Minister Justin Trudeau originally told reporters: "tThe news from Gaza is terrible and completely unacceptable. International humanitarian law and international law must be respected in this and in all cases. There are rules for wars and that is unacceptable." He later tweeted that he was "horrified by the loss of life" in the Gaza hospital" and that "together we must determine what happened" and "there must be accountability."
Article content
However, he tweeted about climate change as the verdict was announced.
Article content
It seems as if many want to shamefully cover up what really happened – ignoring the fact that if that misfired rocket from Gaza had worked as planned, more Israelis would have been murdered. Terrorists killed their own people instead and get an "awe shucks" mulligan for it.
It is a gross double standard that these elected leaders are clearly displaying. Many other prominent community figures did not express offense at Hamas' actions on October 7 but a lot about what they thought Israel did nine days later – until it was no longer Israel doing it.
The fact that those who spread the false narrative have not corrected it or apologized speaks volumes about their sense of fairness and raises questions about whether they can be a trustworthy source of honestly conveyed information in the future.
Article content
When the truth came out, there was a sudden silence.
What did not die down were the anti-Israel protests in Ottawa and Toronto over this bombing, which reportedly killed hundreds of people.
The large crowd that closed Yonge and Bloor used scaffolding as a stage to stir up trouble. Although they chanted many things, including "From the river to the sea, Palestine will be free" and "Intifada, revolution" is the only "solution," no one stopped them or reprimanded them for trespassing or spreading misinformation.
Without the familiar street signs of Yonge and Bloor – and the Toronto police keeping the peace – there were times when one might not know where in the world this protest was taking place.
Hundreds of Toronto4Palestine protesters were also out in Yonge and Bloor again Wednesday evening, using the closed intersection to pray
Article content
While there have been similar pro-Palestinian protests in Paris, London and Dallas, this one took place in Toronto.
And organizers promise there will be more civil unrest. So far they seem to be have not called for a demonstration against the terrorists who slaughtered not only Jews in Israel but also Muslims in Gaza.
Let us know if there is any protest.