This wasn't the match of the day – just another symbol of broken Britain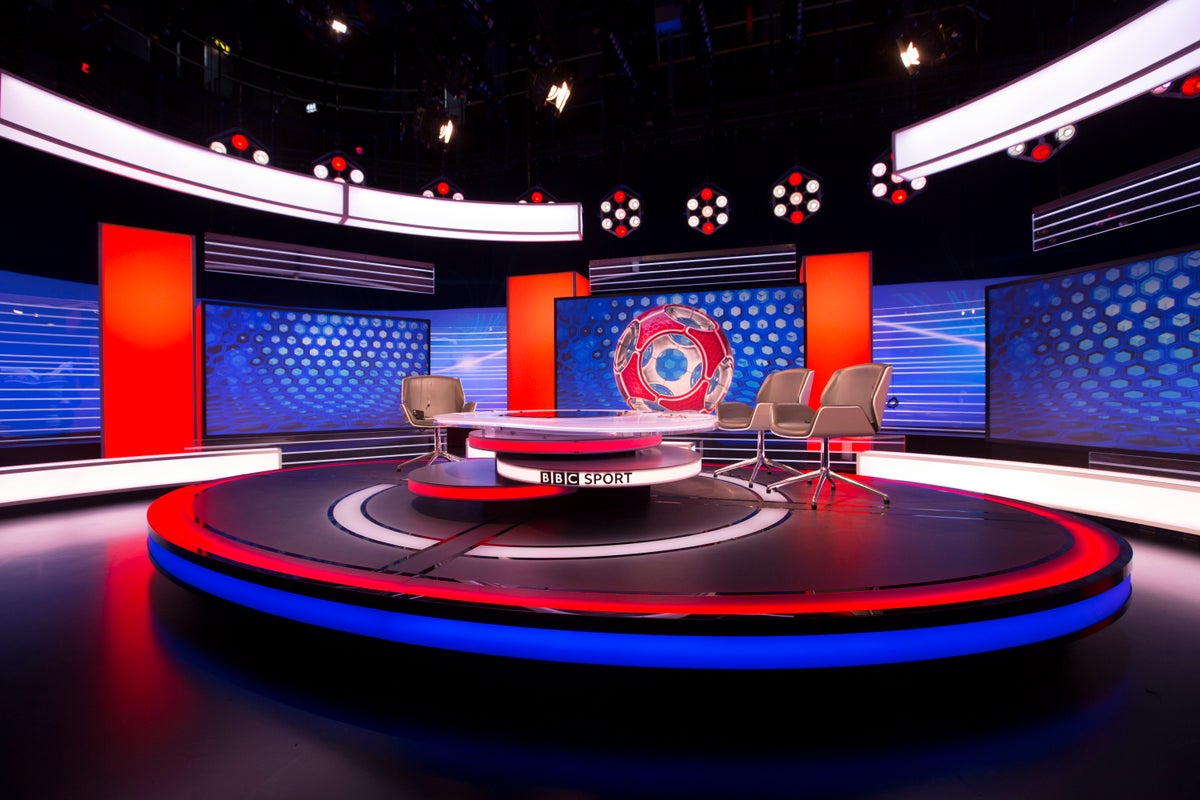 There were no words. Which was fitting in its own way, because when people can't speak freely, often there isn't. There were noises, the sound of different crowds. But there wasn't even the most iconic theme tune in sports broadcasting. Which is a good thing, because that wasn't the match of the day. It was a 20-minute highlight package that looked like some kind of cheap production of goals from a second-tier European league waiting for an interchangeable harmless song to be added before airing.
Six days after Match of the Day 2 marked an all-time low for Manchester United, Match of the Day was an all-time low for Match of the Day. The most successful club of all time in the English league suffered their worst defeat in 91 years last Sunday, but the most iconic show in British football is in the throes of its greatest crisis. No moderator, no experts, no analysis, no interviews and no commentators. There was less actual football, little feeling or fun. Instead, anyone who missed the news that the program had been cut and dropped a little late was greeted by Sully, a film about plane crash avoidance. It might not have been the wisest choice: not after the BBC's car crash a week ago.
It is tempting to say that this is a crisis entirely created by the BBC; Tempting, but not true, because that ignores the role of the venal, toxic Conservative Party with its determination to silence and scapegoat anyone who disagrees with them. But CEO Tim Davie's way of managing a crisis was to create a crisis with his management. Chairman Richard Sharp notes that in terms of rewards for Tory donors, it is preferable to be awarded a multi-million dollar contract to provide useless PPE than to be put in a position where he has people with unchanging values ​​in related to uncomfortable things like freedom of speech.
Instead, the BBC handed Gary Lineker more bans than any referee or football association, operated under the illusion that it could wipe out anyone who didn't follow the (Conservative) party line and hopefully ruined the best sports show on television for just a week. They had robbed a show of its staff and personality, its wisdom and wit. The goals were good: some brilliant. The games were compelling, along with the storylines and the characters. Match of the Day should have been a brilliant 90 minute drama. Not this week. The actual action took place before the shooting and parades were televised.
The strikers went on strike in support of Lineker, led by the commendable Ian Wright, backed by his pal Alan Shearer. Commentators Steve Wilson, Conor McNamara, Robyn Cowen and Steven Wyeth enacted the Mutiny on the Gantry. Even more people became unavailable than in the average Everton injury crisis: Alex Scott, Mark Chapman, Micah Richards, Jermaine Jenas, Alex Scott from a second show, Mark Chapman from another program, Jason Mohammed, Kelly Somers, Colin Murray, Dion Dublin, Jermain Defoe. It was a test and everyone passed it.
After the BBC Presenter abandoned Hunt, Bargain Hunt replaced Football Focus instead. With no end result, a company with repair connections chose Repair Shop. There was no battle talk; not without freedom of expression.
Meanwhile, the BBC's leadership had been too busy bowing to an authoritarian government to read the room; not the green room, as the pundits showed their principles, or the dressing room, as the PFA clarified the players didn't speak to Match of the Day, or the rooms populated by the BBC's base. Probably not the wider area of ​​the country either. Most can see through the disingenuous claims. There is no denying that Lineker might have presented if he had been an enthusiastic advocate of government migration policies if his policies mirrored those of Suella Braverman, Lee Anderson or Dominic Raab. Instead, he used his platform to advocate for refugees. And for this rancid regime, it's especially irritating when some footballers and former footballers have a social conscience. It is evident that a number of government officials are not doing this.
It's a world where the most prejudiced people claim they want impartiality, where those who claim to hate the culture are desperate to cancel. And yes, it's a diversionary tactic. After 13 disastrous years, the Tories are left with culture wars and lies. There's something very Trumpian about the way they corrupt everything they touch. It's typically clumsy how all their cunning schemes backfire: the outpouring of support for Lineker from his peers clearly caught them by surprise. The BBC's reputation is being sullied at home and abroad by doing the Conservatives' bidding: 'In turmoil' read the New York Times headline, while CNN went for 'chaos' and the Washington Post for 'BBC boycott' . The BBC kept breaking news – El Pais, Der Spiegel, Le Monde, La Repubblica – but it was all bad news for them.
But in 13 years of vandalism, the Tories have damaged almost everything they can. As the NHS shows, national institutions are particularly vulnerable. Maybe it was only a matter of time before they got to the game of the day. And so Saturday nights were ruined across the country; it was quite typical that others suffered from the actions of right-wing headbangers. It's been a topic for the last few years. The people considering knighting Stanley Johnson are usually the ones who advocate banning England's top scorer at World Cups from national broadcasters. And a broken British Broadcasting Corporation is another sign of a broken Britain.
https://www.independent.co.uk/sport/football/match-of-the-day-bbc-lineker-government-b2298920.html This wasn't the match of the day – just another symbol of broken Britain