Toronto-funded camps for Ukrainian children are 'an oasis in the dark'
The camps take place in summer and winter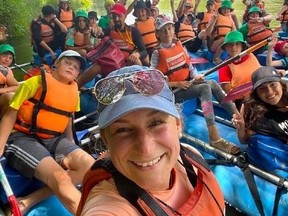 article content
Not many children are allowed to go to the camp in the middle of a war.
article content
But members of the Toronto-based Project Soniashnyk (Project Sunflower) made this possible. The non-profit organization hosts trauma therapy camps in Ukraine in summer and winter for children of that country's military personnel.
article content
"A week after the mass invasion of Ukraine, I contacted many of my local friends," said Oksana Hrycyna, executive director and co-founder of Project Soniashnyk.
"We just started as a very down to earth, very organic type of conversation: 'What can we do for the children of Ukraine?'" she said during a recent phone interview from Lviv, Ukraine. "The kids left behind, especially kids in the armed forces, definitely needed programming, and I knew for sure that they were going through high levels of post-traumatic stress disorder and trauma because their parents were killed on the front lines and witnessed their parents being hurt." ."
article content
Toronto-born Hrycyna — a full-time teacher at Our Lady Queen of the World Catholic high school in North York — started leading camps in Ukraine 15 years ago, so she knew what she was doing.
"Last summer I was able to land two sponsors worth $60,000 and we ran a PTSD and trauma wellness rehab camp for about 55 kids," Hrycyna said.
"At the time it wasn't officially registered as a charity in Canada, but over time we did and I was able to run a camp both this summer and last winter. And this summer we doubled our number, so we had 110 children from all over Ukraine."
Featured Video
Hrycyna has been a teacher for the past 13 years – ten years in Toronto and three years before that in Ukraine – and was a natural at leading the camps. She successfully pitched the idea to the Ukrainian-Canadian charity BCU Foundation.
article content
Toronto's next fundraiser, which includes a gala and silent auction, is scheduled for October.
"We also hold a training camp in the wilderness," said Hrycyna. "It's not just about attending to the open therapies like storytelling therapy, art therapy and music therapy with these kids. It's also about making sure they improve their leadership skills and are able to attend a camp in Ukraine and have positive memories of their country of birth."
The camps last two weeks and are aimed at children aged 12 to 17. The cost per child is $250 and includes three meals per day and accommodation.
Registration for the camps is based on the "first come, first served" principle.
"We had about 165 registrations (for the last camp), so the need is very high," Hrycyna said.
article content
"We think it's a very impressive time in her life. With the kind of leadership training we do in our camps, we really celebrate Ukrainian excellence and say, 'Yes, there is something for you (here) to stay and the war will be over sooner rather than later and They're going to be the generation 'that's going to build it back up.' If we can somehow influence that thought process of these little kids who are heading out into the real world to study this year (age 17) then we think we've done our job well. "
Ukrainian TV presenter who survived an assassination attempt on the Playboy cover

Ukraine postpones the official Christmas holiday to December 25, denouncing traditions imposed by Russia
The camps will be held at an undisclosed location in the mountains near the Polish border and must be at least 50 kilometers from military targets and 30 kilometers from railway lines. But that doesn't mean they're harmless.
article content
Hrycyna said a rocket hit a building in Lviv two days after a four-day orientation session for volunteer advisers was held there.
"By that point, we had already left town," she said, noting they all had air alert apps on their phones. "We were on our way to the mountains. We set up camp. We set up 40 tents. And that really shook us."
Safety nets have also been put in place.
"We have access to a certified air raid shelter in each camp," she said. "(But) we are in the middle of nature. It's very rural. And we're assuming the Russians aren't going to expend a $1 million rocket pointing it at an empty field in the middle of the mountains. It's definitely a little bubble, a little safe haven, an oasis in the dark."
To donate go to: www.bcufoundation.com/donate-today
https://torontosun.com/news/local-news/toronto-funded-camps-for-ukrainian-children-are-an-oasis-in-the-dark Toronto-funded camps for Ukrainian children are 'an oasis in the dark'