News
Trudeau plays both sides in the Israel-Hamas war due to domestic politics
Trudeau is trying to play both sides of the war while dealing with a divided Liberal faction.
Get the latest from Brian Lilley straight to your inbox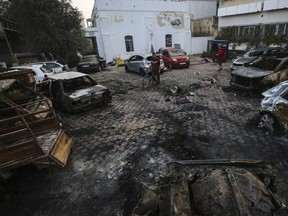 Article content
On Tuesday afternoon, shortly after 2 p.m., Prime Minister Justin Trudeau denounced the bombing of a hospital in Gaza. On Saturday, just before 10 p.m., his government released a statement saying Israel was probably not responsible.
It took the Trudeau government four days longer than our allies and independent experts to reach this most obvious conclusion.
Article content
"An analysis independently conducted by the Canadian Armed Forces Intelligence Command shows with a high degree of certainty that Israel did not attack the hospital on October 17, 2023," Defense Minister Bill Blair said late Saturday evening.
"The more likely scenario is that the attack was caused by a rocket fired from Gaza. We will continue to provide updates as new information becomes available."
Article content
The Oct. 17 explosion at Al-Ahli Arab Hospital was initially reported by media around the world as saying that an Israeli missile hit the hospital, killing 500 people. At the time of the explosion, the hospital was being used as a refuge by civilians looking for a safe place to hide.
"The news from Gaza is terrible," Trudeau said Tuesday. "International humanitarian law and international law must be respected in this and in all cases. There are rules to war and attacking a hospital is not acceptable."
Recommended video
This statement immediately after the explosion is completely fine. It didn't blame Israel, it didn't blame Hamas, it just rightly condemned the "attack" on a hospital.
Trudeau walked the line, he didn't cross it there, but his ministers later released statements worded in a way that left many with the impression the government was blaming Israel.
Article content
They didn't go as far as some media outlets in Canada, like CBC and the Toronto Star, which made headlines claiming it was an Israeli attack and falsely claiming Trudeau said that.
Even in the early light of Wednesday morning, the whole world could see that the original claims were untrue.
The hospital was not affected, there was an explosion in the parking lot and some cars burned out. Although some people died, they were not the 500 hospital patients and refugee seekers that Hamas had originally claimed. According to the best estimates at the time, there were probably 10 to 30 people.
Israel denied that it was one of their rockets, citing records of when and where their rockets were fired that did not show anything in the area. They pointed out the explosion pattern, showed where the explosion occurred and where it could have come from.
Article content
Israel also noted recordings of Hamas militants discussing how Palestinian Islamic Jihad, another terrorist organization, had fired rockets from the cemetery behind the hospital. One of them misfired and ended up in the hospital.
If Trudeau did not want to believe the Israelis, he could have believed and seen the intelligence from our Five Eyes allies, including the United States, which confirmed that Israel was not to blame. He could have believed the intelligence from India or several independent experts in the field who confirmed that it was a missile misfire and not an Israeli missile attack.
Trudeau refused to do so, still saying on Friday that his government wanted to take the time to sort this out through its own analysis.
Article content
This analysis was released just before 10 p.m. on a Saturday evening, but there was no way it took the Canadian Armed Forces Intelligence Command that long to make the assessment. They could have looked at the evidence on Wednesday and provided an analysis to the government by the end of the day.
Trudeau has admitted his Liberal caucus is divided on the issue of the Israel-Hamas war.
This fact should not guide Canadian foreign policy on this front, but it does. Instead of paying attention to what is right, Trudeau is again paying attention to what wins him support or what costs him support.
Trudeau tries to play both sides against the middle and the Canadians lose once again.
Recommended by Editorial
LILLEY: University professors condemn Ford government for denouncing Israel

LILLEY: Polls say Trudeau should go now, so why not?