News
Trudeau shows the gun ban was never about safety by extending the amnesty
The prime minister banned 1,500 types of guns more than three years ago, but has just announced owners will be able to keep them for at least two more years
Get the latest from Brian Lilley straight to your inbox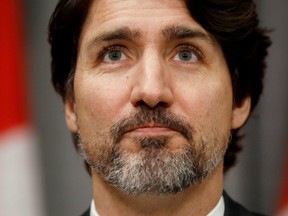 Article content
On May 1, 2020, Justin Trudeau told the Canadian people that he would ban the legal ownership of thousands of legal guns to keep our streets safe.
Article content
Last week, his administration extended the amnesty for legal gun owners to keep those very same rifles and shotguns until October 30, 2025.
Article content
For those keeping track, that means the government has no plans to deal with the weapons, which it says are so dangerous that they won't need to be confiscated until five and a half years after they were banned.
Not that any thinking person believed Trudeau's announcement in May 2020 would actually improve public safety. As usual, Trudeau used a tragedy to play politics with legal gun owners, something those of us who were paying attention had seen time and time again.
When tragedy struck in the United States, Trudeau couldn't resist commenting or making an announcement about gun safety here in Canada. When Gabriel Wortman began his murderous rampage in Nova Scotia in April 2020, it was clearly only a matter of time before Trudeau made a major announcement on gun control.
Article content
Forget that by the time they made the announcement, less than two weeks after the massacre, the Trudeau government knew that Wortman was a violent man who had been placed on a gun ban and that the weapons he used , were illegally smuggled out of the US Trudeau wanted to take action against licensed gun owners to show he was serious.
"Today we are closing the military assault weapons market in Canada. We are banning, by regulation, 1,500 models and variants of these firearms," Trudeau said at this press conference on May 1, 2020.
"These weapons were designed for one purpose: to kill as many people as possible in the shortest possible time. There is no use or place for such weapons in Canada."
Article content
He and his ministers would repeat the claim that these weapons were intended only to "kill the greatest number of people" and that they had "no place" in Canada.
The fact is that there was no history of gun crime among the 1,500 types of weapons he banned by executive order that day. These were rifles and shotguns used for hunting and sport shooting, but the weapons owned by licensed owners were not the criminal weapons that most people were worried about.
Trudeau leaned on the mass shootings but linked them to the epidemic of mass shootings in the United States and gun crime caused by gangs and organized crime in Canada, attempting to scare Canadians. By and large, it worked – most people don't distinguish between the gang member shooting in their neighborhood and the guy on the street who took a safety course, passed multiple police checks, and had his spouse confirm that he was owns a legal weapon.
Article content
Yet here we are, almost three and a half years later, and the guns that Trudeau said were so dangerous they had to be confiscated are still sitting in a gun safe in your neighbor's basement. There they will remain for another two years as the government continues to try to figure out how to confiscate them under its so-called "buyback program."
Federal authorities asked the Canadian military for help and were rebuffed. They also checked with Canada Post and were also turned away. The RCMP does not have the capability, money or human resources to run such a program, and provincial police forces in Ontario and Quebec are unwilling to take on the federal government's work.
The bottom line is that three and a half years ago, Justin Trudeau said he would ban these weapons to improve public safety. The guns remain where they were and aren't going anywhere anytime soon, until after the next election, and public safety has not improved.
Do you feel like Trudeau's announcement all those years ago was just about politics?