Turkey's top diplomat visits Cairo to improve relations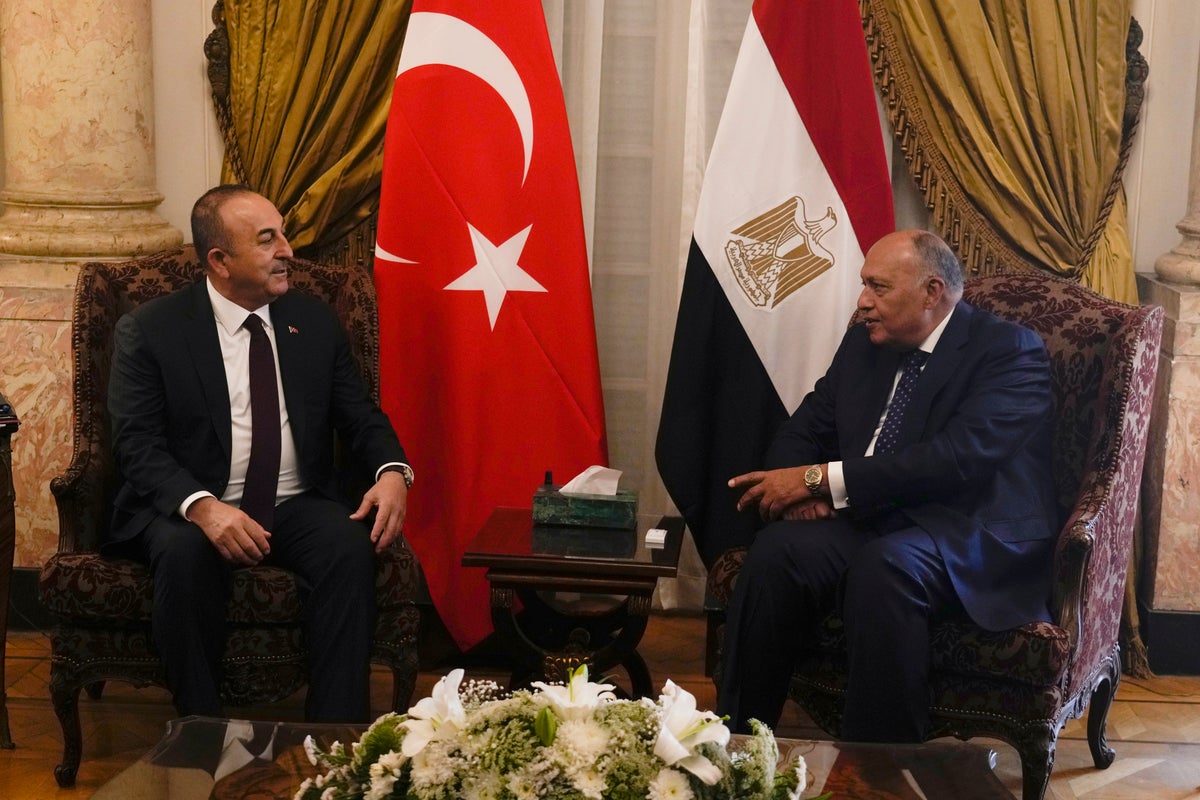 Turkey's chief diplomat was in Cairo on Saturday for talks with Egyptian officials as regional powers seek to mend their torn ties after years of tensions.
Mevlut Cavusoglu, Turkey's foreign minister, landed in the Egyptian capital early on Saturday. He was the highest-ranking Turkish official to visit the Arab world's most populous nation in over a decade.
Egypt and Turkey have been at odds since the Egyptian military ousted Islamist President Mohammed Morsi in 2013 amid mass protests against his divisive year-long rule. Morsi came from the Turkey-backed Muslim Brotherhood group. Egypt has labeled the group a terrorist organization.
Cavusoglu met with Egyptian Foreign Minister Sameh Shoukry for talks on "various aspects" of the bilateral relationship, Ahmed Abu Zaid, a spokesman for Egypt's foreign ministry, said on Saturday.
He said they also discussed regional and international issues of common concern, an apparent reference to the conflict in Libya and tensions over gas exploration in the eastern Mediterranean.
Abu Zaid said on Friday that the meetings aim to initiate a "deep dialogue" to reach a "common understanding to advance the interests of both countries." A joint press conference was scheduled for later on Saturday.
Egypt and Turkey are backing opposing sides in the Libyan conflict, which almost led to a direct confrontation between the two US allies in 2020 at the height of an attack on the Libyan capital by Egyptian-backed eastern-based commander Khalifa Hifter.
Egypt, Greece and some other European countries were also angered by a 2019 deal between Turkey and Libya aimed at strengthening Turkish maritime rights and influence in the eastern Mediterranean.
Former Turkish Foreign Minister Ahmet Davutoglu was the last senior official to visit Cairo in 2012 when he attended a Syrian opposition conference held by the Arab League.
Turkey has abandoned its critical stance towards Egyptian President Abdel Fattah el-Sissi's government in recent years as it sought to repair ties.
In November, Turkish President Recep Tayyip Erdogan and el-Sissi were photographed shaking hands during the World Cup in Qatar. And last month, Shoukry visited earthquake-hit Turkey and Syria to show solidarity with the two nations.
https://www.independent.co.uk/news/world/europe/turkey-ap-mevlut-cavusoglu-libya-cairo-b2303452.html Turkey's top diplomat visits Cairo to improve relations