Varadkar praises the "resilient" Irish economy in a speech to a US business group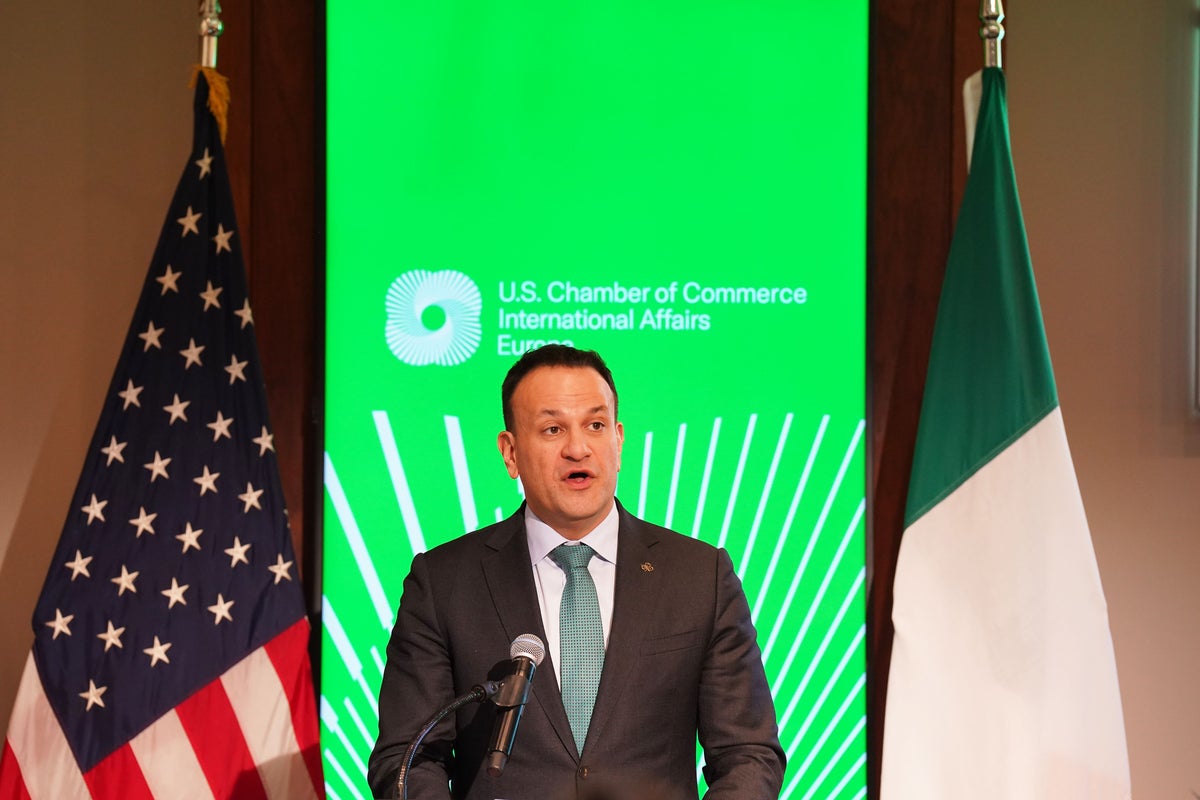 Irish Prime Minister Leo Varadkar has hailed the "resilient" Irish economy to a US business organization in Washington DC.
The Taoiseach also told a US Chamber of Commerce meeting that Ireland needed to "work harder" to shape the post-Brexit EU economic agenda.
The address is part of a series of engagements Mr. Varadkar is attending as part of his visit to the US capital for St. Patrick's Day on Friday.
Suzanne Clark, President and Chief Executive of the US Chamber of Commerce, said Ireland is seen as a "voice of reason", an ally on geopolitical terms and she hopes the Windsor framework, which looks at post-Brexit trade, will bring additional benefits would bring security and stability to their relationship.
Ms Clarke hailed Mr Varadkar as a person of "character and dedication" and a "dear friend of the Chamber" before his address to business representatives.
"Mr President, as you know, around St Patrick's Day we traditionally celebrate the strong ties, history and culture that unite Ireland and the United States," said Mr Varadkar.
"Today we are also celebrating our close political, cultural and economic ties.
"Although very different in size and scale, we are both advocates of free trade, free enterprise and investment; we are both committed to the green transition, not only as a necessary response to climate change, but as creators of new economic opportunities and jobs; and we have both made significant investments in each other's countries.
"The United States is one of Ireland's largest and most important trading partners. In 2021 the total value of trade between our two countries was €70 billion, which is around a fifth of Ireland's total.
"Our business partnerships have proven to be enduring and reliable in difficult times."
It comes after the Taoiseach previously said he does not envisage bank failures in Europe or the United States.
"We are certainly managing and monitoring the situation very closely. But we are not concerned about the stability or health of our banks.
"There are a number of Irish tech companies that have been affected by what is happening here. We're watching it very closely," he said.
He also said that the UK's exit from the EU created economic challenges for Ireland.
"The US and Europe must work together, and with trusted partners around the world, to make the green transition a reality. We must be the generation that turns the tide on climate change and biodiversity loss.
"We want to see that the actions we take on one side of the Atlantic complement those on the other side – and not risk each other's progress. For this reason, we welcome the ongoing work of the EU-US Task Force to resolve some of the issues that have arisen between us over the Inflation Reduction Act.
"As you know, the UK has now left the European Union. Apart from the difficulties this has created for Northern Ireland, we have lost an ally and free trade advocate from the EU table.
"It means Ireland has a greater responsibility to champion the economic model we believe in and we need to work harder to shape the EU's economic agenda.
"We do this by building alliances with like-minded countries and articulating the benefits of fair and open competition as equals."
https://www.independent.co.uk/news/uk/leo-varadkar-northern-ireland-irish-us-chamber-of-commerce-washington-dc-b2301724.html Varadkar praises the "resilient" Irish economy in a speech to a US business group