Varadkar presents a shamrock cup to Joe Biden in the St. Patrick's Day finals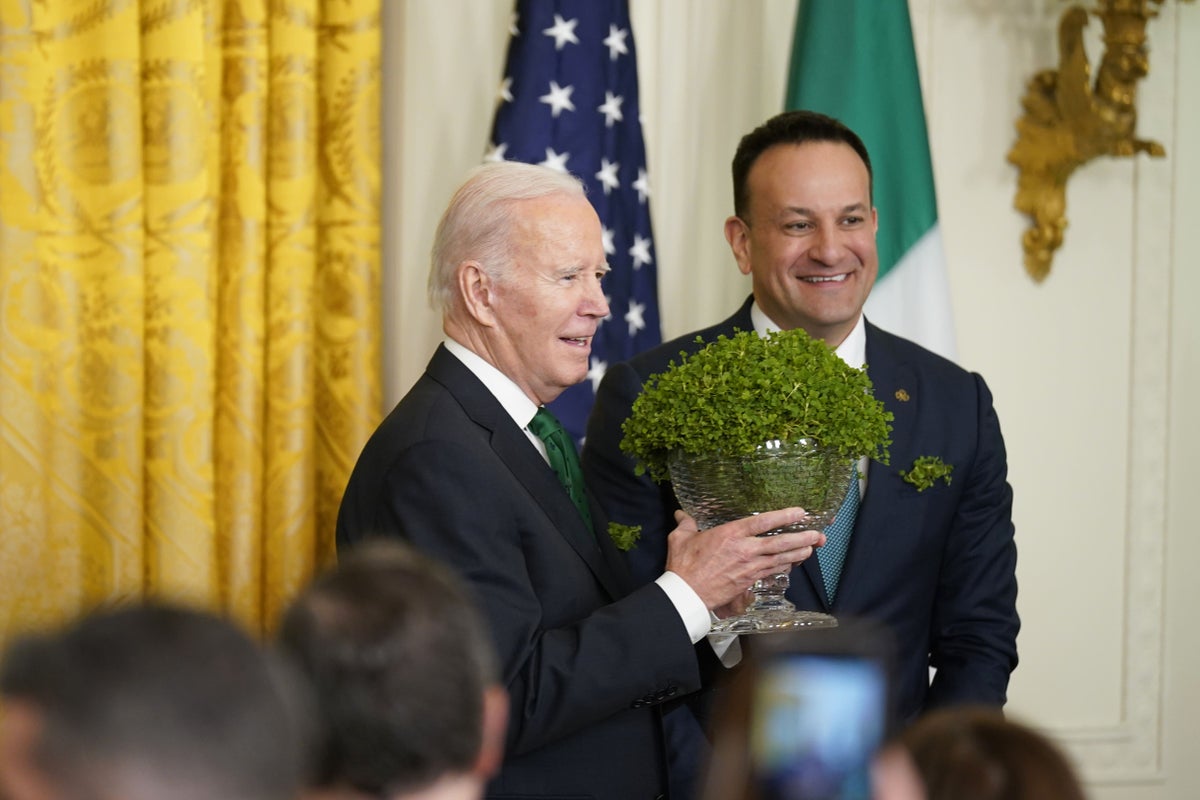 US President Joe Biden was presented with a bowl of shamrocks by Irish Prime Minister Leo Varadkar at the White House as St. Patrick's Day celebrations drew to a close in Washington DC.
The White House event was attended by former rugby player Rob Kearney, a distant relative of Mr Biden, former House Speaker Nancy Pelosi, DUP leader Sir Jeffrey Donaldson and Sinn Fein President Mary Lou McDonald.
Irish pop star Niall Horan performed four songs, two of which dealt with the issue of emigration, after the shamrock ceremony and was informed by Mr Biden that he was welcome back at any time.
During Friday's St Patrick's Day celebrations, Mr Biden thanked Ireland for its response to the invasion of Ukraine, expressed strong support for the Windsor framework and said he looked forward to the return of Northern Ireland's devolved government.
He also said he hopes Ireland will win the Grand Slam on Saturday when the Irish team take on England as part of the Six Nations rugby tournament.
The traditional visit comes weeks after the UK and EU struck the Windsor Framework Agreement to cut red tape in trade between Britain and Northern Ireland created by the Brexit Withdrawal Agreement.
The region's largest union party, the DUP, is currently blocking power-sharing in Stormont in protest at the trade barriers imposed by the controversial Northern Ireland Protocol to the Withdrawal Agreement.
The DUP says the Windsor Framework has done some work to address their concerns, but claims some "fundamental problems" remain with the new deal.
Washington, London and Brussels are all keen for power-sharing to be restored in Stormont ahead of the 25th anniversary of Northern Ireland's Good Friday Peace Agreement next month, and Mr Biden is expected to travel to the island of Ireland in April to celebrate the event .
However, the DUP has insisted it will take time to consider whether to return to decentralization and does not see the 25th anniversary as a deadline to work on.
Speaking with Mr Varadkar to the media ahead of their bilateral talks, President Biden referred to his recent talks with British Prime Minister Rishi Sunak on the revised deal with the EU on post-Brexit trade deals.
"I have been very supportive of the Windsor Framework and I know you are too," the President said.
At a later St. Patrick's luncheon on Capitol Hill hosted by Speaker Kevin McCarthy, Mr. Biden again expressed his firm support for the Windsor framework.
"This is a crucial step and will help ensure that all people in Northern Ireland have the opportunity to reach their full potential," he said.
Earlier at the White House, Mr Varadkar thanked the President for supporting Ireland's position on Brexit-related issues.
"I really want to thank you for your help and support and your understanding of our position on Brexit over the past few years, it has really made a difference and I think we're in a good place now with the Windsor framework where we are can have a lasting deal that is important for Northern Ireland and also for British, Irish and European relations," he said.
Mr Varadkar also spoke about the President's forthcoming visit to Ireland.
"I promise you we will roll out the red carpet and it will be a visit like no other," he said.
"Everyone is already excited. We'll have great crowds that would love to see you."
The two leaders also praised their respective stances on the Russian invasion of Ukraine.
DUP leader Sir Jeffrey Donaldson, who is in Washington this week to attend St Patrick's events, is asking for further clarity and reassurances from the UK government to address his party's lingering concerns.
He has denied having been pressured by US politicians to join the new Brexit deal.
Sir Jeffrey will meet President Biden at a White House reception later on Friday.
The Taoiseach began the day of traditional St. Patrick's Day dating in Washington DC with a breakfast event hosted by US Vice President Kamala Harris.
Mr Varadkar and his partner Matt Barrett posed for photographs with Ms Harris and her husband Douglas Emhoff when they arrived at their home early Friday.
Inside, he welcomed Ms. Harris and America's work on LGBT rights in general.
Mr Varadkar thanked Ms Harris for her advocacy on LGBT issues and for being a "strong ally".
"From Stonewall to Sacramento to San Francisco, America has led the way for LGBT equality," he said.
"I don't think I would be here today if America hadn't done it. I know you have been such a strong ally to our community in this regard."
Ahead of Friday's events, Mr Varadkar was embroiled in controversy after apologizing for an "imprudent" remark that was seen as an apparent reference to the Clinton-Lewinsky scandal.
While recalling his experiences as an intern in the United States, the Taoiseach referred to possible concerns about being an intern in the US capital at the time.
Mr Varadkar made the comments on Thursday during a speech at the Washington Ireland Program, which helps young people develop job skills, which Mr Varadkar attended in 2000.
The Taoiseach's comment came hours after attending an event honoring women's role in the Good Friday Agreement, where he praised Hillary Clinton for her continued involvement in Northern Ireland.
A spokesman for Mr Varadkar said in a statement after the event: "He made an ill-considered, off-the-cuff remark which he regrets. He apologizes for any insults inflicted on those affected."
Former US President Bill Clinton and Mrs Clinton are to play a leading role in commemorations planned in Northern Ireland to mark the 25th anniversary of the Good Friday Agreement.
Monica Lewinsky was a young White House intern when she and then-US President Clinton struck up a romance in the 1990s. She was pilloried for years after the scandal broke.
The affair almost forced Mr. Clinton out of office, and Ms. Lewinsky has spoken about the devastating impact it had on her life in the years that followed.
Mr Varadkar sat alongside Ms Clinton at Thursday morning's event at Georgetown University, which focused on the role of women in the peace process in Northern Ireland.
Political engagements on Friday will culminate with the Taoiseach presenting Mr. Biden with a crystal bowl of shamrocks at the White House.
https://www.independent.co.uk/news/uk/leo-varadkar-joe-biden-kamala-harris-niall-horan-northern-ireland-b2303148.html Varadkar presents a shamrock cup to Joe Biden in the St. Patrick's Day finals