VEZINA: Euthanasia and the slippery slope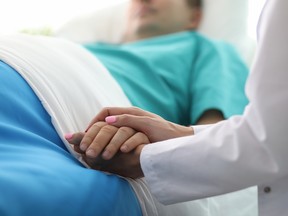 Article content
There is hardly a topic more emotional than medical assisted dying (MAID).
Article content
A side effect of this is that the matter is often portrayed as more complicated and confusing than it is.
Article content
First of all, it is important to distinguish between what MAID is and what is not.
MAID is the process by which a licensed physician helps a consenting person end their life.
Ethically, this is different than cutting off power to a machine that is sustaining the life of a person who is in a coma, has no chance of recovery, and is being artificially kept alive by a machine.
This will sound a bit academic, but these points are essential to the underpinnings of medical ethics and many of our laws in Western society.
There are many different types of ethical theories that explain why something is good, bad, wrong, or right.
Article content
Deontology is particularly relevant here.
Deontology is about duties and rights.
Something is right or wrong depending on the way it is done or a rule that prevents it from being done.
For example, "Thou shalt not kill" raises the question of deontology – an individual has a right to life and violating that right is unethical.
It doesn't matter whether killing the individual represents a net benefit to society (i.e. is useful).
Deontology focuses on the action rather than the result.
There is also a specific deontological principle underlying medically assisted dying, namely the Doctrine of Doing and Allowing (DDA).
Here is the basic idea of ​​DDA:
It is ethical to allow harm to come to someone, but it is ethically unacceptable to do the harm.
Article content
To use an example from comics and movies, it is acceptable for Batman not to rescue Ra's al Ghul on a runaway train, but it is unacceptable for Batman to drop the Joker off a building.
It's not about people allowing others to die, it's about allowing the killing.
When a police officer ends the life of a person who does not pose a direct threat to the officer, an individual or the public, it is an extrajudicial killing and is illegal.
However, if the officer observes an active threat to public safety from a person – such as an active shooter – and neutralizes the threat, then legally and ethically the officer has not murdered the person.
The individual's death was a byproduct of his own actions and the officer was motivated by the need and duty to protect the public.
Article content
While this may seem like mental gymnastics, these distinctions are actually crucial.
They are, in fact, the key to maintaining the practical functioning of a society without descending into anarchy and chaos.
Fundamental to the MAID question is the argument from bodily autonomy, a position held by most Canadians and a key principle of Western medical ethics.
The question that needs to be answered is: "Does an individual have the right to decide when and how he or she dies?"
If the answer is yes, then beyond the medical aspects, it makes sense for this service to be offered openly – rather than secretly – and regulated to prevent abuse.
The means used to end life must be effective and humane in the sense that they do not cause additional suffering, must be controlled so that no one who has not consented to assisted suicide falls unintentionally as a victim of such assisted suicide, and they must be in a way be carried out in a way that does not endanger public safety.
Article content
The most important practical question is how society determines that the person has lawfully consented to medical assistance in dying.
If verified consent can be ensured and the procedure used can be regulated so that it is effective and, in this context, humane without endangering the public, then there should be no ethical concerns in carrying out the act.
However, if the person is being unfairly pressured by others to seek medically assisted suicide, or if the process is designed to be so easy and convenient that it is vulnerable to manipulation and abuse, a number of serious ethical questions arise regarding MAID and concerns.
— Alex Vezina is CEO of Prepared Canada Corp. and teaches disaster and emergency management at York University. He can be reached at info@prepared.ca.
https://torontosun.com/opinion/columnists/vezina-medically-assisted-dying-and-the-slippery-slope VEZINA: Euthanasia and the slippery slope