News
VEZINA: The Moral Dilemma of Civilian Death in a War Zone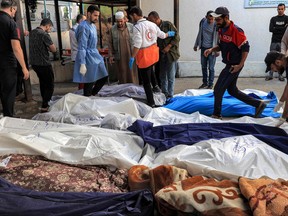 Article content
Tuesday's tragic explosion that killed hundreds of innocent civilians in a Gaza hospital illustrates, no matter who is responsible, that it is difficult to avoid killing civilians in war, particularly in the Middle East.
Article content
While military forces in many countries, including Canada, distinguish between civilians and military combatants in war, this is rarely the case in this part of the world.
Article content
As has become clear in the so-called "war on terror" era, many insurgent groups designated as terrorists by Canada and other countries – such as Hamas in Gaza – intentionally blur the lines between civilians and military combatants.
When child soldiers are used in war and anyone in civilian clothing could potentially be a suicide bomber, it becomes increasingly difficult for soldiers to distinguish combatants from civilians.
To illustrate how different this reality is from the normal conditions of combat operations for countries like Canada and the United States, consider a conversation like this one about the rules of engagement in Iraq among American soldiers:
Article content
Soldier: "I need our rules of engagement, I've never been in a combat zone before."
Squadmates: "If it looks like the enemy, shoot it."
Soldier: "No, no, I'm serious, I need rules of engagement, what constitutes the enemy?"
Squadmates: "We just told you. If it looks like the enemy, shoot it."
Soldier: "You know, I've actually never been outside the United States. To me everything here looks like the enemy."
If soldiers do not know who are enemy combatants and who are civilians, civilians will inevitably be killed by soldiers.
In fact, this is a deliberate strategy by groups like Hamas to blur the lines between civilians and combatants, creating the possibility of civilian deaths that are then condemned as atrocities.
Article content
Hamas pursues a similar goal when it integrates itself into the civilian population of the Gaza Strip and, for example, fires rockets at Israel from places such as hospitals and schools.
Modern militaries are aware of these tactics and it is not surprising that Israel has concluded that this is not Israel's problem, but a problem created by Hamas.
In other words, if Hamas wants to build a military facility next to or on the roof of a daycare center that poses a security threat to Israel, then Israel will eliminate the threat, and if civilians die in the process, that is tragic, but that is tragic It is Hamas' responsibility to put civilians in danger.
Hamas will claim that Israel is a genocidal butcher who targets civilians.
Israel will counter that it is Hamas that targets civilians by using them as human shields.
Article content
Added to this is the fact that in wars it is inevitable that bombs and missiles will miss their intended targets, accidentally kill civilians, and hit their intended targets when civilians become collateral damage
Added to this are the geographical conditions in Gaza, one of the most densely populated areas in the world.
Gaza has a southwestern border with Egypt but is otherwise surrounded by Israel or an Israeli-controlled portion of the Mediterranean.
Israel's goal in its war against Hamas, sparked by its terrorist attack on Israeli civilians, is the destruction of Hamas.
This means that all areas within the Gaza Strip from which Hamas can carry out military strikes against Israel must be reduced and ultimately eliminated.
Article content
That began with a wave of bombings by the Israeli Air Force while delaying a widely expected ground attack and advising Palestinians to flee south.
But not everyone will be able to move safely to the south, and many civilians will refuse to go because Hamas tells them to stay where they are.
If Israel is serious about destroying Hamas, it will not delay its ground attack indefinitely, and if it does, many more civilians will die than those who have already lost their lives.
It was predictable that Hamas and Israel would blame each other.
Vezina is CEO of Prepared Canada Corp. and teaches disaster and emergency management at York University. He can be reached at info@prepared.ca.