News
VUONG: Toronto desperately needs a dose of common sense
There is a worrying trend of undemocratic decision-making at the city level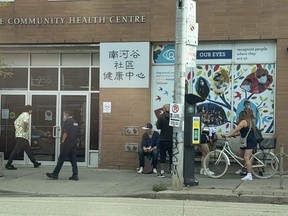 Article content
In order to make renovations to your home, the City of Toronto requires you to go through an often lengthy inspection and approval process. This process often involves holding public hearings and consulting with residents.
Article content
Nevertheless, the process is transparent and promotes a high level of respect for the wishes and concerns of the community.
Article content
However, when it comes to the locations of safe injection sites and homeless discharge centers, there is no transparency, no public input, and decisions made behind closed doors are forced on the residents of our communities.
Just ask concerned parents at St. Mary Catholic Elementary School, where children learn and play a block south of the Parkdale Queen West Community Health Center's injection site. With the school already struggling with used needles and other drug paraphernalia on school grounds, community members are rightly concerned about the city's recent surprise decision, made without consultation, to build a homeless discharge center 200 feet from the school.
Article content
In early 2024, the city plans to open the respite center at 629 Adelaide St. W., placing the elementary school between a homeless respite center and a drug injection site. Will the city complete its trifecta by locating a white box truck dealership across the street?
You don't need a doctorate in urban planning or public safety to see that the whole idea is bad.
Unfortunately, St. Mary's is not the only school that has an injection site directly across the street. Is there some cruel, irresponsible joke afoot?
Morse Street Junior Public School is located just half a block from the South Riverdale Community Health Center. This is the same injection site where one of their employees was charged with aiding and abetting and obstruction of justice in connection with the tragic murder of innocent Leslieville mother Karolina Huebner-Makurat.
Article content
On the waterfront, residents of the Bathurst Quay neighborhood are concerned about the shared shelter and injection site at 545 Lake Shore Blvd. W., which is across from Waterfront School and City School. They were alarmed when they learned at a neighborhood meeting on Oct. 11 that fentanyl was being used at the location directly across from the two schools. How does sacrificing the safety of one part of the population – children – for the sake of another improve community safety?
Less than two months ago, a man died of an overdose and his body was found near the children's playground at Little Norway Park. As one Bathurst Quay resident put it, "This is another example of how the so-called 'safe' injection site at 545 Lakeshore is creating an attraction for Toronto's drug dealers in our community, selling and consuming deadly drugs next to a children's hospital." Playground."
Article content
However, their legitimate concerns and those of other residents continued to fall on deaf ears at the local council and town hall.
This is representative of the worrying trend of undemocratic decision-making at the city level, bypassing public consultations and ignoring legitimate community concerns. This is not acceptable. These policies and initiatives are implemented with taxpayer dollars – the city has a duty to survey the public about how people want to spend their money.
Unfortunately, this increasing autocratic decision-making is not limited to high-risk facilities. Public facilities like the Harbourfront Center have permanently removed valuable community gems like the popular ice rink without public consultation.
Article content
When it came to opposing the provincial government, the local council called for a "transparent and democratic process… no closed-door dealings." She said that "a good process is important." Does she really mean that or does it only apply to things that agree with her ideology?
Now before the champagne socialists start screaming NIMBYism, residents have no objection to a recreation center. In fact, in addition to the injection site, the community is already home to three other facilities for those in need.
Residents propose an alternative to the barrier-free recreation center accessible to all. They are instead calling for the implementation of a model for families, women escaping abuse with their children or refugees as something more suitable, located next to an elementary school, 70 meters from a school bus stop and 350 meters from Niagara Street Junior Public School.
Article content
Toronto must return to the roots of representative government. It is important to note that one cannot hide in one's ivory tower at City Hall in order to best represent the people. You must engage with, listen to, and act to protect the people you represent, especially our most vulnerable.
As one concerned St. Mary's mother so aptly put it, spending a weekend saving trees can never replace saving children.
— Kevin Vuong is the independent MP for Spadina-Fort York. The son of refugees, he is the youngest member of Asian descent to be elected to the 44th Parliament. He also serves as a naval reserve officer in the Canadian Armed Forces.