News
WARMINGTON: Harassing Jews going to the community center is crossing a line
Protesters should avoid schools and places of worship such as mosques, synagogues and churches
Get the latest from Joe Warmington straight to your inbox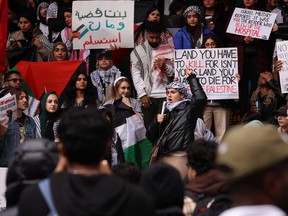 Article content
Some might call it protest.
Article content
But when you harass people in front of a Jewish community center, wave offensive signs and shout hurtful slogans, there are other words for it.
Article content
Intimidation. Harassment. Anti-Semitic.
All of these words can be used to describe what happened outside the United States on Friday Miles Nadal Jewish Community Center – is located on Spadina Ave. and Bloor St. W. – There, 50 pro-Palestinian protesters gathered to mock Israel in its war with Hamas in Gaza after the designated terrorist group went on a murderous rampage on October 7 that killed 1,400 innocent Jews.
While people are still mourning this heinous act, which many Jews see as a second Holocaust, the agitators chose a Friday to make their mark as they entered the famous Jewish recreation center.
Article content
"Everyone has the right to protest," he said Richard Robertson, research manager at B'nai Brith Canada. "However, the inappropriate targeting of Toronto's Jewish community is unwarranted and anti-Semitic."
Article content
You couldn't do something like that in a mosque, and you shouldn't. You would be arrested if you performed such a stunt outside an abortion clinic or a so-called safe injection site. When convoy-like demonstrations were planned, the city brought in garbage trucks and barricades as well as Toronto Police Public Order and Mounted Unit officers – all at taxpayer expense.
When it comes to those who care about the Palestinians, all sides understand this human compassion.
Toronto police were more than generous in extending leniency to those demonstrating for Palestine.
Article content
But getting in the way of people at a Jewish center crosses the line of decency. No one believed the cover story of the protests outside Deputy Prime Minister Chrystia Freeland's constituency office.
The target was the Jewish center This is reminiscent of the 2021 stunt in which fake eviction notices were delivered to Jewish homes. It's hateful.
Recommended by Editorial
WARMINGTON: Machine gun earrings, terrorist flags – anti-Semitism is rampant

WARMINGTON: Some in Toronto are celebrating the mass murder of Israelis as the death toll rises

WARMINGTON: Jewish groups are calling for an end to "vile" pro-Hamas rallies in Canada
Toronto Police Chief Myron Demkiw and Deputy Chief Lauren Pogue have said they will not tolerate hate crimes.
With a man already charged by police for allegedly desecrating a mosque in Toronto twice, and three other people charged for allegedly threatening students at a private Jewish high school in North York, it must be said that Muslim gathering – or places of worship, synagogues, churches and schools should do so. Everything is taboo for demonstrators.
Article content
Demonstrators should stay in public places.
Article content
If anyone is injured during one of these protests, criminal charges will be filed. The police are doing their best not to take it there, but their patience has its limits.
The protests at City Hall, on Parliament Hill and in Queen's Park that took place on Friday evening are where they should be. But when you start taking over streets and intersections downtown or chanting "From the river to the sea, Palestine will be free" on the campus of Toronto Metropolitan University, as we saw on Friday, the protesters find themselves in one Gray area.
Many students at the former Ryerson campus and the Miles Nadal Jewish Community Center expressed concern for their well-being.
"Canadian Jews have the right to use their common spaces without fear of being unduly persecuted because of the actions of a foreign government," Robertson said.
But that right was violated on Friday.