News
WARMINGTON: The broadcast of a bomb threat on the TTC subway is under investigation
A strange bomb threat at St Patrick's train station sparked terror, although no explosives were found
Get the latest from Joe Warmington straight to your inbox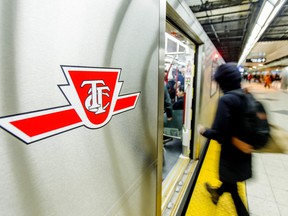 Article content
Sometimes you don't have to find a bomb on the subway to still find terrorism.
Article content
Surely anyone on the TTC subway who was traveling on the 1 line during rush hour around 5 p.m. on Tuesday and allegedly heard a voice over the train's public address system claiming that there was a bomb under the train can certainly do that. testify.
Article content
A strange bomb threat at St. Patrick's station caused terror on the train and in the station, although fortunately no explosives were found.
It still caused some damage.
"There was an announcement that there was a bomb under the middle carts and that it would explode," one social media account said. "Everyone ran away. I ran for my life."
So did someone from the TTC make this announcement over the PA system? Or did someone break this system and make the announcement?
The TTC has no comment and refers all questions to Toronto police.
Article content
However, sources working at the TTC and their union representatives believe someone off-duty gained access to a microphone and made the statement over the airwaves, either as a joke or to stoke fear.
The claim is: "The voice was very serious and calm."
There was certainly a bomb scare at the train station. Many media reported about it and the police also published an article on X.
But now employees claim the bomb scare was transmitted over the subway's communications system, which the public was never supposed to have access to.
Article content
Officials remain tight-lipped, leaving many questions unanswered in this confusing case.
"I can confirm that there was a security incident on Tuesday that TPS (Toronto Police Service) responded to," said TTC spokesman Stuart Green. "The rest will need to be spoken to as the details will form part of their investigation into this incident."
The police are looking into it, but are saying little at this point.
It's unclear whether social media posts containing a mysterious, unverified TikTok video are part of it or are a response to it.
The video shows a scene in which someone is talking over a loudspeaker about a bomb that could explode, but the transmission cuts out before any passengers on the train react.
It appears to be some sort of punk operation, but Toronto police and the TTC would neither confirm nor deny that the video has any connection to this investigation.
Article content
"The video cannot be confirmed at this time," said Const. Sinderela Chung. "Concerning the bomb threat investigation, the investigator has advised that there are no further updates at this time" and "the investigation is ongoing…Updates will be announced through press releases."
When it comes to asking questions about suicides on the TTC, there is a sense of silence. It's understandably a difficult issue for the TTC or police. However, since employees said a person from outside the TTC was able to communicate a threat directly to passengers, this is not a common story that should be overlooked.
Time will tell whether the video is authentic or a hoax or hoax.
However, Marvin Alfred, president of ATU Local 113, said his members were certain that whoever made the bomb announcement was not one of them but an impostor or alleged intruder in the TTC's security zones.
Article content
"Someone was able to break into an unmanned area and access a communications device," he said. "I can tell you that if there were employees working in this area whose jobs had not been eliminated, this would never have happened."
One of its members told the Toronto Sun that radios were stolen from the back of trains on Line 1, where a lookout was until recently stationed, and that there are "old devices" in the collector's booths at stations "that may have been broken into." and …" used."
All theories are tested.
Given the current world situation with wars in Israel, Gaza and Ukraine and routine protests here in Toronto, this was a frightening ordeal for subway riders.
Insiders who work in the subway "believe the video is a fake and not the actual event," but "the question is whether the bomb scare and this video are linked to the same people or whether there is a different one "Was it the person who created it to hype up the incident?"
Hopefully the police will be able to find out and educate the public about what this terrorizing event was all about.
Article content
It's not the only unusual incident involving the TTC this week.
The TTC canceled Thursday evening