Sports
WEEK 7 PICKS: Going rogue taking three road favourites as best bets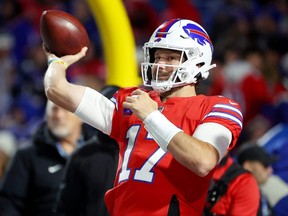 Article content
BEST BETS
CLEVELAND BROWNS (3-2) at INDIANAPOLIS COLTS (3-3)
Article content
LINE: Cleveland by 3
CHEWABLE: Does it matter if Deshaun Watson guts it out and plays through the bruised rotator cuff he was medically cleared to play through three weeks ago? It's not like he has a job that pays for performance, as he owns a record $230-million guarantee from the Browns. It's also not like they can't win without him. Cleveland defeated the NFL's best team, the Niners, last week with P.J. Walker at quarterback completing just over 50 percent of his passes and throwing two more picks than touchdown passes (zero). Browns defence is the best in the NFL, allowing a  league-low 200.4 yards per game which includes a league-low 121.4 passing yards against. Now they face the Colts, who plan to use Gardner Minshew as their QB for the rest of the season with Anthony Richardson needing shoulder surgery. If the Browns held Brock Purdy to 12-of-27 for 125 yards, one TD pass and one pick, they should have little problem with Minshew, who threw three interceptions against Jacksonville last week … Indy's best chance should be with running the ball, as Jonathan Taylor is expected to get an increased work load in his third game. But the Browns also have the fourth-best run defence, so good luck with that.
Article content
TAKING: CLEVELAND -3
SCORE (O/U 40.5): Browns 20, Colts 10
BUFFALO BILLS (4-2) at NEW ENGLAND PATRIOTS (1-5)
LINE: Buffalo by 8.5
CHEWABLE: This would be the Survivor Pick of the week even if your pool uses the spread, given the fact that Mac Jones is 0-12 ATS as an underdog over his career and that, since Tom Brady left the Patriots, Bills have won six of the seven meetings, with five of the victories by double digits … Patriots have lost their last three games, scoring a grand total of 20 points in the process … Bills should be in a surly mood after needing a fourth-quarter comeback to beat the Giants and backup quarterback Tyrod Taylor 14-9 last week … Buffalo's elite pass rush should force Jones into a turnover or two on what's supposed to be a windy day in Foxborough. Jones has not thrown for more than 201 yards in his last four games and has tossed five interceptions in his last three  … If the Patriots are going to have success moving the ball it will likely be along the ground with Rhamondre Stevenson and Zeke Elliott. Buffalo's run defence ranks 25th and will be missing OLB Matt Milano, who suffered a season-ending leg injury last week … After two five-point games — the win over the Giants and a loss to the Jags — expect the rivalry with the Patriots to bring out the best in the Bills and Josh Allen.
Article content
TAKING: BUFFALO -8.5
SCORE (O/U 40): Bills 24, Patriots 10
ARIZONA CARDINALS (1-5) at SEATTLE SEAHAWKS (3-2)
LINE: Seattle by 7.5
CHEWABLE: Kyler Murray practiced with the Cardinals Wednesday for the first time since tearing his ACL Dec. 12 and his return — which will almost certainly happen at some point in the next 21 days — couldn't come quick enough for Arizona backers, as it appears Joshua Dobbs has recached his expiry date … After keeping the Cards competitive in their first two games with losses of four and three points, then upsetting Dallas in Week 3, Arizona has lost each of the last three games by double digits while Dobbs, who didn't throw an interception in the first four weeks, has been picked off three times in the last two … The Seahawks' three-game winning streak came to an end last week with a 17-13 loss in Cincinnati, where Geno Smith was intercepted twice and Seattle failed to convert a fourth down inside the Bengals 10 late in the fourth quarter … Smith and his weapons will feast on the Cards' 22nd-ranked pass defence, while Kenneth Walker III and Zach Charbonnet can trample Arizona's 24th-rated run 'D' … The Seahawks have won the last three meetings, including a couple of double-digit victories last season. This should be no different. Another strong Survivor Pool pick.
Article content
TAKING: SEATTLE -7.5
SCORE (O/U 44.5): Seahawks 27, Cardinals 17
THE REST
ATLANTA FALCONS (3-3) at TAMPA BAY BUCCANEERS (3-2) 
LINE: Tampa Bay by 2.5
CHEWABLE: Good news for Atlanta is that its defence has been very good this season, with only Cleveland, Baltimore and San Francisco allowing fewer yards per game … Bad news this week: Like Willie Nelson would say, they're on the road again. After a 1-7 away record in 2022, Falcons are 0-2 as visitors this season while scoring a total of 13 points … After starting the campaign with victories over Carolina and Green Bay, Atlanta has won just one of its last four games and is coming off a 24-16 home field loss to the Commanders in which Desmond Ridder threw three picks … Falcons generally have a good ground game, with rookie Bijan Robinson and Tyler Allgeier almost evenly splitting the carries. They should find it tough sledding this week against the Bucs No. 7 ranked run defence … Bucs are coming off a two-touchdown loss at home to the Lions that saw Jared Goff absolutely shred their secondary … When are the Bucs going to re-sign Leonard Fournette? Without him they virtually have no running game, averaging a 29th-best 78.8 yards per game … The Falcons had lost five in a row to Tampa Bay before finally beating the Bucs, in Atlanta, by a 30-17 score in January … My grandfather's name was Desmond and he worked for the railway, but I'm thinking Baker Mayfield will get back on track before Ridder.
Article content
TAKING: TAMPA BAY -2.5
SCORE (O/U 37): Buccaneers 20, Falcons 17
LAS VEGAS RAIDERS (3-3) at CHICAGO BEARS (1-5)
LINE: Las Vegas by 3
CHEWABLE: Expected to make his first NFL start in this one will be Tyson Bagent, who went undrafted after a historic career at Division II Shepherd University in West Virginia, where he set an all-divisions NCAA record with 159 touchdown passes. Secret Bagent Man was signed by the Bears after he played for OC Luke Getsy's American team at the Senior Bowl and beat out P.J. Walker for the job of Justin Fields' backups he mostly looked good stepping in after Fields dislocated his thumb last week against the Vikings — until he threw an absolutely boneheaded interception that crushed any chance the Bears had at a comeback win … Expected to start in place of Jimmy Garoppolo (back) for the Raiders is Brian Hoyer, who is about a hundred years old (actually 38), who broke into the league in 2009 and has a 16-24 career record but has lost his last 12 starts … This can't be said about too many teams, but the Raiders actually have a worse defence than the Bears. Despite employing Maxx Crosby, they have the 30th-ranked pressure rate, and they struggle to stop the run … The Bears' run defence has soared up the charts and now ranks eighth, while the secondary is improving with the return from injury of Eddie Jackson, Jaylon Johnson and Kyler Gordon … Raiders have won their last two games and Bears are 1-15 in their last 16, so no, it's not wise to bank on a Chicago victory. But it's also unwise to lay points with Hoyer under centre. Best bet here is the under.
Article content
TAKING: CHICAGO +3
SCORE (O/U 38): Raiders 16, Bears 14
DETROIT LIONS (5-1) at BALTIMORE RAVENS (4-2)
LINE: Baltimore by 3
CHEWABLE: The Ravens are finally back home after a three-game stretch on the road that included a full week in London for last Sunday's game against the Titans, which they won thanks to six field goals by Justin Tucker. Their offence hasn't been as good as expected but it still ranks 11th, while their defence sits a pretty No. 2 … Lions are one of three teams that have a Top 10 offence (No. 3) and a Top 10 defence (No. 7). Lions also like to run the ball, which would be ideal for this weekend as the forecast is calling for heavy winds in Baltimore, but David Montgomery (ribs) is out, rookie Jahmyr Gibbs (hamstring) is no certainty and Craig Reynolds (toe/hamstring) didn't practice Wednesday … The Ravens lead the all-time series 5-1, including victories in the last four meetings. The lone time the Lions beat Baltimore was a 35-17 final in Detroit in 2005 … While Detroit is running away with the NFC North, the Ravens are in a four-way fight in the AFC North, so they should be the more desperate of the two, but I still can't turn away from the Lions' record of 14-2 ATS in their last 16.
Article content
TAKING: DETROIT +3
SCORE (O/U 43): Ravens 21, Lions 20
WASHINGTON COMMANDERS (3-3) at NEW YORK GIANTS (1-5) 
LINE: Washington by 2.5
CHEWABLE: Heading into Thursday, Daniel Jones (neck) had yet to be cleared for contact, which suggests Tyrod Taylor is likely to be under centre again. No one is quite sure if that's a good thing or a bad thing for the Giants  … In his second game back from an ankle injury, Saquon Barkley should chew up some real estate against the Commanders' 23rd-ranked run defence … The Commanders stopped a three-game losing streak with a 24-16 win in Atlanta. That one also put a halt to a terrible stretch for the Washington defence, which had allowed 144 points in the previous four games … Wringing their hands in anticipation of this one have to be the Giants' Kayvon Thibodeaux and the Commanders' Montez Sweat (if he can in fact wring his hands, as he was limited at practice Wednesday with a finger injury) as Washington and the G-Men have given up the most sacks in the league, at 34 and 33 respectively … Since throwing four interceptions against the Bills in Week 3, Sam Howell has only been picked off once in three games. Howell, however, does not react well to a blitz, and no team blitzes more than the Giants … The last time these rivals played at MetLife Stadium, the game ended in a 20-20 tie. That won't be the case this time.
Article content
TAKING: N.Y. GIANTS +2.5
SCORE (O/U 37.5):  Giants 21, Commanders 20
PITTSBURGH STEELERS (3-2) at LOS ANGELES RAMS (3-3)
LINE: L.A. Rams by 3 
CHEWABLE: No doubt the Steelers have the defence to be a Super Bowl contender. It is so good that the team has an above-.500 record and is in the thick of the AFC North first-place race despite its absolutely horrible offence. But the offence is getting a big boost his week with the return of No. 1 receiver Diontae Johnson, who has been shelved since the season opener with a hamstring injury. Also returning is sure-handed TE Pat Freiermuth, who missed the last game with the same issue. Coming off a bye week, if Kenny Pickett has time against the Rams, who employee Aaron Donald but have little in the way of edge pressure, he should be able to move the sticks. If not, it really is time for Mike Tomlin to fire OC Matt Canada … The Rams are coming off a pounding of the Cards, but it was a costly victory as they lost RB Kyren Williams (ankle) and RB Ronnie Rivers (knee) and are now left to trust Zach Evans, a sixth-round pick with four career carries for 10 yards, with their ball lugging responsibilities. The Matthew Stafford-Cooper Kupp magic is still present, but without a running game and with the Steelers ability to make life very uncomfortable for a quarterback, I'm going with the visitors, who are 55-30 ATS as a dog under Tomlin.
Article content
TAKING: PITTSBURGH +3
SCORE: (O/U 44): Steelers 24, Rams 21
LOS ANGELES CHARGERS (2-3) at KANSAS CITY CHIEFS (5-1)
LINE: Kansas City by 5.5 
CHEWABLE: You may find this hard to believe, but I have never played the quarterback position in a NFL game with a broken middle finger on my non-throwing hand. I did, however, watch the very tough Justin Herbert do it last week in the Chargers' 20-17 loss to the Cowboys, and it looked very much like he was distracted by the injury. When he was running the ball (six times, 20 yards) and when he was throwing it (an un-Herbert like 22-of-37 for 227 yards, two TDs, one interception). I also think it looked like the supremely skilled Austin Ekeler (14 carries, 27 yards, four catches, 35 yards) wasn't himself in his first game back from an ankle injury. Both Herbert and Ekeler should be more comfortable for this titanic inter-division battle, and both will need to be against a Chiefs' No. 6 rated defence that has played almost as well as its No. 4-rated offence … The Chiefs have won five in a row since their one-point loss to the Lions on opening night, so a case can be made for them being the best team in football. But they also haven't been crushing opponents — other than a 41-10 victory over the Bears, which almost shouldn't count — and their recent history with the Chargers features mostly nail-biters. Kansas City has won the last three meetings — two by a field goal and the other by six points in overtime — and the victory over the Chargers before that was also by three points in OT. With Khalil Mack discovering a version of his old quarterback-harassing self and the Chargers defence playing significantly better of late, this one should be another than goes down to the wire.
Article content
TAKING: L.A. CHARGERS +5.5
SCORE (O/U 48): Chiefs 24, Chargers 21
GREEN BAY PACKERS (2-3) at DENVER BRONCOS (1-5)
LINE: Green Bay by 1 
CHEWABLE: Sean Payton must be a good coach because the Broncos are paying him an ocean liner full of money. It's only a matter of time before he rights the team's ship, right? This could be the week Denver beats somebody other than the Bears. Already a weak unit to begin with, the Packers defence had hoped to get CB Jaire Alexander and LB De'Vondre Campbell back from injury for this, the first game back after their bye, but it now looks like that won't be the case. If nothing else, that means Russell Wilson will have an easier day than he would have had with the two of Green Bay's better defenders playing. I would say the return of a healthy Aaron Jones would be enough to beat the Broncos, who have the 30th-ranked pass defence and 32nd-ranked run defence, but Jones was still with his hamstring issue at Thursday's practice and even if he does play, it's unlikely he'll be 100 percent. Yes, if you're ever going to bet on the Broncos, this might be the time to do it. They don't play the Bears again.
Article content
TAKING:  DENVER +1
SCORE (O/U 45): Broncos 27, Packers 24
MIAMI DOLPHINS (5-1) at PHILADELPHIA EAGLES (5-1)
LINE: Philadelphia by 2.5
CHEWABLE: The Dolphins are moving the ball 100-plus yards per game more than the second most efficient offence (which just so happens to be Eagles), while no team in the past decade has scored like Miami (37.2 points per game) has through the first six weeks … The Eagles have a better defence — most are a notch or two up on Miami's stop unit — but no longer is it elite. Philadelphia ranks 20th versus the pass, which spells trouble against the Fish. Tyreek Hill leads the league with 814 receiving yards, which puts him on pace for a record-breaking 2,306 yards. That will put extra pressure on the Eagles to generate some pressure on Tua Tagovailoa … After missing Wednesday's practice, OT Lane Johnson (ankle) and WR Devonta Smith (hamstring) were back at work on Thursday … Philadelphia also has the second-best run defence in the league, which sets up a compelling matchup with Raheem Mostert, who sits seventh in the league with 429 rushing yards … If you could be guaranteed Eagles OT Lane Johnson (ankle) was going to be in the lineup and 100 percent, betting on the home side might be the way to go. But both Johnson and WR Devonta Smith (hamstring) returned to practice Thursday after missing it Wednesday, and the closest thing you're going to get to a guarantee is Hill doing a backflip in the end zone if and when he scores.
Article content
TAKING: MIAMI +2.5
SCORE (O/U 51.5): Dolphins 33, Eagles 31
SAN FRANCISCO 49ERS (5-1) at MINNESOTA VIKINGS (2-4)
LINE: San Francisco by 6.5
CHEWABLE: The biggest concern involving the Niners should be their injury report, as RB Christian McCaffrey (oblique), WR Deebo Samuel (shoulder) and LT Trent Williams (ankle) were still not practising on Thursday. If all three, just two or even one of that group plays, the Niners cover with ease. They likely still will even if all three are watching their backups from the sidelines … Opponents are completing 75.2 percent of their passes against Minnesota, and completing passes is what Brock Purdy does … Niners are the class of the NFC and will be looking to avenge the 19-17 loss to the Browns last week that put a blemish on their record. The Vikings, especially without WR Justin Jefferson, are a bad team. Their two wins were against the two worst teams in the NFL, over Carolina (by eight) and Chicago (by seven) … Did we mention Kirk Cousins is 2-10 on Monday Night Football?
TAKING: SAN FRANCISCO -6.5
SCORE (O/U 44): Niners 28, Vikings 14