News
Why UK's Defence Chief Thinks Russia Has Still 'Strategically' Lost Despite 'Tiny Gains'
Russia will "never take control" of Ukraine and has already lost "strategically", according to the British armed forces chief.
Admiral Sir Tony Radakin told the PA media agency this week that as the conflict nears its fifth month, President Vladimir Putin's Russia is already a "weaker power" because of the war.
He declared: "This is a terrible mistake by Russia. Russia will never take control of Ukraine."
He claimed Putin has now lost 25% of Russia's land power in exchange for "tiny" gains, meaning it would become a "weaker power".
Radkin claimed Russia's efforts had also strengthened NATO, although one of Putin's perceived goals in invading Ukraine was to weaken the alliance.
"Russia has already lost strategically," Radakin said. "NATO is stronger, Finland and Sweden want to join."
The war also appears to have accelerated Ukraine's attempts to join the EU (another institution despised by the Kremlin), with the bloc announcing on Friday that it wants Ukrainians to "live the European dream with us".
Radakin then claimed that Putin might still achieve "tactical successes" with his invasion of Ukraine, but it was all for "tiny gains," as seen in the Donbass, for "significant resource costs."
"The Russia machine grinds and gains a few – two, three, five – kilometers every day.
"And Russia has vulnerabilities because it's running out of people, it's running out of hi-tech missiles.
"President Putin used about 25% of his army's power to gain a tiny piece of territory and 50,000 dead or injured. Russia is failing."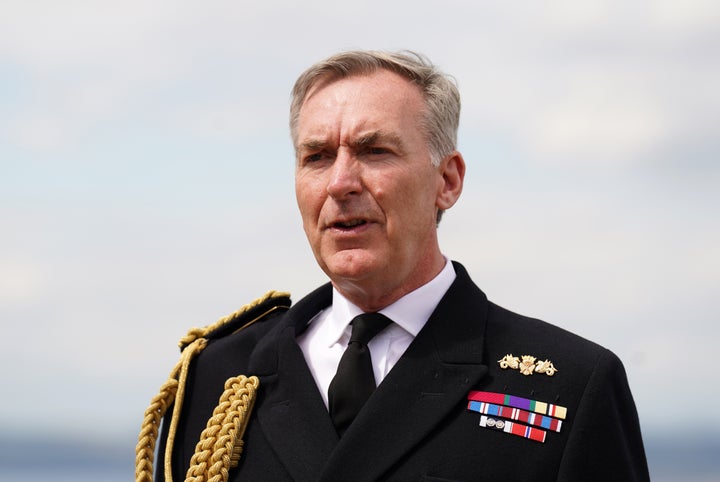 In a Twitter post, the government arm said: "Judging by Russia's original plan, none of the strategic goals have been met.
"For Russia to achieve any form of success, it will still require huge investments in manpower and equipment, and it will likely take a long time."
In its most recent update, the Defense Ministry also addressed how the general public in Russia is responding, claiming that the war has "accelerated the state's long-term path toward authoritarianism."
The Russian parliament is considering introducing a 20-year prison sentence for any Russian who opposes the Russian Federation and criminalizing speaking out against the invasion.
It also suggests that some Russians have collaborated with the Ukrainian military, while the "business elite and oligarch community" are particularly skeptical about the war.
Allegedly, 15,000 Russian millionaires (in US dollars) have applied to leave the country, possibly due to "personal opposition to the invasion and an intention to escape the financial impact of the sanctions imposed on Russia".
The Ministry of Defense concluded: "Should this exodus continue, it is likely to worsen the long-term damage of the war to the Russian economy."
However, Russia remains determined not to publicly admit that the war will not go according to plan.
Russian Foreign Minister Sergei Lavrov even told the BBC on Thursday: "We did not invade Ukraine.
"We called a special military operation because we had absolutely no other way of explaining to the West that dragging Ukraine into NATO was a criminal act."
He also claimed that international diplomats – including UN chiefs – are "used to amplify the fake news spread by the West" when cornered over war crimes against civilians accused by Russia.
Lavrov added: "Russia is not squeaky clean. Russia is what it is. And we are not ashamed to show who we are."
https://www.huffingtonpost.co.uk/entry/uk-defence-chief-thinks-russia-lost-ukraine-war_uk_62ac7493e4b0cf43c855c9bc Why UK's Defence Chief Thinks Russia Has Still 'Strategically' Lost Despite 'Tiny Gains'