News
WILLIAMS: Biden shows remarkable moral clarity on Israel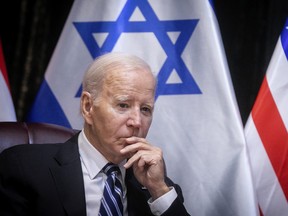 Article content
President Joe Biden and the United States have vigorously supported Israel following the October 7 terrorist attacks. Biden's comments on October 10 were powerful and clear. His condemnation of Hamas was loud and clear. There was no moral equivalence between Israel and Hamas. His message was spot on.
Article content
Biden called Hamas' attacks "pure, unadulterated evil" and stated that Hamas is "a group whose stated goal is to kill Jews."
Article content
He did not shy away from describing the atrocities suffered by Israelis: "Parents slaughtered and used their bodies to protect their children." Harrowing accounts of the killing of babies. Entire families killed. Young people were massacred while attending a music festival celebrating peace. Women are raped, attacked and displayed as trophies. For hours, families hid their fear and tried desperately to silence their children so as not to attract attention."
Hamas' "bloodthirst" is reminiscent of "the worst rampages of IS." He warned other parties (e.g. Iran and Hezbollah) to stay out of the matter.
Article content
Biden showed remarkable leadership in this moment. "We have to be crystal clear," he said. "We stand with Israel. And we will ensure that Israel has everything it needs to care for its citizens, defend itself and respond to this attack."
He backed up his words with actions, sending a strike group of U.S. aircraft carriers to the eastern Mediterranean and delivering ammunition and military equipment to Israel, including interceptors to replenish the Iron Dome missile defense system. The US Department of Defense has warned Iran and Hezbollah to withdraw or the US will stand ready to defend Israel.
RECOMMENDED VIDEO
The contrast with the radical ideologues of the Black Lives Matter movement and left-wing student groups on college campuses across the United States and others could not be clearer.
Article content
The BLM Chicago chapter posted a graphic of a paragliding Hamas terrorist and the words "I stand with Palestine" beneath the image. The group also shared an infographic in which Hamas supporters "educate" those who say Hamas' hostage-taking was a bad thing: "The few Israeli 'hostages' are actually Israeli soldiers and Israeli army generals who are for "who are responsible for taking Palestinians hostage" in the largest open-air prison in the world, Gaza. The 2.4 million Palestinians held hostage are all civilians."
The pro-Hamas character in the graphic, representing BLM's position, continues: "There is a lot of disinformation being spread about what Hamas is doing, based on racist and Islamophobic phrases about Muslims and Arabs."… Such disinformation is used to dehumanize the Palestinian civilians against whom Israel has declared genocide in Gaza."
Article content
The BLM branch in Los Angeles also agreed: "When a people have been subjected to decades of apartheid and unimaginable violence, their resistance must not be condemned but understood as a desperate act of self-defense." … May the borders, checkpoints, prisons, police and Watch lists that terrorize our communities collapse, and may the world we build from their ashes honor those who fell in battle."
Student groups at American universities have also expressed support for Hamas's atrocities. Dozens of student organizations at Harvard blamed only Israel: "The apartheid regime is the only one to blame." Students for Justice in Palestine at Swarthmore called the terrorist attacks "courageous," adding that the group supports "the right of the Palestinian people to to resist the Zionist regime by any means necessary, and honor the martyrs who sacrificed their lives for liberation."
Article content
These are just two examples of the moral decay on display at American universities. Meanwhile, Hamas supporters held up swastikas in Times Square.
Let's summarize what BLM, these student organizations and these protesters support: an invasion of Israel in which Hamas terrorists murdered more than 1,300 people (including babies in their cribs), kidnapped civilians ( including a Holocaust survivor) filmed themselves on video while mocking kidnapped children, raping women next to the corpses of their dead friends, displaying corpses, burning people alive, and killing beloved family pets, all while expressing their joy with desperate cries for mercy.
The American government and the overwhelming majority of the American people are another matter. Biden couldn't have been clearer when he said: "Hamas does not stand for the Palestinian people's right to dignity and self-determination. Its stated goal is the destruction of the State of Israel and the murder of the Jewish people."
Biden deserves praise for his moral leadership and decisive action in support of America's ally Israel at a time of true terror for the Jewish people.