Woman hides a whole pizza in her fascinator at the Cheltenham Festival Ladies Day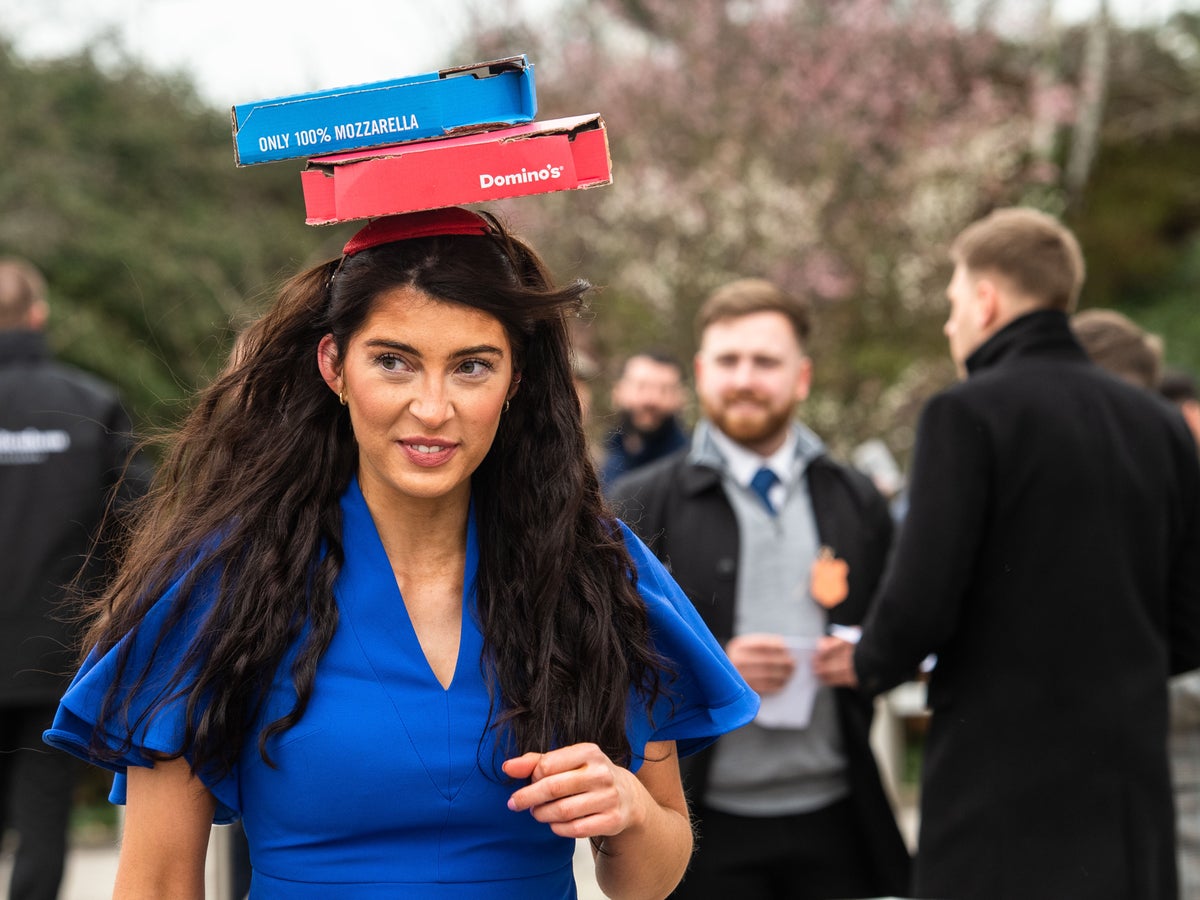 A racegoer snagged a pizza-the-action at Cheltenham's Ladies Day – by showing up with a domino-style fascinator with a surprise hidden inside.
Kate Willis took a chance by arriving at the festival in the kitschy accessory that concealed a Pepperoni Passion pizza.
After being admitted despite the unusual hat, the 26-year-old posed for photos with race fans and even shared a few slices of her snack.
"I always visit Cheltenham and this year I wanted to do something different and combine my two favorite things, fashion and Domino's, so I decided to make it a real look this year," said Willis, who hails from London, and went along her best friends to the event.
"After making the hat, I figured I might as well take a domino to eat while I watch the races.
"I assembled the boxes with alligator clips and a Sinamay base and used about 100 hair clips to make sure it didn't fall off my head.
"It took a lot of trial and error and now my house is just filled with hair clips, they're everywhere."
Willis' bizarre – and frankly genius – headgear is making waves on social media after it was spotted and shared today (Tuesday March 15) by Twitter user Poppy Sheppard.
'Like someone came to Cheltenham with a domino hat,' she said tweeted.
The annual festival began in the 17th century and features four days of racing, culminating in the Gold Cup on Friday (17 March).
Often attended by members of the royal family, it's a glitzy affair with men and women dressed to the nines.
A big change to this year's event involves organizers ditching what is usually a strict dress code to encourage younger visitors to get involved.
"Offensive" disguises are still banned, though – thankfully, pizza-themed hats don't appear to be on the list.
https://www.independent.co.uk/life-style/fashion/cheltenham-ladies-day-pizza-fascinator-b2301451.html Woman hides a whole pizza in her fascinator at the Cheltenham Festival Ladies Day