Women's World Cup prize money is up 300 percent, but still a third of men's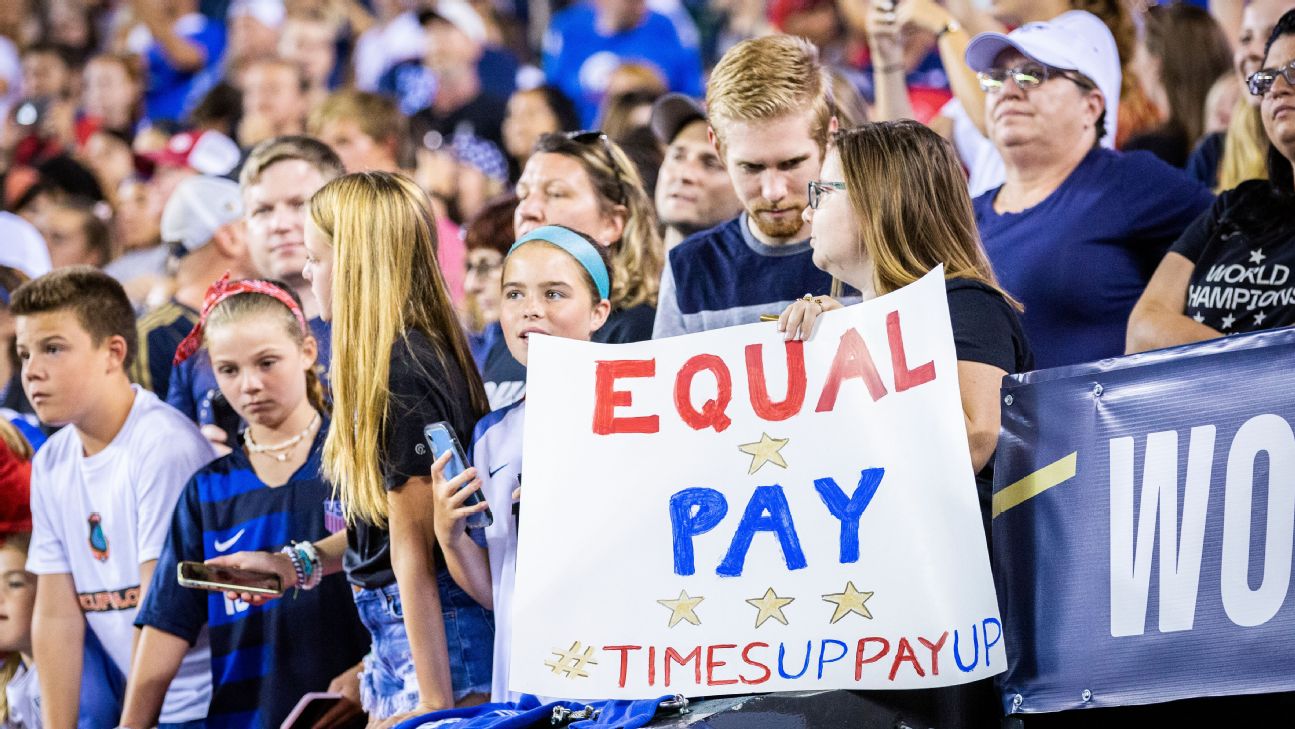 The Women's World Cup boasts $150 million in prize money, a 300% increase from 2019, but still almost three times less than the $440 million won by the men in Qatar in 2022.
While the $150 million funds for the first 32-team tournament represent a huge increase over the $30 million for the 24-team edition in 2019 and 10 times the 2015 amount, they are still significant lower than the $440 million total prize money awarded at last year's 32-team men's World Cup in Qatar.
FIFA is aiming for parity between men's and women's tournaments by 2027.
Some of that prize money must be used to pay players, FIFA President Gianni Infantino said on Thursday after being unopposed until 2027.
According to ESPN sources, the exact breakdown is $110 million in prize money, and then $31 million in prep money and $11 million in club benefits.
Infantino again blamed the broadcasters for the inequality because they offered too little for TV rights. He said FIFA will not sell the broadcasting rights to the tournament in Australia and New Zealand at the prices currently being offered.
"Women deserve much, much more than that and we are there to fight for them and with them," he said.
Women players worldwide have fought with men's national teams, including defending champions USA, Canada, France and Spain, for equal pay and respect.
Infantino has set his sights on equal prize money for men and women at the next World Cups in 2026 and 2027 – a difficult task when the 32 men's teams at last year's World Cup in Qatar shared $440 million.
The FIFA President targeted broadcasters, including some public broadcasters funded by taxpayers, who he said were bidding up to 100 times less for the rights to the women's tournament.
Infantino first raised the issue in New Zealand in October, insisting FIFA would still not sell at those prices as women's football attracts perhaps 20-50% fewer spectators than men's football.
"Well, offer us 20% less, 50% less. But not 100% less," Infantino said in his closing remarks to the FIFA Congress. "That's why we can't do it.
"For the first time ever I have [plan to] dedicating a certain part of this payment, which must mainly go to football development, but of course a certain part of it should go to the players," said Infantino when announcing the second step of his three-stage plan.
Step one, Infantino said, will be equal terms and services for all men and women playing at a World Cup.
"This will already be a reality for the 2023 Cup, the same conditions as for the World Cup 22 will apply to the players and the coaching staff at the Women's World Cup 23."
Step three, he said, was the most complicated and would involve a specific marketing strategy for women's football.
FIFPRO, which wrote to FIFA last October calling for parity in terms, facilities and prize money between the men's and women's World Cups, called Friday's news "significant progress" but said it would continue to push for justice.
"Significant progress has been made on the terms, prize money and prize money redistribution for the FIFA Women's World Cup 2023 through the voice and solidarity of players around the world over months and years of campaigning," FIFPRO said in a statement to ESPN.
"The players are united behind simple but concrete demands for more professionalism at the FIFA Women's World Cup: equal rules and conditions, a fair redistribution of prize money among the players and a path to equal prize money, and an agreement that protects those commitments – – both now and as a legacy for players in the future.
"FIFPRO, its Member Associations and the players celebrate FIFA's progress on conditions and prize money for the upcoming Women's World Cup.
"The advances announced today demonstrate the intention of players and FIFA to proactively work towards more fairness and equality for the industry.
"The work is not done yet. In a letter to FIFA in October, FIFPRO and 150 players from 25 national teams made it clear that the path to full equality remains of paramount importance."
Information from Reuters and The Associated Press was used in this report.
https://www.espn.com/soccer/fifa-womens-world-cup/story/4901938/womens-world-cup-prize-money-up-300-percent-but-still-one-third-of-mens Women's World Cup prize money is up 300 percent, but still a third of men's