Sports
World's hottest soccer team mixes grit, goals and lots of glamour
Get the latest from Brad Hunter straight to your inbox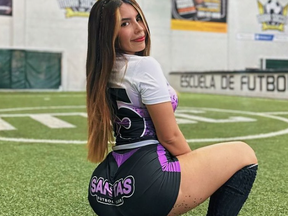 Article content
The beautiful game indeed!
Article content
This Colombian women's soccer team has developed a worldwide fan base with their stunning looks, twerking and backfield filled with models.
Article content
Santas FC from Medellin is now called "the world's most beautiful football team." And the fabulous femmes are now big on social media.
So far, the team has 1.2 million followers on Instagram and according to The UK Sun, that's bigger than a slew of Premiership squads. The players on Santas say that they are "influencers" who happen to play football.
Article content
The 12-woman squad plays in various leagues around Medellin and is also in demand for exhibition contests around the South American country. Revving up the raunch are the team's cheerleaders who go into action on game days.
Social media clips of the pretty players showing off their soccer skills have racked up millions of views.
Article content
And it's an all-women affair with the squad being run by player Monica Vallejo, who is also the team's CEO. She boasts 1.1 million followers on Instagram with another 8.9 million followers on TikTok.
Santas supporters worship the sexy squad with one fan writing: "Monica, how beautiful you are as always. I hope you will marry me."
Article content
Another fan wrote: "Love football. Love Santas FC."